Kimi Raikkonen suffering 'unrelenting misery' in qualifying
Kimi only seventh on the grid in Spain, four places behind Sebastian Vettel
By Pete Gill and James Galloway in Barcelona
Last Updated: 12/05/15 2:03pm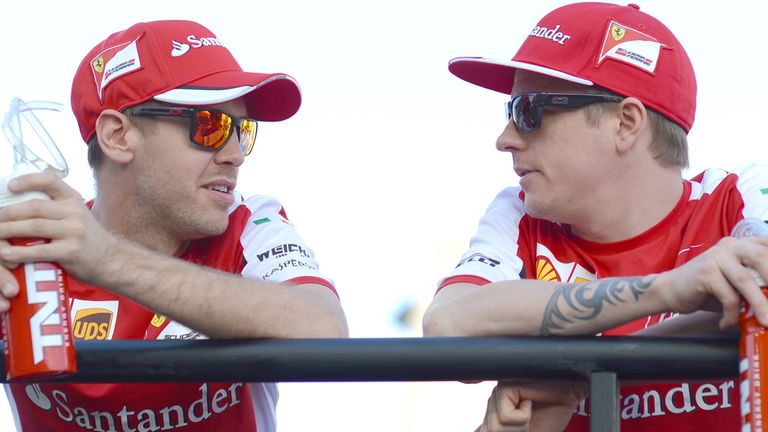 Kimi Raikkonen has been described as suffering 'unrelenting misery' after Sebastian Vettel maintained his qualifying whitewash of his Ferrari team-mate in Barcelona.
Vettel, who used all of the new components Ferrari have brought to Spain on his car, qualified four places ahead of his team-mate with Raikkonen's SF15-T using some pre-upgrade parts.
Raikkonen revealed afterwards that he elected to remove the new upgrades in a bid to rediscover the sweet spot of his car after struggling for grip in Friday practice. But the Finn's woes continued in qualifying – a repeat feature of 2015, with Vettel out-qualifying his team-mate in all five events so far.
"We both weren't entirely happy with how the car felt. We weren't sure about where we were and decided to split the cars," said Vettel.
Raikkonen described his weekend as "not really making sense" and appeared to be lost for an explanation for why he was out-qualified by both Toro Rossos as well as Vettel, the two Mercedes and Williams' Valtteri Bottas – widely touted as a potential successor to Raikkonen if Ferrari opt against retaining the former world champion.
"It is unrelenting misery with Kimi it seems, he never seems happy with his car," commented Sky Sports F1's Damon Hill. "I look down there and you have Valtteri Bottas who has been mentioned at Ferrari and he [Raikkonen] has to find something because qualifying is pure pace.
"There is no doubt when he gets in the race he is a contender, but he is not helping himself. You need to get closer to your team-mate to stand a chance of surviving at Ferrari."
Asked to explain why he removed the new parts from his car on Saturday morning, Raikkonen told reporters: "It was my decision, plus the team's, altogether and we knew that there is a risk and it might be difficult. But the outcome would not be as bad had the last qualifying not been slower than the second qualifying.
"We wanted to make sure and so I was prepared to take the risk and see what happens. It was pretty okay other than that point. We had one new set tyres we haven't used in the last qualifying, but for some freak reason they got burnt in the blankets and destroyed.
"It's been a difficult few days, but that's part of the game and tomorrow's the race so hopefully things go a bit more smoothly."
Had Raikkonen matched his 1:26.016 time from Q2 instead of going four tenths slower in the final stage, he would have only had Bottas between himself and the sister Ferrari.
"I think the end result is not a true picture because of what happened in the last qualifying," Raikkonen insisted. 
"But we learn from these things and that's why I was prepared to take a chance. It's still not a disaster."