Max Chilton has held talks with Haas about a race seat in 2016
However, F1 Midweek Report guest thinks he may miss out to a more experienced driver
By William Esler
Last Updated: 27/08/15 9:49am
Max Chilton has told the F1 Midweek Report that he has held talks with Haas about a potential race seat in 2016.
The American squad will join the grid as the 11th team next year and recently revealed they have been talking to 10 drivers about their two seats.
Haas have agreed a technical partnership with Ferrari, who will supply their power unit and gearbox, meaning Scuderia reserve drivers Esteban Gutierrez and Jean-Eric Vergne have been amongst the names linked with the drives.
Chilton's last F1 race was at the 2014 Russian GP and he would jump at the chance to return to the grid next year.
"That is for them to decide," he told Sky Sports, when asked if he would drive for Haas next year.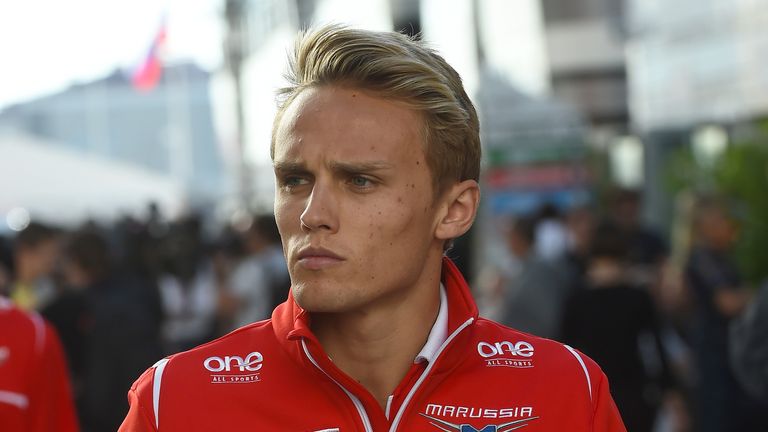 "I've definitely put my foot in the door and we've had a few chats. I think they came out a few weeks ago and said they were talking to 10 drivers so I am definitely one of those. I'd love the chance, but I have a strong feeling that it is going to be one young Ferrari driver, because it is hugely a Ferrari project - they have Ferrari engines and are using their wind tunnel - and then I hear they want an experienced driver."
Chilton hopes his 35 starts will count as enough to be considered the experienced driver, but feels someone like Nico Hulkenberg is more likely to get the seat, or perhaps there is even an outside chance of it being Jenson Button.
"I like to think I am experienced, but if they want a really experienced driver I think there are only a certain number of drivers on that grid," he added.
"So I think it will be Hulkenberg, I can't see Jenson going there, but I can't see many other experienced drivers that are free for next year. So I'd like to think I have a chance, but it is probably not going to happen."
With Chilton's former Marussia team reborn as Manor this season, would he consider a return there?
"I have a lot of friends there, I was there for two and a half years because I was there travelling with them for the last half of 2012 and I love the team," he said.
"I would be mad to turn down a Formula 1 drive, because I have a lot more to prove. I was lucky to do two years but I never really had the chance to show more and hopefully if I did get asked by Manor, they would have a more suitable car for us to perform in."