Chinese GP: Lewis Hamilton hails fight with Sebastian Vettel as 'what racing is all about'
"It's more exciting than ever for me," says Hamilton after just holding off Vettel in qualifying; Bottas misses out on front row by 5.9cm of track distance!; Rain forecast for Sunday; Race at 7am
By Pete Gill
Last Updated: 09/04/17 12:38pm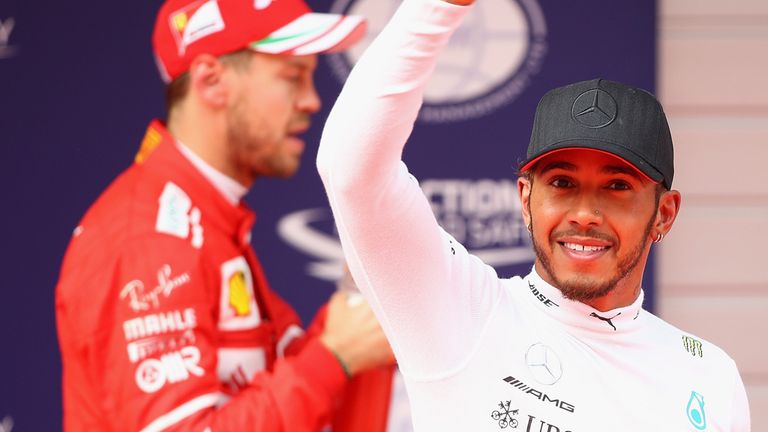 Chinese GP pole-sitter Lewis Hamilton says he is relishing the challenge of "real racing" as he prepares to renew battle with a resurgent Sebastian Vettel and Ferrari in Shanghai.
Hamilton was once again pushed to the limit as he just held off Vettel to claim pole by almost two tenths of a second - although that margin was a chasm compared to the one-thousandth of a second, the equivalent of 5.9cm of track distance, which separated Vettel from Valtteri Bottas in the second Mercedes.
The hefty advantage Mercedes have held for the previous three years of F1's turbo era has seemingly been all-but wiped out at the start of 2017.
But rather than fret about Mercedes being caught, Hamilton insists he is savouring a new type of contest with his intra-team battle against Nico Rosberg replaced by the fresh dynamic of his head-to-head fight with Vettel and the German's SF70-H Ferrari car.
"It's more exciting than ever for me because we are really fighting these guys," said Hamilton as he celebrated his sixth consecutive pole. "That's what racing is all about and it pushes you on."
Speaking earlier in the weekend, Hamilton had been effusive on how he had been invigorated by Ferrari's surge and the prospect of his first-ever title battle with Vettel.
"When you are competing against your team-mate your cards are always in view," he explained to The Guardian.
"When you are racing against another team you are just trying to be at your best all the time up against an unknown. It is like doing a maths test; if you have the cheat list already you are not learning and not challenging yourself.
"But if you are trying to learn it and really figure out a way to make it work for yourself that is how you can discover how far you can go and how good you can get with it. And that is why I love the challenge of racing against another team."
And while Mercedes appear to have the edge over Ferrari on single-lap pace, the consensus in the paddock is that Ferrari an altogether more formidable proposition in race trim.
"Ferrari have a very, very strong car and can step up in race pace, particularly on how they can treat their tyres," accepted Hamilton.
The top-four starting positions for Sunday's race are also identical to those for the season-opening Australian GP when Vettel shadowed Hamilton through the opening stint before jumping the Mercedes at the first round of pit-stops.
"I still think the Ferrari is a better race car," said Sky F1's Martin Brundle as Hamilton celebrated his pole position. "The back end of that car is still more bolted down to the track."
But the relative strengths of Ferrari and Mercedes in conventional race mode may become academic if, as forecast, heavy rain falls in Shanghai on Sunday morning.
"It's meant to be wet at the start. If it is, tomorrow could be one of the most exciting days we've all had for a long time," said Hamilton. "I haven't driven on the new wet tyre at all this season. So it will be a new lesson for me if it rains."
What's different for F1 2017: Standing starts in wet races
Even if a rain-affected race starts behind the Safety Car, the race director now has the option to line the field back up on the grid for a normal standing start once conditions have sufficiently improved, rather than initiating a rolling getaway as has hitherto been the case.
That only doesn't apply if the race has been red-flagged after the initial Safety Car-controlled laps.
Watch the Chinese GP live only on Sky Sports F1 and in incredible Ultra HD! The race begins at 7am on Sunday. Check out all the ways to watch F1 on Sky Sports for subscribers and non-subscribers - including a NOW TV day pass for £6.99!
Sky customers can now upgrade to Sky Sports and get 12 months for just £18 per month. Upgrade now!