'My fault' says Hamilton
Lewis Hamilton apologised to both Kamui Kobayashi and McLaren after his exit from Sunday's Belgian Grand Prix.
Last Updated: 28/08/11 7:22pm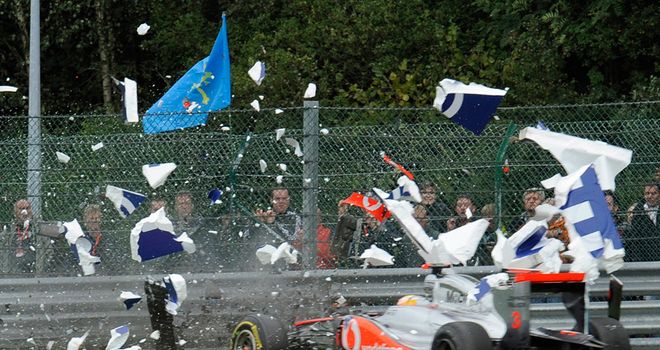 Lewis Hamilton apologised to both Kamui Kobayashi and McLaren after a collision with the Japanese driver forced the Briton's retirement from Sunday's Belgian Grand Prix.
The 2008 world champion has been embroiled in a series of incidents this season and the latest came on lap 13 of Sunday's race at Spa-Francorchamps when Hamilton attempted to overtake the Sauber driver.
His McLaren had edged past Kobayashi's car on the Kemmel straight but Kobayashi then appeared to close up again, with spectacular consequences.
The front-right tyre on Kobayashi's car hit the left-rear on Hamilton's, with the impact sending the latter ploughing nose-first into a crash barrier.
Hamilton's car then careered through a polystyrene advertising hoarding before continuing on for a short distance and grinding to a halt.
Via Twitter, Hamilton said: "After watching the replay, I realize it was my fault today 100%. I didn't give Kobayashi enough room though I thought in (sic) was past.
"Apologies to Kamui and to my team. The team deserves better from me. Best wishes, Lewis."
The general belief is that Hamilton veered across slightly on Kobayashi without checking on his rival's position, although McLaren team principal Martin Whitmarsh was once again moved to speak out in defence of his charge.
"Everyone will have an opinion on what happened," Whitmarsh said. "He didn't go right over to the racing line, but had to get over to that part of the track.
"He was extremely unlucky because if you are behind the emphasis is on you not to make a connection quite as hard as that.
"Anyway, it was one of those things, but then it's been one of those weekends, one of those seasons."
Incidents
Hamilton has been involved in several controversial incidents so far this season, including a collision with Williams driver Pastor Maldonado at the Monaco Grand Prix in May that resulted in a penalty. The pair clashed again during qualifying at Spa on Saturday.
He was also forced out of the Canadian Grand Prix in June after colliding with team-mate Jenson Button.
The latest setback has effectively ended Hamilton's already slim title hopes for this year. He now trails championship leader, and Belgian GP winner, Sebastian Vettel by 113 points with 175 available.
Whitmarsh added: "Lewis is someone who attracts extremes, who is a passionate, immensely competitive, exciting racing driver.
"People know they have to commit quite heavily to get past him, and he is always going to commit to go past them.
"Lewis Hamilton makes Formula One a more exciting place to be, so we should all hope Lewis continues to be one of the most exciting racing drivers any of us have seen. I don't want to change him.
"Yes, he's had some disappointments recently, but the new Lewis has handled those very well. He is learning, developing.
"But he is a racing driver who is competitive, which people were saying throughout most of Ayrton Senna's career, the same with Michael Schumacher.
"For all those committed, competitive drivers, sometimes it works, sometimes it doesn't."
Hard hit
Speaking in the immediate aftermath of his exit, Hamilton said: "I'm not really quite sure what happened other than hitting the wall pretty hard.
"As far as I'm concerned I was ahead of whoever I was racing and then I was hit by them from behind and that was my race over.
"This is motor racing. There has been a lot of races we (McLaren) haven't finished this year, and this is another one of them.
"We were competitive, and we may have been able to at least have got a podium, but we weren't fast enough for the victory."
In assessing his title chances now, Hamilton's response was clear and succinct as he said: "The championship wasn't ours anyway."
As for Kobayashi, he feels Hamilton was at fault as he said: "I knew perfectly well he was faster than me so had no reason to fight with him.
"After he overtook me it was not my intention to get my position back, so I stayed on my line and didn't expect him to move over."