What is Wyscout?
Wyscout is one of the most powerful tools in the whole of world football. Graeme Bailey looks at the impact of one of the most revolutionary developments to ever impact on the game.
By Graeme Bailey - Tweet me: @graemebailey
Last Updated: 21/05/14 12:11pm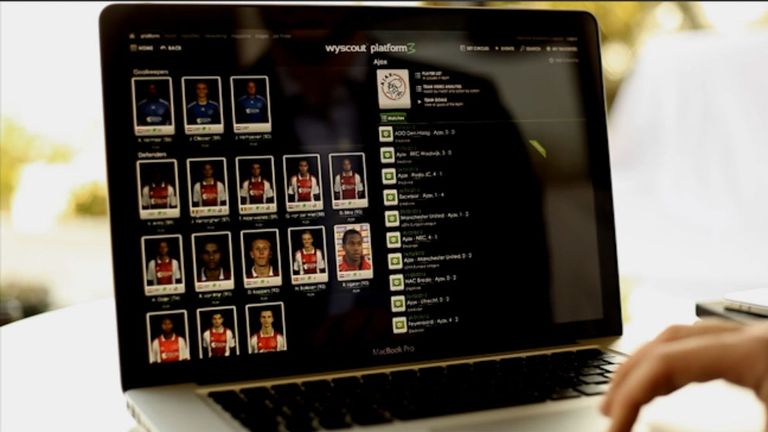 Have you ever played any edition of FIFA on the PlayStation or Football Manager on your PC? Within that you have the ability to access a database of every player in the world, see his stats etc and lodge a bid - totally unrealistic many think...well it is much closer to real life football than you could ever have imagined thanks to one thing - Wyscout.
It is used by the Football Association, the Spanish Football Federation, Real Madrid, Barcelona, Arsenal, Bayern Munich and many, many more, which is really the first clue about Wyscout.
But what is Wyscout? Well, as the title would suggest, it is to do with scouting, and that is just what it is - a scouting tool which clubs, players, agents, footballing directors or anyone involved in football can pay and have access to.
From its origins in 2008 as a football database, which included a website from which express delivered DVDs could be ordered, a couple of upgrades then included webpages with videos embedded in them, which was a sign of things to come.
The company then launched set-top boxes, which allowed customers to access a video database.
The Wyscout 2 Platform launched in 2010, which was the website version allowing premium access and this was followed by the current Wyscout 3 version, which includes fully-engaged web-based tools, including video analysis.
The latest version of Wyscout also includes the ability to network for clubs, players, agents and even the ability to organise transfers and trials. And, if that is not believable, it is a known fact in footballing circles that a Premier League transfer was concluded this summer completely through Wyscout without that player being seen in person by the buying manager and club.
So Wyscout is suddenly, almost from nowhere, touching every aspect of the game in every major league in world football.
And what better person to expand on the idea than Wyscout founder Matteo Campodonico.
"Wyscout could be considered from one side the most used scouting and transfer platform in the world, with more than 450 clubs using it, and from the other Wyscout could also be considered the biggest football network in the world - of course after FIFA," explained Campodonico.
"We have put together the biggest community in the world with more than 300,000 people - sporting directors, scouts, agents, players - communicating and using our systems. Wyscout is a football community."
As Wyscout is more than a tool, as a community they are priding themselves in helping to bring the football clubs, on a transfer front, together - making life that much easier for everyone involved, from clubs, to players, to agents, everyone who could possibly be actively involved in a transfer.
"We have now created our market place for players and have a transfer zone, where player agents and clubs can promote their own players in the world because the world of the transfer market is global now, there is no agent or club in the world that cannot take this opportunity," Campodonico continued.
"You can't just sell a player in the Middle East, China, Australia, Mexico, Brazil - but on the other side you can buy everywhere, so we started that. In the world of football before Wyscout there was maybe just a DVD of the agent to show, but in such a big market that is worth billions there had been no enhancement in helping to share information and to save time and money, so how can you operate in such a global market without the advanced tools? So Wyscout is trying to fill this gap and bring the tools to the market."
Campodonico admits that launching their own transfer zone, basically an on-line live transfer list, was an experiment but one which he is pleased to have been taken on.
"I was very surprised when we launched our transfer zone called the market place> Clubs can tell other clubs that a player is for sale, and at what price, his information and it did surprise me that the clubs were willing to do that, reserved information but that is a sign of how far we have come," he explained.
"We started the transfer zone because people in the Middle East told us that, when they started calling agents and players, 90 per cent told us that they weren't available. It is like a live transfer list, you can tell the clubs, for instance in Qatar, these players are interested to come to you at this price.
"Our transfer zone has three different levels of discretion, you can provide full data so everyone knows he is for sale, but you can just send message to clubs in certain areas.
"When you start creating new markets in football, in the end we love football and still do.
"But we also know our limitations. We save time and are helping clubs. When we started, the market was full of people travelling the world - the desks of the managers in England, Italy and Spain were full of hundreds of DVDs and, to buy before Wyscout, in say somewhere like Colombia, that was from a DVD sent by a Colombian agent. But then you have to ask information and maybe it takes two weeks. The process of watching by video was at least two weeks, then the club might have the opportunity to watch on TV or whether to watch live, but the whole process of scouting from the DVD to live has changed. Then also the club might want to monitor a player. But now we have compressed all this into real time, in a matter of hours you can have a deep idea of every single player in the world. We have over 200,000 players on our system and a manager can give an answer within hours.
"We have every player in the world on our system from a scouting point of view."
Humble beginnings
Campodonico explains that, from humble beginnings in Italy, starting with his own local side Genoa, the idea has taken off, purely because everyone can easily see and reap the benefits.
"We started working in Italy, and they asked about monitoring players in Brazil and Argentina, then we started working in the UK and the Premier League clubs said what about Scandinavia? So we started doing that and one day I went to Oslo and a club asked me about Latvia, so then it was that. It is almost never ending and we are trying to go deeper in each country, going to the second and third level, and young player tournaments.
"It is complete information, videos and also we can offer private information and you can ask about the life of the player - everything."
Campodonico explains that the company is not purely made up of scouts, but they source information through a number of partnerships.
"We don't have a direct structure of scouting, through partnerships etc, we do offer opinion through some of our partners and we have that option for people to view live. We cover the full life cycle of a transfer."
Even word of mouth in the footballing world has played a significant part in their progress.
"We have over 50 clubs - most of the Premier League and Championship - in England. The culture of scouting is growing in the world, in Brazil two years ago we had no customers and then we had Corinthians, and when they won the World Cup - Paolo Guerrero scored - and Corinthians said they got him thanks to Wyscout, as nobody trusted him but they bought a Peruvian through Wyscout as they had the chance to study him, which was great for us, and from that other clubs had the interest in our system, because it is not a matter of money - although you can save money - but you need to have a scouting department and a lot of clubs in the world still do not have it."
With Wyscout becoming an integral part of everyday life in football, Campodonico admits that they are totally committed to remaining independent and having no allegiances.
"Our idea is that we are proud to remain an independent company, we get paid for the services, but we do not get involved. We are trying to offer every month, every day, new improvements for the areas," he said.
"We provide information, videos, connection, but we are independent so we can work together, with agents and clubs, and keep our relationships strong."Campodonico believes that Wyscout's reach is touching over 95 per cent of the current market.
"I think we are talking hundreds of deals, if not more. It is impossible to sign a player without watching him, I think that 95 per cent of transfers that it is normal to use Wyscout, it is a commodity in the market."
Wyscout also provides another truly intriguing companion to their whole service and that is the Wyscout Forums, which take place all over the world every few months. Simply the company gives clubs and agents the chance to come together and meet, rather than wasting hours on the phone setting up meeting. The company lovingly describes them as 'speed dating events' for football.
"Wyscout is also a forum, which is to really create speed dating for football. That is what it is like, we are putting them together."
Part of Wyscout's charm is the ease of use but they are also at the forefront of technology and refuse to stand still, making it almost impossible for their users to put it down.
"Technology is great, we started just with a DVD and now you can work on it with your Ipad," admitted Campodonico.
"When we started we didn't think that such an innovation in the market was possible."
And, because the company continues embracing technology, that is one reason the football industry is ready to pay big sums to use the system, which it can and does on a daily basis.
"Generally we have a pricing model set on the accounts, if you have one price that can be very low but up to a big club you can be paying some big money, in the thousands per month," he said.
"When we started we were always looking to build a commodity, we are hopeful it is affordable to everyone and we are also building new packages for players and agents. So an agent will be able to buy and watch their own players, as can the players themselves.
"We have a big IT structure because we need to be on top of everything technology-wise. Every day we are finding solutions for the future, so why not very soon use Google glasses to scout games and send information back?
"There is a general tool that teams use, but also nationals teams too."
National reach
National teams? Really - well yes, it is not just clubs and agents, but national teams from Germany, Spain and England are now using Wyscout.
The Football Association's performance analyst manager Steve O'Brien, based at St George's Park, explained its usage of Wyscout which was very much based around analysis of teams and players.
"Wyscout is something we have only just started using over the last six months and our primary usage of it is to access games from around the world, whether it be senior games, youth - domestic or international - that is our primary usage and it is fantastic for that," he explained.
O'Brien admits the enhanced technology and speed of the system was of huge benefit, adding: "Games are uploaded so quickly. Within one hour of it finishing you can have full access.
"Our second usage is to use the content for coach education, research - looking for particular aspects of play - because it has footage from around the world, you can look at new systems, and new features of the game really that can feed back into our coach educating programme.
"They have the first level of tagging of certain players and match events, and many clubs will use that for recruitment purposes and we are starting to use it to track our own players. It does have that capacity within the system."
O'Brien admits that national sides are already reaping the rewards of Wyscout when based away from their own headquarters.
"In terms of the development, it is a great source of games, particularly in tournament time, if you're away.
"For instance, like we had at the Under-20 World Cup, you have several games that were played every day and there were a number of permeations and to have access to games so quickly, to download them or even watch them live is fantastic and it speeds up the pre-game process and it just gives the opportunity to do things quicker, which you need in that tournament environment when you might only have two days to get ready for an opponent.
"It is a huge time saver, and one thing you do not have during tournament time is time. Your next game might be days away and you might have to prepare for three or four teams. "
O'Brien reveals that, as part of their coaching programme, Wyscout can be used to help develop the learning of coaches.
"We are trying to give our coaches access to it, because it is great for them personally. They can log on and watch games from around the world and it is fantastic for their development, they can see different situations from games around the world and we are trying to encourage it, not only to broaden their knowledge and study of the game, but to be able to track our young and development players.
"They can use it to study and then feed back to the coaches. We cannot use the footage because of copyright reasons but the coaches can use the content and feed it back to enrich the courses.
"It is a great tool and we are only just starting to get our use out of it."
O'Brien admits he is not surprised to see Wyscout spreading so freely throughout the footballing world.
"It is a well-established tool, several federations and a whole host of clubs, you can imagine from a worldwide recruitment view it would be hugely valuable - there is always the next stage, they are always developing and they are one of those pro-active companies," he explained.
"It is a time saver, it doesn't replace the well-established practice of observing the opposition, or the actual performance analysis that is done, it doesn't replace any of that, but the information that is shown, it can be more easily processed."
It is though clubs and agents who are the main clients for Wyscout, and we managed to speak to two clubs who actively use the system.
Middlesbrough scout Gary Gill explained to us how Wyscout has become a vital part of their modern network.
"We all use it at the club. Personally you use it away from the training ground, it is actually very versatile if you have the right hardware, when you are travelling to games," Gill revealed.
"We use it at the training ground, the technical scouts use it more so as their work is built around analysis - but we all use it, especially for looking at players.
"What we find particularly useful is that you can find players, go and look at him after someone has mentioned him. We use Wyscout as our additional tier for looking at players, you can discount them or rule them in, if it is something that you are covered on you can still do your analysis on him."
Gill admits that, adding Wyscout to their scouting mechanism, has enhanced their coverage.
"Primarily we use it, we get information that is driven by ourselves and we try and embrace as much as we can and this can help us build the picture - is he relevant, is he the type of player? That can all be dealt very quickly with Wyscout, it may sound like an advertisement - but that is what it is. We can watch virtually all football matches and break them down across all top leagues in the world."
Gill insists that live scouting will not be replaced any time soon by Wyscout under his remit.
"The way we use it, with all the costs involved, we would rather go and watch players that we think can improve us, but this helps us make an opinion before we go out. It does make things easier, you have that much more information before you go. We try and only travel and watch if we have done our homework before that.
"You have time restraints as to what you can do, but this is coupled with on the ground scouting. You can pick up on a player's personality. He could have all the ability in the world but it might be something you would only pick up on when you watch him."
It is known some deals have been done by clubs purely off watching a player via Wyscout and, although unlikely, Gill admits that scenario could never be ruled out.
"You can never say never, it could be a South American that could blow you away, but we are trying to elevate as many negatives or as many things that might not work by using such systems.
"You try and build a picture of footballer, as much as we can - all the other clubs will be doing exactly the same as us and you try and put the whole thing together.
"We continue with on the ground scouting, we have some really dedicated people who are working for us who just want to help us. It can help us spread the net a bit wider.
"I think it works, the technical scouting aspect is something that will only grow in my opinion but I don't think you will lose that eye on the ground.
"The recruitment department put in place here is a sign of how much this club is progressing. This is forward thinking and still developing and the proof will be in the pudding."
High esteem
To get a broader picture of Wyscout's role at club level, we spoke to Ross Wilson, Huddersfield Town's head of football operations.
Widely regarded as one of the finest young operators in British football, Wilson admits Wyscout is a tool he holds in very high esteem.
"The background for me is that we were one of the first clubs to bring it in at Watford and, when I arrived at Watford, one of the few things I wanted to bring in was Wyscout - it was a must that I needed to bring in," he admitted.
"It is not cheap but it is invaluable and is really important to us, and it is probably even more important for someone like us than a club at the very top level who can have so many people based around the world but it gives access to markets across the world."
Wilson admits that Wyscout is used to back up plans they already have in place.
"One of the things that we try and pride ourselves on is the organisation and knowledge base. We select the markets we want to be active in - like Denmark for instance. We signed a young player from there in the summer and we build up relationships and we get recommendations and our analysts and coaches can look at the information via Wyscout and we can make a call at that point, are we going to see him? We can do a lot of that selection process via Wyscout. We are not going to sign the player through Wyscout but we can decide whether we spend the money to go to Denmark to go and see a certain player rather than go and watch just 20."
It has been suggested that some clubs could even go as far as using Wyscout to cut down on other scouting operations, but Wilson does not see that as an option.
"Not at our club, people talk about statistics and where they come in, and replace some people and I have read that some people think that technical scouting will replace traditional scouting but the way I am operating and the way I would want to work is that the traditional scouting is supported by technical scouting and the technical system is there to help and not replace it.
"But it is about competitive edge, we talk about one per cent and Wyscout can give you that but we talked about a plan and Wyscout is just another layer of that for us."
Wilson admits that his manager Mark Robins has been using Wyscout for his own match preparation.
"Other than players, our manager is on it constantly to look at opposition, to look at things that are important to him. It is great for him and his preparation and his thought process, he can go into the Friday morning training session with the reports and looking at everything, like patterns of play, so when he is formalising his plans he is doing it with a lot of information. Some people say possibly too much but it is better to have too much than not enough."
Craig Honeyman, managing director of one of Britain's leading sports agencies SEM, believes Wyscout's main resource is the time saving capability.
"With our established foreign partners, we can get a lot of information about players coming in, and historically we would have had to make a decision prioritising on which players to go to watch first which for our team logistically, historically took out valuable to travel see these players - you can't take on a player or help try and move them, if you have not seen them in action.
"That is where Wyscout comes in, it is not just logistics, but the time function - for us to collate DVDs for clients we wanted to put to clubs - For example with a player from South America or Africa for us to receive the match on DVD could take five days, at best - now it is a matter of hours and we can point clubs to the game via Wyscout. Or even send them an email with a link"
Honeyman will be one of a host of delegates attending the Wyscout Forum in London later in December, and he admits that Campodonico assertion that it is 'speed-dating' for the football industry is hugely accurate.
"That it very much what it is like, our guys get slots and fill their diaries, it is even to the point that everyone walks around with badges, with their name and company - just to make things easier and you can talk to people straight away without needing a big introduction.
"The forum really is a unique place in football and just adds to the tools Wyscout is providing for the footballing industry. It is amazing how entrenched in the game it is already as most clubs in Europe now have access to Wyscout"