Nick Dougherty tell us how to play Augusta National, home of the Masters
Last Updated: 05/04/17 1:13pm
Nick Dougherty describes how to tackle one of the most famous golf courses in the world - Augusta National.
Hole 1, Tea Olive, 455yds, Par 4:
No easy opening hole, with a 300-yard carry needed to fly a big bunker on the right, while anything left catches the trees. Uphill, and plays its yardage.
Hole 2, Pink Dogwood, 575yds, Par 5:
The first obvious chance to get under the card - reachable in two, and only problems are the well-placed greenside bunkers.
Hole 3, Flowering Peach 350yds, Par 4:
Classic short par four, where the majority of players will take an iron off the tee, aiming to avoid fairway traps to leave a full wedge into a tricky green.
Hole 4, Flowering Crab Apple, 240yds, Par 3:
Long iron or hybrid needed to find a two-tier green guarded by two bunkers. The green is narrow and tough to hold.
Hole 5, Magnolia, 455yds, Par 4:
Tough, uphill dog-leg with two well-positioned bunkers to the left to catch errant drives. The green slopes a lot from front to back, with sand to the rear.
Hole 6, Juniper, 180yds, Par 3:
Something of a respite, this requires just a mid-iron from an elevated tee to a large, but severely undulating, target.
Hole 7, Pampas, 450yds, Par 4:
Used to be a real birdie chance until 35-40 yards were added as well as trees by the fairway. Now a driver and a mid-iron to a tough, well-bunkered green.
Hole 8, Yellow Jasmine, 570yds, Par 5:
Big, accurate drive needed to avoid huge fairway bunkers, this green is only accessible in two to the biggest of hitters.
Hole 9, Carolina Cherry, 460yds, Par 4:
One of the toughest greens in golf, sloping hugely from front to back. Any approach not hit bravely will roll back down the fairway, leaving a tough third.
Hole 10, Camellia, 495yds, Par 4:
Downhill, but this is one of the toughest greens to hit. Right-to-left drive required to avoid a treacherous long-iron approach.
Hole 11, White Dogwood, 505yds, Par 4:
First leg of Amen Corner, and usually the toughest hole. Long dog-leg left, trees on the right and a large pond guarding the green. Take your par and run!
Hole 12, Golden Bell, 155yds, Par 3:
The most famous par three in golf. Narrow green, water in front, bunkers at the back and nearly always a swirling wind.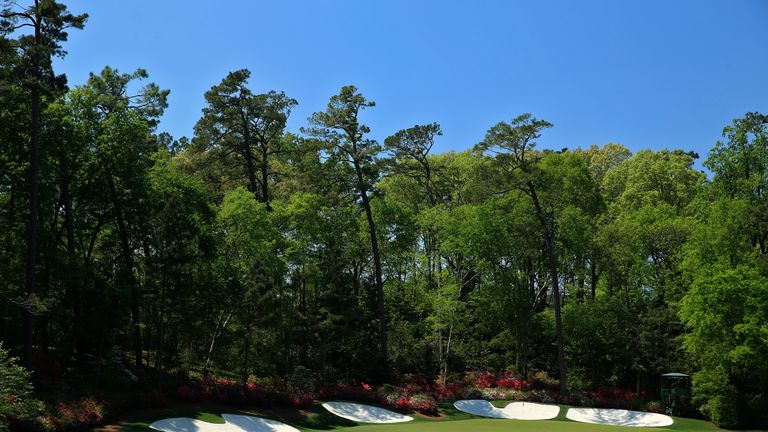 Hole 13, Azalea, 510yds, Par 5:
Dog-leg left, reachable in two, but Rae's Creek runs down the left and then in front of the green. A great risk-reward hole featuring eagles ... and sevens!
Hole 14, Chinese Fir, 440yds, Par 4:
The only hole with no bunkers, but the defence is one of the most testing greens. Three putts are common-place here.
Hole 15, Firethorn, 530yds, Par 5:
Great risk-reward par five that is reachable in two for most. Water guards the front, while anything over the green in two leaves a treacherous chip back.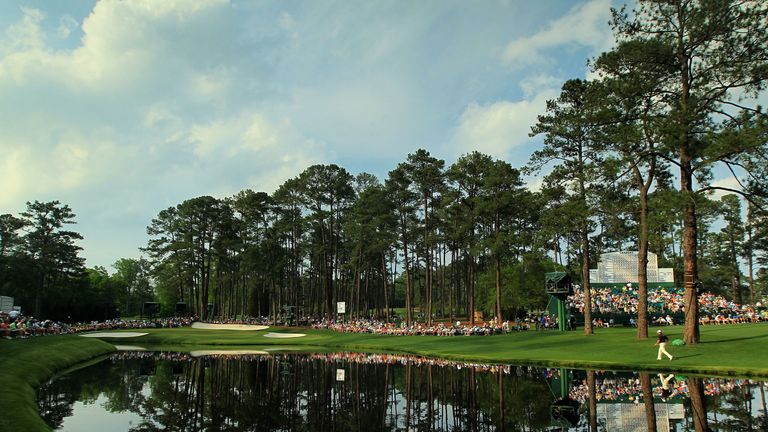 Hole 16, Redbud, 170yds, Par 3:
Mid-iron over water required, with a green which slopes dramatically from right to left. Scary last-day pin placement.
Hole 17, Nandina, 440yds, Par 4:
The Eisenhower Tree in the centre of the fairway was taken down last year, making the drive much easier. The green is tough to hit and hold, and there is no easy putt.
Hole 18, Holly, 465yds, Par 4:
All uphill, the drive through an avenue of trees must avoid two fairway bunkers. A two-tiered green sets up a thrilling finale.
Watch all four days of the Masters live on Sky Sports 4 - your home of golf.