Rory McIlroy accuses Patrick Reed of 'not living in reality' after range incident at Dubai Desert Classic
Rory McIlroy on reports of a dispute with Patrick Reed ahead of the Hero Dubai Desert Classic, live on Sky Sports: "If I were in his shoes, I wouldn't expect a hello or a handshake."; Reed responds: "Rory acted like an immature child"
Last Updated: 28/01/23 7:34am
Rory McIlroy has accused Patrick Reed of not "living in reality" after the world No 1 reportedly refused to speak to the American ahead of the Hero Dubai Desert Classic.
Reed, who is taking on legal action on several different fronts since joining the Saudi-backed LIV Golf series last summer, was alleged to have been ignored by McIlroy on the range in the build-up to the Rolex Series event at Emirates Golf Club.
Reed has since hit back at McIlroy by saying "if you're going to act like an immature little child then you might as well be treated like one".
The 2018 Masters champion is among the players involved in an arbitration case with the DP World Tour over sanctions imposed for playing the opening LIV Golf event in England last June, with a hearing due to begin next month.
Reed has launched a defamation lawsuit against several media members and organisations, while the lawyer representing the American in that case also subpoenaed McIlroy and Tiger Woods for their role in the players-only meeting that was held prior to the BMW Championship in August.
Asked if it was naïve of Reed to expect a warm welcome given the circumstances, McIlroy told Sky Sports: "I was subpoenaed by his lawyer on Christmas Eve.
"So of course, trying to have a nice time with my family and someone shows up on your doorstep and delivers that, you're not going to take that well.
"I'm living in reality, I don't know where he's living. If I were in his shoes, I wouldn't expect a hello or a handshake."
The subpoenas are part of a civil lawsuit filed in June by Larry Klayman which claims that Florida residents who bought tickets to PGA Tour events, or would in future, were damaged by the PGA Tour allegedly weakening fields by suspending players who joined LIV.
Tee incident "something that is nothing"
Reed allegedly threw a tee towards the four-time major champion after being snubbed, according to a report on Spanish website ten-golf.com, although McIlroy played down the incident.
Asked what had happened in his pre-tournament press conference, McIlroy said: "I was down by my bag and he came up to me, and I was busy working and sort of doing my practice, and I didn't really feel like... I didn't feel the need to acknowledge him.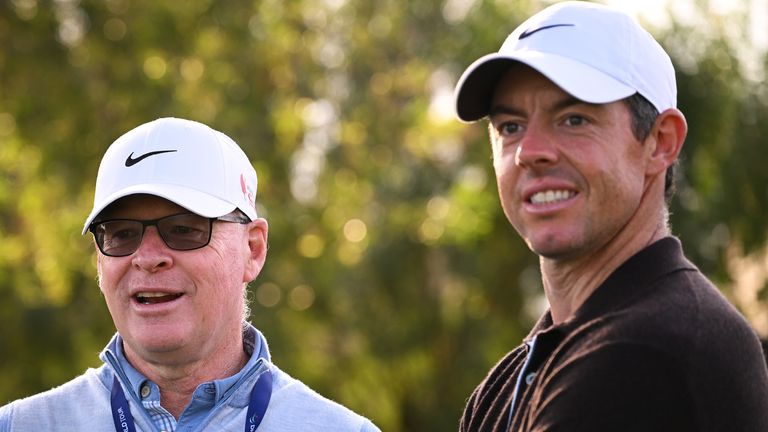 "So I didn't see a tee coming my direction at all, but apparently that's what happened. And if roles were reversed and I'd have thrown that tee at him, I'd be expecting a lawsuit."
Reed: Rory acted like an immature child
Reed was asked for his response to the incident and accused McIIroy of acting "like an immature child".
He told the Daily Mail: "Because of the relationship I've had with Rory - let's be honest, we've had some great battles at Augusta and other tournaments and our friendships been pretty good up until obviously joining LIV - I walked over there and wished Harry [Diamond, McIlroy's caddie] Happy New Year and then Rory because it is the first time I have seen them.
"Harry shook my hand and Rory just looked down there and was messing with his Trackman [device] and kind of decided to ignore us. We all know where it came from - being part of LIV. Since my tees are Team Aces LIV tees I flicked him one. It was kind of a funny shot back. Funny how a small little flick has turned into basically me stabbing him and throwing a tee at him.
"He saw me and he decided not to not to react. It's unfortunate. But it is one of those things - if you're going to act like an immature little child then you might as well be treated like one."
Talk surrounding McIlroy's dispute with Reed dominated conversation ahead of the DP World Tour event, although former Ryder Cup player Andrew Coltart questions why so much attention was being given to the incident.
"It's a ridiculous one, isn't it?" Coltart told Sky Sports. "It's crazy that we're actually focusing on something like this when we've got a wonderful tournament here with the world's No 1.
"Patrick [Reed] seems to be throwing out lawsuits to just about anybody and everybody in the golfing world. That hasn't come across with an awful lot of joy.
"There was an awful lot going on yesterday [Tuesday]. It's the first time that McIlroy is back here and it's perfectly legitimate that he genuinely didn't notice him [Reed] and he was just going about his business.
"I just can't believe really that we're talking about something that is absolutely nothing."
Watch the Hero Dubai Desert Classic throughout the week live on Sky Sports. Live coverage begins with Featured Groups on Thursday at 3.30am on Sky Sports Golf, ahead of full coverage from 7am.

Get the best prices and book a round at one of 1,700 courses across the UK & Ireland