Tiger Woods and Phi Mickelson believe it is inevitable that Rory McIlroy will win the Masters - whether it is this week or not.
McIlroy can become the first player since Woods - and only the sixth in history - to complete the career grand slam by winning his third straight major at Augusta National.
"I look back when I did it in 2000, I couldn't ask for a better place to do it at other than St Andrews, the home of golf," said Woods on completing his career grand slam at the Open 15 years ago.
"And for Rory, you couldn't ask for the other better place to do it, which is here at Augusta. It doesn't get much better than that.
"He has that opportunity and he's going to have that opportunity for decades to come. But I'm sure he'll have many green jackets in his closet before it's all said and done."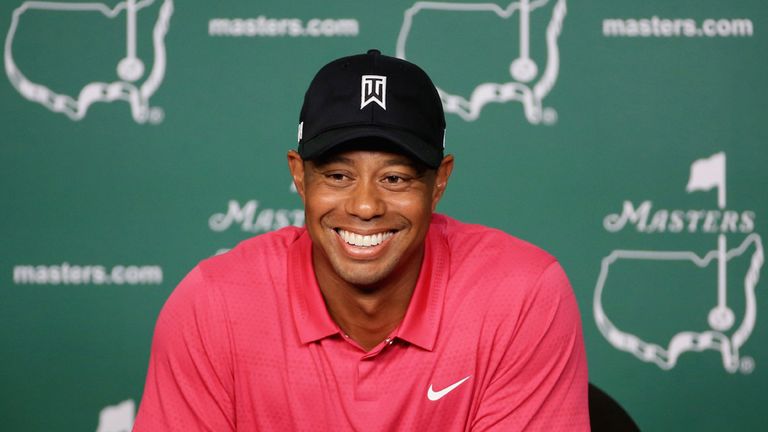 I'm sure he'll have many green jackets in his closet before it's all said and done.
Tiger Woods on Rory McIlroy
Three-time Masters champion Mickelson also believes McIlroy will wear the green jacket sooner or later.
The American said: "I think the Masters is very well suited for Rory. He almost won here a couple of years ago - he was leading heading into the back nine. The type of length and ball-striking that he has, I think this a course that he is going to be tough at for the rest of his career.
"Whether it's this week or not, you never know – you always need a bit of luck, a bit of a break to win any tournament and maybe he gets it this week, maybe he doesn't.
"Over the course of 15, 20 years, he'll get those breaks and he'll win the Masters."
Woods meanwhile said he had worked hard to get his game back in shape after recording a career-worst 82 to miss the cut in Phoenix and then withdrawing from his only other tournament of the year after 11 holes due to injury.
The 39-year-old, who had hoped to return to action in the Arnold Palmer Invitational said winning remained his primary motivation despite appearing to have a more relaxed attitude since arriving at the course on Monday.
"It's nice to be back and seeing some of my old friends out here and get back to competing again," he added. "Whether I have blinders on or not, I don't feel any different. I feel like I'm preparing to try and win the Masters.
"Competing is still the same. I'm trying to beat everybody out there. That hasn't changed. I prepare to win and expect to go and do that.
"The only difference is that I won the Masters when Jordan (Spieth, runner-up in 2014) was still in diapers. That's the difference, is that guys are now younger, a whole other generation of kids are coming out."
McIlroy has recorded just one top-10 finish in six previous appearances at Augusta - last year's tie for eighth - although he did take a four-shot lead into the final round in 2011 before collapsing to a closing 80.
But he believes Augusta National suits his game and cannot wait for the tournament to get under way on Thursday after the hype which has been building  since his Open triumph at Hoylake last July.
"I think I've developed a game where I can compete at pretty much any golf course now. That might not have been the case two or three years ago," McIlroy said.
"But if you're looking at the courses, Augusta's the one that should set up the best for me just with my ball flight and being comfortable off the tee here, especially being able to turn the ball over from right to left.
"If I can play the way I know I can around here and just have a good week on the greens, then there's no reason why I shouldn't have a good chance."
With a Sky Sports Week Pass you can watch all of the Masters on NOW TV. No contract