Tiger Woods saves par from the trees and almost aces the next hole!
By Keith Jackson
Last Updated: 09/03/18 12:28am
Tiger Woods risked breaking his club and possibly his hand as he produced a remarkable escape from the trees during the first round of the Valspar Championship.
But his bravado was rewarded as he managed to save his par, and moments later Woods came within a couple of inches of making a hole-in-one in an entertaining finish to his debut round at Innisbrook.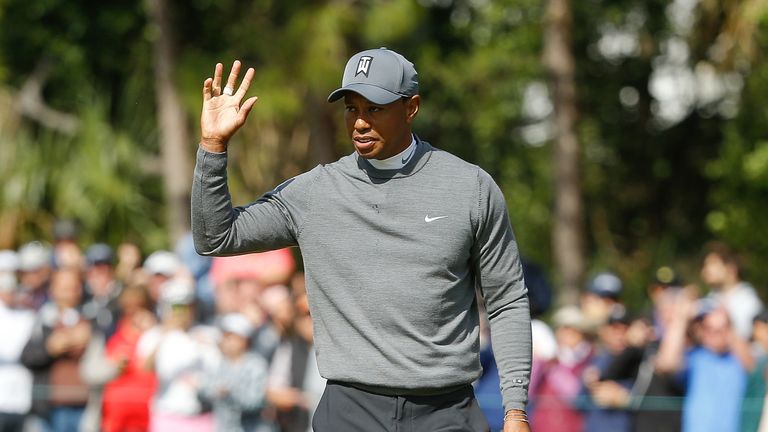 Woods was level par for the day when he arrived on the 16th tee, the first hole of the notorious Snake Pit on the Copperhead Course, but he looked certain to drop a shot when he pulled his tee shot deep into the trees on the left.
However, rather than play a simple pitch back out to the fairway, Woods opted to take an aggressive approach and go for the green despite tree trunks restricting both his backswing and his follow-through.
The 42-year-old made great contact and instinctively let go of his iron as it clattered into the bark, although he did wince as he appeared to injure his left hand in the process of completing the shot.
Woods managed to clear the water as his ball held up in the rough just short of the green, but he pitched to within three feet and rattled in the par putt to the delight of the huge galleries following the former world No 1.
The crowd almost erupted moments later when Woods hit a near-perfect high fade with a five-iron at the 200-yard 17th, his ball landing softly on the front of the green and missing the hole by a mere inch or two, setting up his fifth birdie of the day in an opening one-under 70.
Watch the videos above to see Woods thrill the fans in Tampa at the Valspar Championship.