Players' Championship: Webb Simpson had to "battle through" for TPC Sawgrass win
By David Currie
Last Updated: 14/05/18 2:02pm
Webb Simpson said he had to "battle through" to win The Players' Championship at TPC Sawgrass, despite having held a seven-shot lead going into the final round.
Simpson, who started the day -19, carded a one-over-par 73 but that was still good enough to win by five shots and see him claim a first tour trophy since 2014.
Earlier, Tiger Woods had mounted a strong challenge, with six birdies over the first 12 holes moving him to -14 before he fell away down the stretch to finish -11.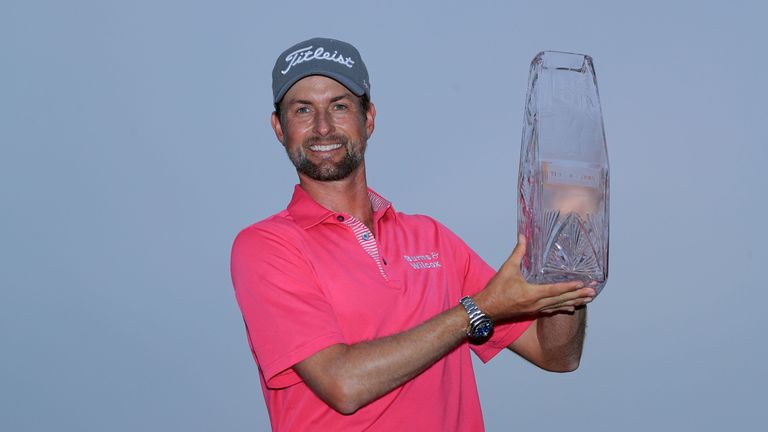 Reflecting on his win, Simpson said: "It feels great. I am exhausted. It was a long day and it is actually probably harder work to be ahead by five or six than near the lead.
"I battled through, didn't have my best stuff today but it was good enough. I'll learn from it."
"It was tough. I tried to just stay busy this morning, reinforce that it was just one shot at a time - you have a tendency to want to fast forward and get it done. I had to pace myself and just stay in it."
While it was Simpson who lifted the trophy at the tournament's conclusion, he singled out his support team for praise for helping him through his baron run of 107 starts without success.
"It means everything to me. I'm the face that's playing, but there's so much that goes behind what I do," Simpson added.
"There's so many people that are part of the puzzle. 107 starts, I think had it not been for my faith it would have been a lot harder. It was still hard, but I'm just really thankful to get it done.
"Of course my wife was with me every step of the way. We've spent the last few years, many dinners with me in tears being frustrated about my golf game, and she was right there the whole time just supporting me, encouraging me to work hard.
"She was a positive light for sure, and then there's the countless friends and family who have been praying for me and pulling for me. This is truly a team sport. Although I'm the only one out there hitting shots, it really is a team sport.
"I've never really played well today, but I enjoyed the golf course. I'm comfortable on the golf course. Sometimes it's just a mystery; some weeks, something happens, and I had a good solid first round and then second round was pretty special.
"This weekend I hung in there to get it done. All in all, an incredible week."