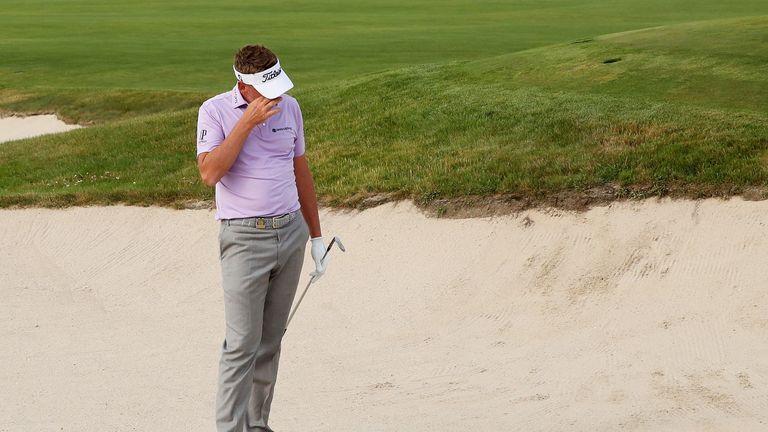 The dust is starting to settle on the 2018 US Open, but there is still plenty of discussion surrounding the state of the course on day three of the tournament that was eventually won by Brooks Koepka.
The USGA would have been hoping to avoid the difficulties they faced at Shinnecock Hills in 2004, but similar issues struck on day three as players lined up to criticise the conditions.
"We're not on the edge," two-time major winner Zach Johnson told Sky Sports. "I thought we could be on the edge but we've surpassed it, and now it's pretty much gone. It's unfortunate because in my opinion this is one of the best venues in all of golf.
"It's as good as it gets. Shinnecock Hills is beautiful but unfortunately they've lost the golf course."
Social media was awash with comments on the controversy, and we've picked out a few of them...
I'm not sure i could possibly comment without using words which shouldn't be seen... just like some of those pins. "Disappointing" @USGA @usopengolf why are mistake still being made at this level. Was that fun to watch guys ? I'm only 4 behind & can still win this 👍🏻👊🏻 https://t.co/sbXm36JmAN

— Ian Poulter (@IanJamesPoulter) June 17, 2018
Painful finish with a 7 at the last that ruins a pretty decent day. Regardless, it was not a fair test of golf. Greens were unplayable, with unnecessary pin positions. @USGA found a way to make us look like fools on the course.A pity they manage to destroy a beautiful golf course

— Rafa Cabrera Bello (@RCabreraBello) June 16, 2018
Isn't how I pictured, but shot +4 and moved 3 spots closer to the lead 🤷🏽‍♂️ haha today was interesting! #thatwashard

— Justin Thomas (@JustinThomas34) June 17, 2018
As a player and a golf fan myself, it's sad to see how one of our biggest tournaments @usopengolf gets ripped apart because the @USGA can't figure out the right set up for the great golf courses we play!!

— Sergio Garcia (@TheSergioGarcia) June 17, 2018
If golf fans sang like football fans, they would be singing "you're getting sacked in the morning" to whoever decided the pin placements for the back 9 😂🙈 #carnage

— Tyrrell Hatton (@TyrrellHatton) June 16, 2018
This is fantastic viewing isn't it. The commentary is interesting too. The players would get fined for saying what they have been.

— Lee Westwood (@WestwoodLee) June 16, 2018
No doubt the course got out of hand at end of play with winds drying greens - I anticipate easy Sunday pins & softer greens @SkySportsGolf

— Paul McGinley (@mcginleygolf) June 17, 2018