Phil Mickelson sorry for actions at US Open at Shinnecock Hills
"My anger and frustration got the best of me last weekend. I'm embarrassed and disappointed by my actions," Mickelson says.
By Sky Sports News
Last Updated: 20/06/18 5:13pm
Phil Mickelson has apologised for his rules breach at the US Open revealing he is "embarrassed" by his actions at Shinnecock Hills.
The five-time major winner was four over par for his third round on Saturday when he over-hit a putt on the 13th green and, seeing where it was headed, ran around and struck it again to incur a two-shot penalty.
Mickelson provoked widespread criticism with Sky Sports golf expert Rob Lee saying the situation was "ridiculous" and the American risked losing the respect of his fellow professionals.
On Wednesday, Mickelson sent a message to a select group of the United States golf media saying: "I know this should've come sooner, but it's taken me a few days to calm down.
"My anger and frustration got the best of me last weekend. I'm embarrassed and disappointed by my actions. It was clearly not my finest moment and I'm sorry."
Former US PGA champion Steve Elkington was among those who called for the American to be disqualified and accused him of "trying to embarrass the USGA".
Asked why Rule 1-2, which covers a ball being "influenced or deflected" and can lead to disqualification for a "serious breach" was not invoked instead, John Bodenhamer, USGA's director of championships, said: "Phil didn't purposely deflect or stop the ball, which is talked about in the reference under Rule 14-5. He played a moving ball."
USGA chief executive Mike Davis later revealed that Mickelson had telephoned him to clarify whether or not he should have been disqualified.
Davis said: "Phil really did want to understand how the rule operates because he didn't want to... frankly, as he said to me, he goes, 'Mike, I don't want to play in this championship if I should have been disqualified'.
"That's where we clarified that, 'Phil, you actually made a stroke at a moving ball, and so we have to apply that rule (14-5)'.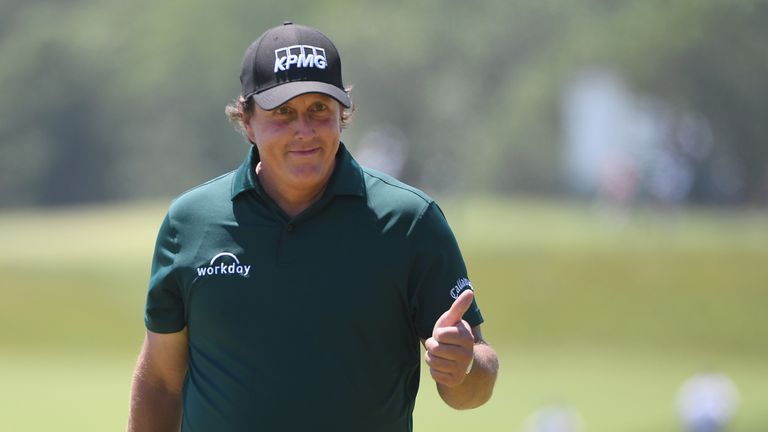 "That's different than if he had deliberately just stopped the ball or whacked it in another direction or something like that. So it's just, it's us applying the rules."
Jordan Spieth, discussing on Wednesday the defence of his Open Championship title at Carnoustie next month, said it was disappointing Brooks Koepka's US Open glory had been overshadowed.
"I think it is a shame that the main focus hasn't been Brooks Koepka winning back-to-back titles, from what I've seen or heard," Spieth said.
"It has been on the golf course, players complaining, Phil - you never really want that because it is such a difficult thing to win a major. You always want it to be about the person who won."