PGA: Rory McIlroy insists arm is fine despite using patch at Bellerive
By Keith Jackson
Last Updated: 09/08/18 9:01pm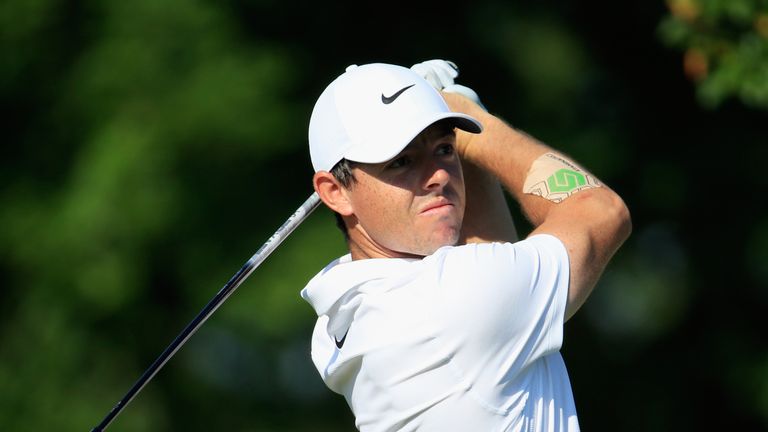 Rory McIlroy played down an injury scare after opening the PGA Championship with a level-par 70 in hot and humid conditions at Bellerive.
Playing in the marquee group in the first round with Tiger Woods and Justin Thomas, McIlroy took to the course wearing an anti-inflammatory patch on his forearm to combat tightness in the muscle.
McIlroy admitted he first felt the problem over the weekend of the WGC-Bridgestone Invitational in Akron, but he insisted it did not affect his swing as he mixed two birdies with a pair of bogeys and parred every hole on the front nine.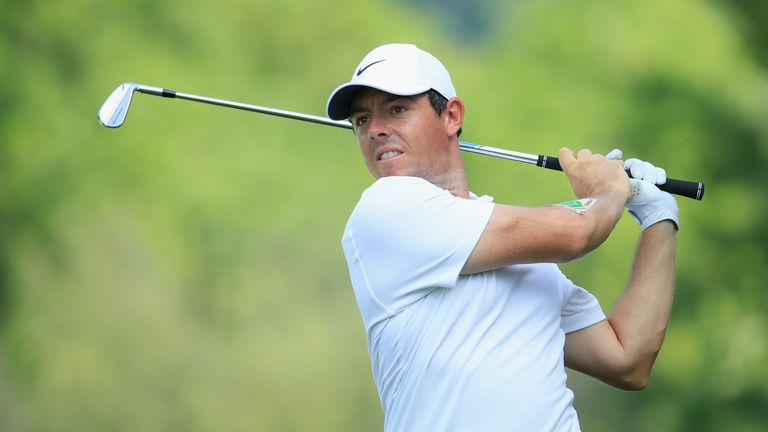 "I started feeling it the weekend of Firestone," said the 29-year-old. "Funny enough, it hurts the most with chipping because I sort of hold the angle a little bit. It's just that the whole forearm has been tight. I hit a lot of balls last week at Firestone working on a few things, and it's just a little inflamed and a little tight, but it's fine."
Many had predicted a low-scoring affair this week with the Bellerive course softened by recent rainfall, but McIlroy insisted it was still tough to make birdies and was not surprised that none of the early starters managed to better Rickie Fowler's 65.
"It wasn't that easy out there, and the scores sort of reflect that," he added. "Obviously, Rickie is at five under and a few guys are at three. I wish I could have taken advantage of the two par-fives, but I gave myself a few chances. I finished the round off with nine pars, and it could have been a little better.
"The wind is getting up a little bit and it's sort of swirling, which is making it tricky. I feel like I hit good putts out there today that either didn't want to break or they hit something. So it was tough, and you just had to stay patient."
And on the expectation of the course being low scoring, he said: "I didn't hear any of that from the players. That's from people that aren't playing in the tournament that haven't played the golf course, and they really don't know.
"You've got to drive it on the fairway, and even when you do, with how soft the greens are and they're up on these little ledges, the ball, you have to be so accurate with your irons.
"You've got to be really dialed in with your mid and short irons in particular. If you are and you can put it on the fairway, you can shoot four, five or even six under par."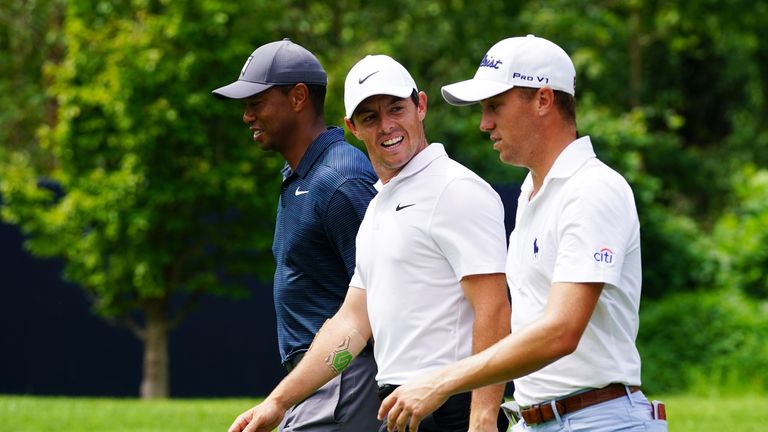 McIlroy also enjoyed being in such a high-profile group for the first 36 holes, and he is looking forward to locking horns with Woods and Thomas again in the afternoon heat on day two.
"It was pretty cool to be out there 8:30 in the morning and have an atmosphere like that," he added. "JT and I were saying it's going to get a little crazy tomorrow afternoon. So we're looking forward to that.
"Harry caddied for me in the 2005 Irish Open when I was 16, and then we're walking the fairways in a group like this today, 13 years later. So it's pretty cool. It's always nice to be a part of these groups. You know, it's something that I have sort of got used to, and that's a nice position to be in in this game."