Astbury Hall
Last Updated: 03/03/15 3:09pm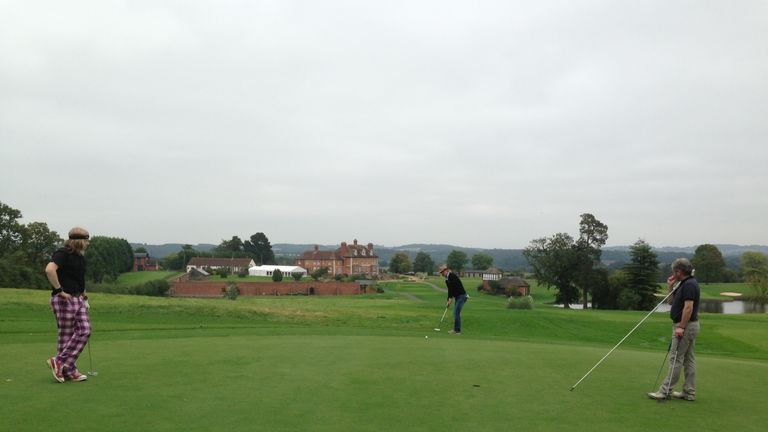 Astbury Hall - the creation of Judas Priest guitar legend KK Downing - has big plans. We find out more.
Astbury Hall - the creation of Judas Priest guitar legend KK Downing - has big plans. We find out more...
"The course is in unbelievable condition. It has been great to play on such unbelievable greens, fairways and tees. It has been presented unbelievably well and every credit to KK Downing and his team for putting on a great show."
Those were the words of James Hepworth after he won the EuroPro Tour's Astbury Hall Classic in a three-way play-off with Elliot Saltman and two-time European Tour winner David Horsey earlier this year.
So how did the UK's leading golf tour end up pitching up in the private grounds of a legendary heavy metal guitarist?
The answer is simple. The quality of the course.
When the full 18 - making it a 6,500-yard par 71 - were completed in 2010, word spread quickly that this was not just a few holes cut in a millionaire's backyard. Instead it was a championship course of true quality with beautifully manicured playing surfaces and built to USGA specifications.
Touring with Judas Priest had given Downing the chance to play some of the best courses on the planet and he brought some of the inspiration and design ideas back with him. The perfectionist streak and driving ambition which had helped Judas Priest sell over 40 million records was channelled into designing a spectacular layout in the rolling hills of Shropshire.
Quickly it's earned a reputation as one of the elite venues in the West Midlands and now stages many pro events and charity days. It's also now the club of choice for the golfers at Wolverhampton Wanderers FC.
Hosting May's EuroPro Tour event meant the Sky Sports cameras made their first visit to Astbury Hall and the video (above, right) gives you an idea of the top-class course and wonderful surroundings.
In the last couple of years, KK has opened a bar and restaurant at Astbury Hall, the bar tastefully adorned with pop-art canvas paintings of Cream and Bob Dylan along with a couple of Judas Priest's million-selling discs
So what of the future plans for Astbury Hall? They're bold and ambitious, as KK Downing himself reveals.
Interview with KK Downing
Sky Sports: When you hosted the EuroPro Tour event, what did the players make of the course. Did you get some good comments?
KK Downing: Yes, all great comments, nothing negative at all. They particularly loved the greens, but also said it was a great track.
Sky Sports: Are there any plans to go up a level and maybe host a Challenge Tour event?
KK Downing: Totally. I have been told that I could even have a European Tour event here but I will have to wait until I have accommodation.
Sky Sports: What's your favourite hole on the course?
KK Downing: Very difficult question indeed! But I always enjoy playing hole 6 - 'Touch of Evil' - as I enjoy the challenge of the green, and making par is like winning the lottery, loads of fun!!
Sky Sports: What are the future plans for Astbury Hall?
KK Downing: To get accommodation here. I've just met with Cheshire Spas who built the great spa at The Mere. Meanwhile, I am forging ahead to create secondary homes for holidays and leisure. Hopefully Astbury can become a premiere luxury golf and leisure facility with the bonus of having some great tour events.
The annual Mods v Rockers challenge
As a Fred Perry-wearer with the same musical tastes as Bradley Wiggins, last year I tentatively pitched to KK the idea of a Mods v Rockers match. Not fighting on Brighton beach but an 18-hole four-ball shootout involving myself and colleague Matt Cooper (the Mods) vs KK and fellow axe-wielder Pat Bristow from Dog Called Steve.
When KK signed off his reply with 'Up The Rockers!!' it was clear he was up for it. KK and Pat won 5&4 so the Mods wanted revenge.
Mods v Rockers II in October 2013 went pretty much the same way though. KK's solid ball-striking and sharp short game along with Pat's demon putting meant they took an early grip and never relinquished it. The writing was on the wall for most of the back nine but it didn't stop the Rockers celebrating in style.
Get to play Astbury Hall
Astbury Hall is a Pay and Play facility with no membership. Full greens and tees are used over the winter period (no temporary greens) and green fees are available at £25 for 28th, 29th and 30th October.
For 2013/14 season, the club has launched a "Season Ticket", enabling golfers to play unlimited rounds at Astbury. Full details are available on the website.