The US trailblazers
Matt Cooper, who is reporting from Grand Final, focuses on the young US stars of the Challenge Tour.
By Matt Cooper
Last Updated: 31/10/13 2:47pm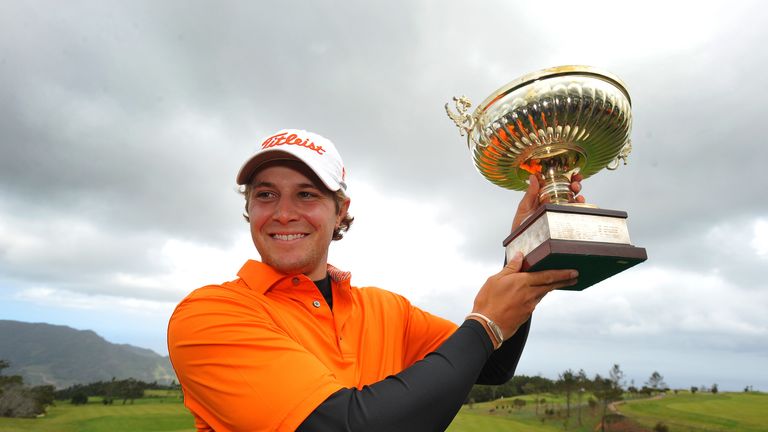 It has been one of the themes of the European golf season - the success of the two young Americans, Peter Uihlein and Brooks Koepka.
Because not only have they performed outstandingly, first on the Challenge Tour and then on the European Tour also, but their success has, apparently, inspired a generation of fellow countrymen to follow in their footsteps.
Indeed one of them, 22-year-old Brinson Paolini has been playing on the Challenge Tour since mid-summer, was a winner in July in France and, after a six-under-par 66, he holds the joint lead after round one of the Dubai Festival City Grand Final.
But first things first because the success of Uihlein and Koepka is a compelling storyline in its own right.
Uihlein is the son of Wally Uihlein, chairman and CEO of Acushnet, who own Titleist amongst other companies, which means doors could have been opened to him as he embarked upon his professional tour golf career.
But Uihlein chose to take a different route, making a series of decisions that suggest he is as mature and patient a man as he is a golfer.
Failure to secure a card at either PGA or European Tour Q Schools in late 2011 didn't faze him. He opted to travel, confident in the belief that it would offer him a cultural and golfing variety that would ultimately benefit his long term prospects, rather than satisfy any short-term goals.
As the 2012 season panned out he spent most of it on the Challenge Tour and, just as he had at Q School the previous year, he failed to earn a main tour card. Some may have had second thoughts, others panicked, but not Uihlein. He resolved to return for a second crack at it.
"Oh yeah," he told SkySports.com last week. "I really enjoyed that first year. I didn't play a lot of events and at the end of it I looked back and thought I should have played more. Plus I didn't win so there was no question I wasn't coming back! I was only young and you don't give up on something that quickly!"
Having fun, learning as he had hoped to, using invites and limited exemption status, Uihlein made a bold start to the 2013 season with three top ten finishes, one on the PGA and two in Europe.
In mid-May his career turned around with victory in the Challenge and European Tour co-sanctioned Madeira Island Open and he hasn't wasted the opportunity granted by that victory, playing superbly for the rest of the season and currently lying inside the top ten in the Race to Dubai.
Meanwhile, his room-mate Koepka was already a winner on the 2012 Challenge Tour - just two weeks before Uihlein's win in Madeira - and before the end of June he had added another two to join Uihlein on the European Tour via Battlefield Promotion.
Sparking off each other
"We were definitely sparking off each other!" Uihlein says of that golden two months period. "I hope it helped Brooks when I won Madeira and then played the BMW PGA Championship. I think he thought, 'That's where I wanna be!'"
Their combined success has had multiple consequences. For one it has brought them to the notice of the wider media and public as potential stars of the future.
It has also highlighted, in the 25th year of the Challenge Tour, the role the circuit has in furthering the education of young talent, for proving that sometimes the fast route is not always the best one.
It has also prompted an unparalleled number of young (and not so young) Americans to enter European (and by extension Challenge) Tour Q School. Did any of these players contact Uihlein for advice?
"Yeah, a few guys have been in touch and the explanation about my choice was simply the fact that it's great tour and a means to an end. You can progress on tours like the Challenge Tour and when you play well you get rewards like gaining a good card for the European Tour."
What adds spice to the pot is that, in addition to Uihlein and Koepka advertising a European route to the top, the traditional US route has become more complex. Q School on the PGA Tour no longer exists as it once did. Qualification comes via a season on the Web.com Tour or success in the new Fall Series. A life changing week of golf at Q School is no longer an option - except overseas.
"I definitely think they are coming over to get a main tour card straight away," says Uihlein. "I think they may have seen me performing quite well over here and thought I would like some of that!"
What will be interesting in the long term is how those dreams pan out. Uihlein and Koepka spent 18 month on the Challenge Tour. They were not impatient for success and they are very, very fine golfers.
By implication many of the golfers following their route are impatient and few are likely to be as talented.
It is a distinction Paolini recognises. "I have definitely come over here knowing that the long term goal is to have a long and successful career," he said after his round in the intense Dubai heat. "I think some players will view European Tour Q School as a fast route, rather than looking at the potential it has to give them a strong grounding.
"It's been tough - different languages, visas, countries - and on the course the variety is greater than in the States,."
To join Uihlein and Koepka on the main tour Paolini believes he needs a top two finish this week. He hopes to succeed but will be taking one round at a time and is not troubled if he needs to follow their example and have a second season at this level.