Henrik Stenson says LIV golfers should be allowed on DP World Tour as legal ruling looms
"There are multiple tours in the world and, as far as I am concerned, if you fulfil the criteria and earn right to be there you should be able to play as many tournaments as you like" - Henrik Stenson on LIV golfers playing on DP World Tour; Luke Donald hopes for Ryder Cup clarity soon
Last Updated: 19/01/23 2:56pm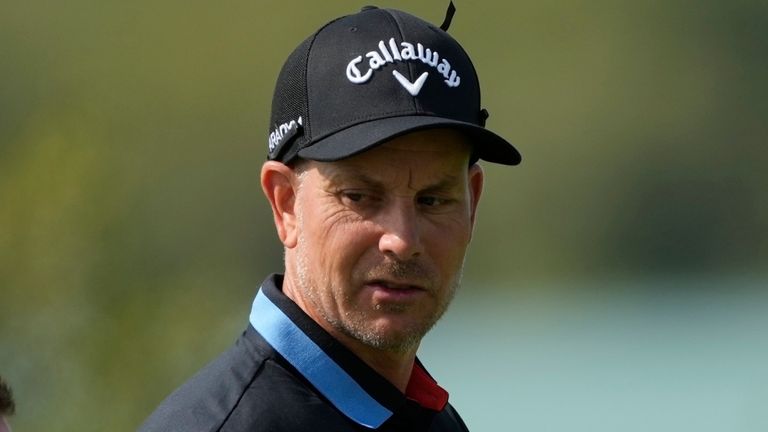 Henrik Stenson says LIV golfers who "earn the right" to play on the DP World Tour should be allowed to feature in tournaments on that circuit
Stenson, Open champion in 2016, defected to the Saudi-backed LIV Series, which resulted in him being stripped of the Ryder Cup captaincy for this year's event in Rome and Luke Donald being appointed in his place.
The Swede and his LIV counterparts, including England's Lee Westwood and Ian Poulter, will find out next month at a legal hearing whether the DP World Tour can ban them from competitions.
Stenson played his first round on the DP World Tour since the Scottish Open in July on Thursday, carding a four-under 68 at the Abu Dhabi HSBC Championship.
Asked afterwards how he would respond to people saying LIV golfers should not play on the DP World Tour, Stenson said: "Then when all of us went and played on the PGA Tour back in the day we shouldn't have been welcomed back
"There are multiple tours in the world and, as far as I am concerned, if you fulfil the criteria and earn the right to be there you should be able to play as many tournaments as you like.
"I haven't had anyone step up personally and vent those thoughts. The reception [from the other players] has been great. I've seen a lot of guys I haven't caught up with for some time. It has been a great week so far."
When asked by Sky Sports' Tim Barter whether he had any regrets about the LIV move that cost him the Ryder Cup captaincy, Stenson added: "I made my decision and obviously Ryder Cup Europe made theirs. It's not great but it is what it is.
"The Ryder Cup has been a big part of my career and I wish Luke [Donald] all the best. We will see where we end up in the long run over this."
Donald: My goal at Ryder Cup is to have 12 guys unified
Poulter said earlier in the week that his commitment to LIV meant he did not expect to be one of Donald's wildcard picks "in any way, shape or form" and that he may even opt out of the biennial tournament if he qualified by right.
Speaking to Sky Sports after shooting an eight-under 64 to lead the Abu Dhabi HSBC Championship after round one, Donald said: "Hopefully in a few weeks' time, from my standpoint there will be a bit more clarity on who I can pick and who I can't [at the Ryder Cup]. My goal in September is to have 12 guys that are unified."
Donald had a watching brief at the Hero Cup last week as a squad from Continental Europe beat a side from Great Britain and Ireland in a tournament aimed at giving potential Ryder Cup players experience of team events.
The 45-year-old added: "The changing of the guard happens all the time and having watched 20 guys at the Hero Cup last week, there was tremendous talent on display. They are good golfers, good enough to compete and win a Ryder Cup in September.
"We have depth of young player and people who have been there before playing great. Part of the Hero Cup was to hammer home how important it is to play Ryder Cups and what it means.
"We want our most in-form players being on that team so having the flexibility [of six picks] gives me that opportunity."
Watch day two of the Abu Dhabi HSBC Championship live on Sky Sports Golf from 3.30am on Thursday. The Ryder Cup is live on Sky Sports between September 29-October 1.