Flashback to Niall Horan's unfortunate Masters slip as Rory McIlroy's caddie
Last Updated: 06/04/16 10:46pm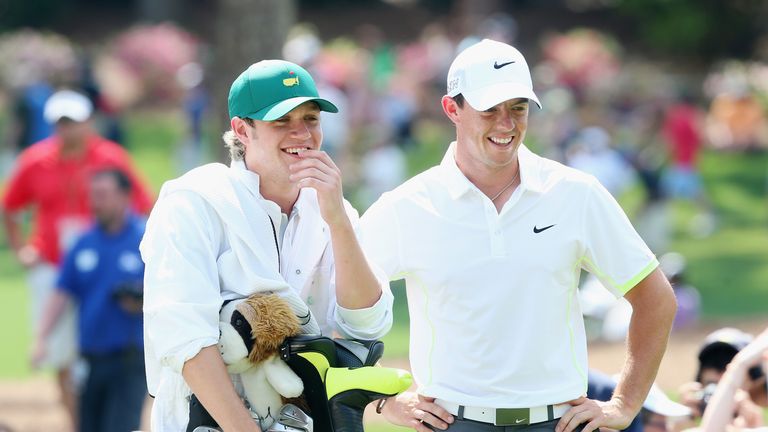 It's a year since One Direction star Niall Horan took a tumble as he caddied for Rory McIlroy at the annual Masters Par 3 Contest.
Most players treat the contest as light relief and invite family or friends to act as their caddies, and Horan's blossoming friendship with McIlroy resulted in the singer being asked to caddie for the then world No 1 at Augusta.
Horan certainly was not the first caddie to find the hazard when given the chance to tee it up at the final hole, but worse was to come as he slipped on the pine straw just as the pair were about to be interviewed by Kirsty Gallacher.
But despite his stumble, Horan admitted it was an enjoyable experience.
"It's just great to be at Augusta," Horan told Sky Sports 4. "I knew about a year ago I had the time off to come to the Masters. Then I met this man (McIlroy) and he asked me, 'did I want to carry the bag on Wednesday?' Of course, if the world No 1 asks you to carry his bag, you carry it!"
On getting to play in front of a large crowd, he added: "I can't say I've been that nervous in a long time! It was tough, but it was alright! It's great to be around Rory. It's a big week for him and hopefully come Sunday he'll have a green jacket on his back."
McIlroy added: "The deal was if I made him hit a shot here, they're playing in Boston when I'm there at the end of summer and I'll have to go up on stage and maybe sing a few lines, so (I'm) not looking forward to that!
"It has been a great afternoon and he's a great sport for doing it."
Click on the video above to relive the moment Niall Horan fell at Kirsty's feet ...