Solheim Cup: Madelene Sagstrom involved in rules controversy after picking up Nelly Korda's ball
Madelene Sagstrom and Nanna Koerstz Madsen were beaten by Nelly Korda and Ally Ewing in their fourballs match, after being on the receiving end of a controversial ruling at the par-five 13th - watch throughout the weekend on Sky Sports Golf
By Ali Stafford
Last Updated: 05/09/21 1:22am
Madelene Sagstrom was involved in a controversial rules incident during her match alongside Nanna Koerstz Madsen in the Saturday fourballs at the Solheim Cup.
The Scandinavian pair were all-square in their match against world No 1 Nelly Korda and Ally Ewing with six holes to play, only to fall behind when a rules official intervened at the par-five 13th.
Korda's eagle try had stopped on the edge of the hole and was quickly picked up by Sagstrom, who was conceding the birdie putt, only for it to transpire that she had not left it long enough before touching the ball.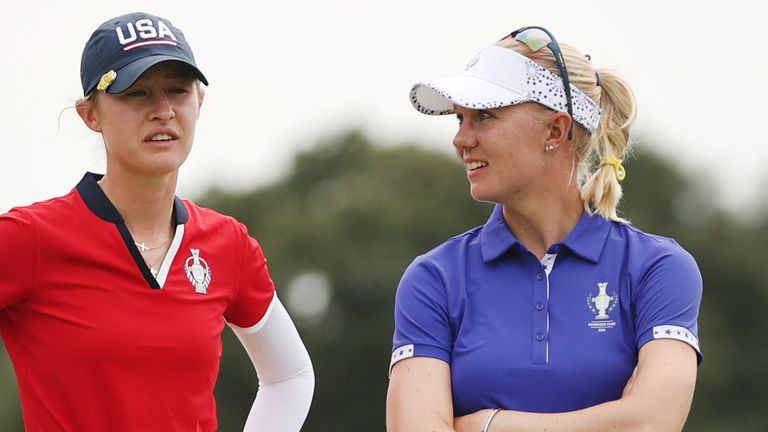 The Olympic gold medallist would be allowed "reasonable time" to reach the hole and 10 seconds to see if the ball would drop, under rule 13.3, with Sagstrom throwing it back to Korda inside that time threshold.
Although Korda did not question the concession for birdie and the European players were insistent that the ball would not have fallen into the cup, the rules official credited the American with the eagle to win the hole and move them one up.
Sagstrom and Koerstz Madsen were then unable to claw their way back into the match as the final five holes were halved with the Americans winning 1up for the hosts' first victory of the week.
Rules official Annie Giangrosso later explained the decision, saying: "When the European player picked up that ball, per the rules of golf, it was pretty cut and dried. That shot Nelly hit was actually holed."
Asked if there was any doubt whether the ball was overhanging the hole, Giangrosso added: "It was pretty clear-cut. We have Joao Pinto, who is an LET official, in the TV booth and he right away was looking at it after the match referee called it in.
"It was a pretty quick, clear-cut decision that the ball was overhanging the hole."
Europe captain Catriona Matthew was quick to give her support to Sagstrom and described it as an "unfortunate incident".
"It was a pretty fuzzy picture we were shown, and it was inconclusive I would have said," Matthew said. "They did say that I think JP had looked at it at the TV studios and he had said it was slightly overhanging. Obviously, we have to go with that.
"I, a hundred per cent believe Madelene did not for one instance think that ball had any chance of going in the hole when she picked it up, and I don't honestly believe Nelly or Ally actually thought it was going to go in either.
"There was no reaction when Madelene picked up the ball and threw it to them. It's just an unfortunate incident, kind of mars such a great day of good golf, so hopefully we can put it behind us and get on with tomorrow.
"I fully think Madelene can handle this. She's a very relaxed character. Obviously, she was very upset at the time but will have time to calm down a little bit. I honestly don't think any of the players did anything wrong, so she's got nothing to feel bad about, to be honest."
Was the correct decision made? Click on the video above and judge for yourself!
Watch the Solheim Cup throughout the weekend live on Sky Sports. Live coverage continues on Sunday from midday on Sky Sports Golf and - for free - on the Sky Sports Golf YouTube channel.

Get the best prices and book a round at one of 1,700 courses across the UK & Ireland