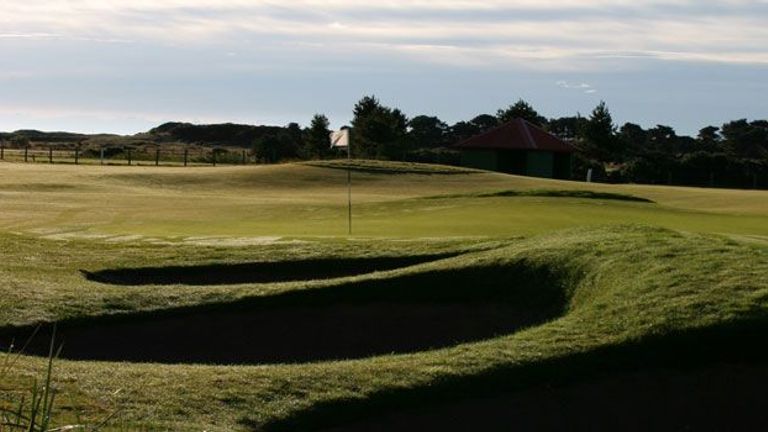 The course
There are many who believe that the medal course at
Carnoustie
is the finest test of championship golf to be found anywhere the game is played. Allan Robertson, the first player to break 80 around the Old Course at St Andrews and now recognised as the game's first professional golfer, was the man who laid out the original course back in the middle of the 19th century but inevitably it was five-times Open Champion James Braid who was called in to revamp the course in 1926.
A par 5 and one of the few genuine ones even for the top pro with a fairway bunker sorting the brave from the golfing wimps.
Bruce Critchley, Sky Sports golf commentator
There can be no finer tribute to this remarkable Angus links than the role of champions who have won there. Tommy Armour, Sir Henry Cotton, Gary Player, Tom Watson, Paul Lawrie and of course the legendary Ben Hogan who won the only Open Championship he ever played in at Carnoustie golf course in 1953.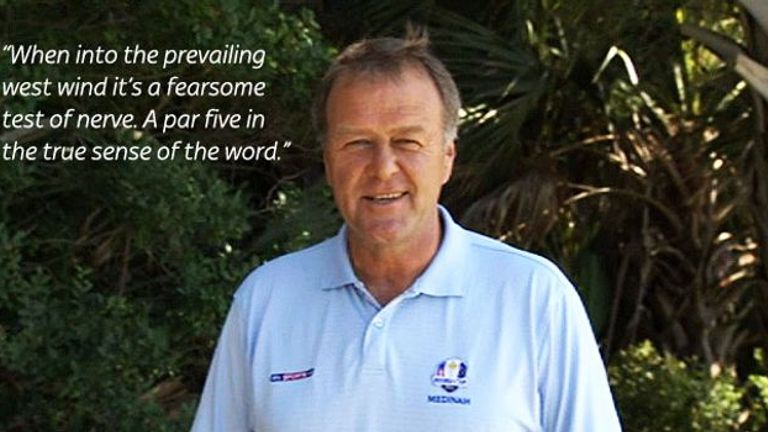 The hole
The 6th hole on the Championship Course was officially renamed in 2003 as Hogan's Alley by 1999 Open Champion, Paul Lawrie. Named after the immortal Ben Hogan who won the Open Championship in 1953, this hole is where Carnoustie starts to turn up the heat. Normally played into the prevailing wind this hole can be a severe par 5. Bunkers and out of bounds await a miscued drive and it requires a brave player to drive to the narrow fairway. The 2nd shot is no less perilous with out of bounds a constant threat. The approach is reasonably straightforward to an undulating green. A player should always be content with a five on this hole as it can be the ruin of many a scorecard. Do you agree with Ewan and Bruce? Join Scotland's Community to share your Scottish golfing favourites.
Golf in Dundee & Angus
When you think of Dundee and Angus, Carnoustie is never far from your thoughts. However, there is far more to look forward to in this area of outstanding natural beauty.
Carnoustie Country as the area is known, boasts 30 golf courses located within a 40-minute drive. Choose from inland courses such as Forfar, Brechin and Edzell to the renowned links venues of Monifieth, Montrose, and Arbroath.
The area's golfing delights are not just confined to Angus however. Set amidst tranquil parkland with mature trees and water coming into play on ten holes, Downfield in the city of Dundee is both a host of Open Championship pre-tournament qualifying and a true must-play. There's such a variety of courses in Dundee & Angus and many more to discover find out more here.
The 19th hole and beyond
With its majestic glens, breathtaking coastline and a cosmopolitan city, Dundee & Angus provides an impressive array of attractions alongside outstanding natural beauty. Relax in one of the city's many cafés and restaurants and take in a performance at one of the city's venues, with music, comedy and theatre all on offer.
Explore the pristine beach of Lunan Bay and unearth fascinating history of the region at Verdant Works, be sure to visit grand historic buildings such as Glamis Castle, childhood home of the Queen Mother, and learn more about the legendary Antarctic exploration ship RRS Discovery.
Not far from the city and bustling towns of Angus lies a beautiful area full of wildlife and spectacular scenery known as the Angus Glens, which stretches through the Angus countryside finishing at the outer edge of the Cairngorms National Park. There is an abundance of things to see and do in Angus & Dundee. To find out more click here.