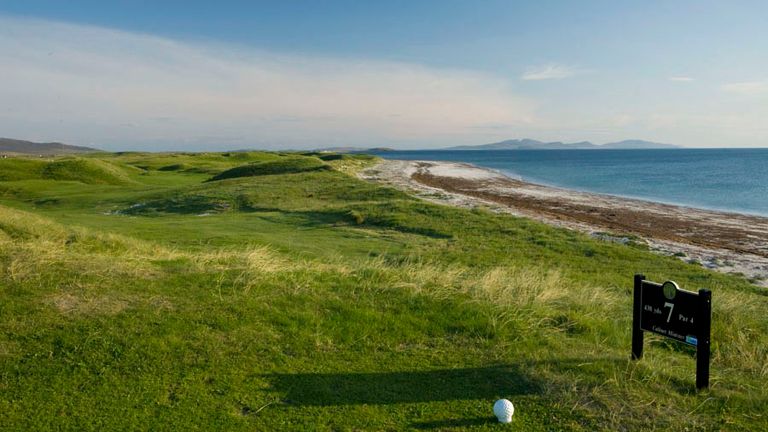 The course
We have Old Tom Morris to thank for creating the original 18-hole Askernish Golf Course in 1891, at the request of wealthy land owner, Lady Cathcart who wanted to impress her high society guests. Like most courses, Askernish went through its own set of evolutionary deviations and over a period of 80 years, it was stolen back by the wild. Managing to retain its land, it became a course of 9 holes, 9 holes with 18 tees, and was once even utilised as an airstrip.
Wild, woolly and wonderful! Only the determined or the lucky find their way to Askernish Golf Club on the west coast of South Uist. The first six are classic links, but the seventh, even as raw land, brought forth the biggest WOW I have ever uttered on a golf course. It's 446 yards of epic golf, from a tee high above the beach down into a deep dune valley and eventually reaching a small green at the valley's end.
Adam
With the help of volunteers, efforts to reclaim this lost course began. In 2008 the course, which runs parallel to the islands coastline and follows an anti-clockwise path from start to finish, reopened as an 18-hole facility. It has received the highest acclaim from golfing media and beyond, with environmental experts hailing it as one of the most natural links courses in the world; making it a unique and wonderful place to visit.
The hole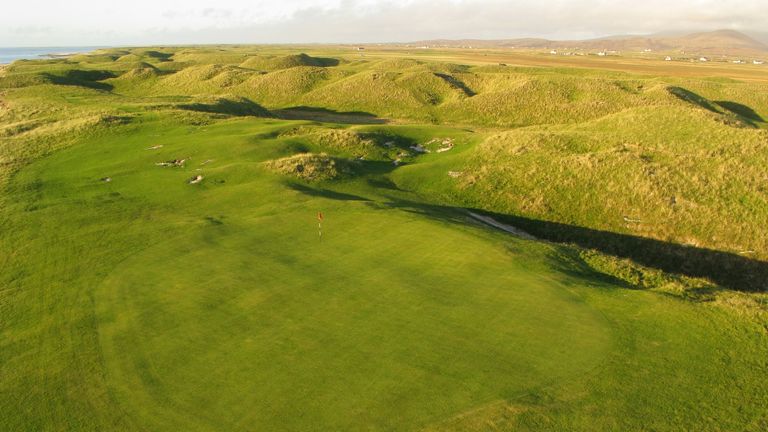 This signature hole at Askernish is described as the most demanding driving hole ever played. It is at this hole - the 7th - that the ocean comes into view for the first time off the tee, as you face the daunting drive down a valley at 200 yards. This drive comes from an elevated tee situated on the shore of the Atlantic to a fairway that snakes between dunes on both sides. The fairway, at about 270 yards, narrows to approximately 20 yards wide before continuing to a long narrow, slightly raised green. Sign for a par here and you'll be doing very well indeed.
Q: Do you agree with Adam?  Join Scotland's Community to share your Scottish golfing favourites.
Golf on our Islands
There are no shortages of courses to be discovered off the Scottish Coast. With Island hopping rising in popularity, and if this is something that interests you; Orkney, The Hebrides and Shetland have plenty to offer.
Orkney is a good place to start. On this island, Orkney Golf Club is the course that sits high on Wideford Hill, just outside the islands capital, Kirkwall. From this visible position, the views are breathtaking.
Home to the most northerly course in the UK - The Whalsay Golf Club on Shetland is going from strength to strength. Set in its unique location and bordered by the sea on both sides, this 18-hole par 71 course is surrounded by spectacular coastal scenery, which in itself gives host to an abundance of wildlife.
Benbecula, in the Outer Hebrides offers a 9 hole course, but with 18 tees in operation your game is anything but repetitive. This flat and easy-walking course, has become popular amongst golfers who are seeking a game in slightly different surroundings.
19th hole and beyond
What better way to celebrate your best shots, than by enjoying some great home cooking, washed down with the Island's selection of fine malts at Askernish GC Clubhouse.
One of the great selling points of the Western Isles, specifically South Uist, is its abundance of history and scenery that provides off the course entertainment. South Uist has over 20 miles of undisturbed, white shell beaches along its west coast, which is lapped by the Atlantic Ocean. The incredible machair lands and dunes along these beaches are overflowing with flowers and wildlife such as Corncrakes, Red Deer, Golden Eagles and Otters.
Treat your taste buds to the outstanding flavors of the Outer Hebrides, as these islands are renowned for an abundance of premium produce. Feast on exquisite local shellfish including: lobster, crabs, mussels, and oysters throughout the region. From hand-dived scallops at The Anchorage Restaurant on the Isle of Harris to freshly smoked kippers served on menus in Stornoway, eating out in the Outer Hebrides offers an unrivalled foodie experience. Don't miss out on Chris Mcleod's famous Black pudding or treat yourself to some locally made, Hebridean toffee and chocolate delights.