Douglas Lima won the Bellator Welterweight title and Grand Prix as well as pocketing a cool $1m in the process after defeating Rory MacDonald at Bellator 232.
Lima was near-perfect in his rematch with MacDonald to take home a unanimous points decision.
"It's been a long road, but we did it," said the 31-year-old Brazilian. "He's a warrior. I'm honoured to share the cage with him one more time, and I have nothing but respect for him."
Britain's Paul 'Semtex' Daley kept his cool in the second round to defeat Saad Awad at the 1:30 mark with a leg kick that set up a huge looping left hook sending Awad crashing to the canvas.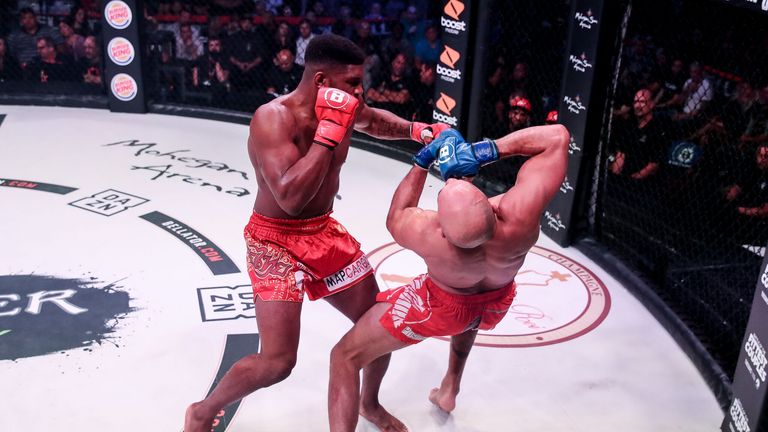 Bellator 232 Main Card
Douglas Lima (32-7) defeated Rory MacDonald (21-6-1) via unanimous decision (49-46, 50-45, 50-45)
Paul Daley (42-17-2) defeated Saad Awad (23-13) via TKO (punches) at 1:30 of round two
Patrick Mix (12-0) defeated Isaiah Chapman (9-4) via submission (kneebar) at 3:49 of round one
Manny Muro (11-6) defeated Nick Newell (16-3) via split decision (29-28, 27-29, 29-28)
Baby Slice (4-2) defeated Craig Campbell (3-4) via TKO (elbows) at 0:38 of round one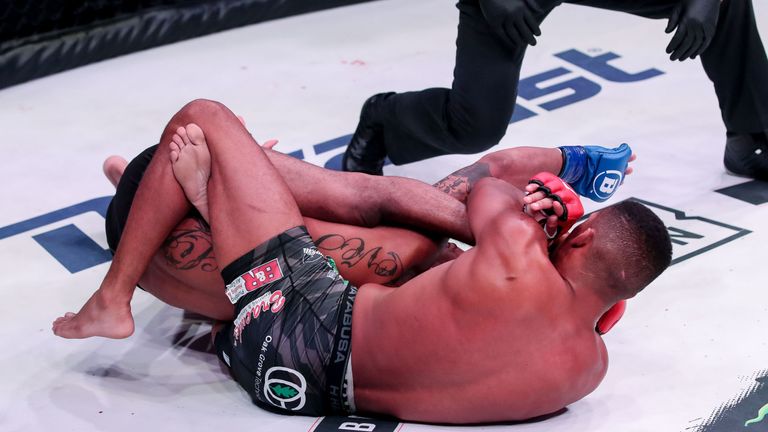 On Friday night, Frank Mir was awarded a unanimous decision over Roy Nelson in a heavyweight rematch.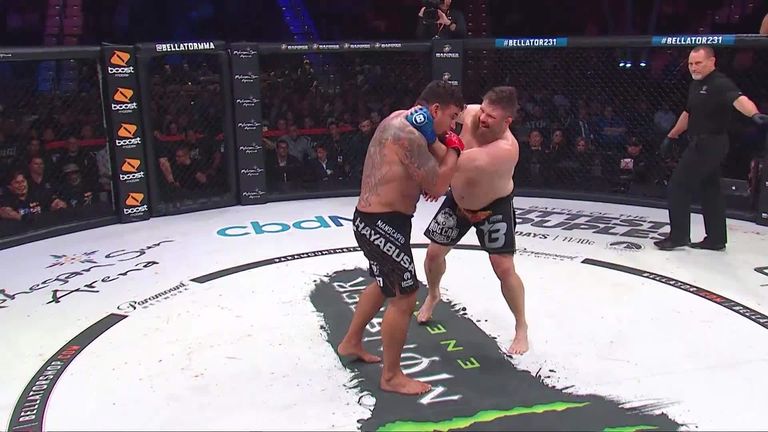 In the opening match of the night, opener, pro-wrestler Jake Hager saw his contest with Anthony Garrett end in an early no-contest after a pair of low blows from Hager rendered Garrett unable to continue.
Bellator 231 Main Card
Frank Mir defeated Roy Nelson via unanimous decision (30-27, 29-28, 29-28)
Phil Davis defeated Karl Alberektsson via TKO (3:06 into round three)
Ed Ruth defeated Jason Jackson via split decision (28-29, 29-28, 29-28)
Ilara Joanne defeated Rebecca Rawlings via submission, kneebar (3:35 into round two)
Jake Hager vs Anthony Garrett ended in a no-contest via an unintentional low blow (1:56 into round one)