Andrew Pozzi joy at winning GB Championships to make World Indoors 60m hurdles
By Mark Ashenden
Last Updated: 19/02/18 5:20pm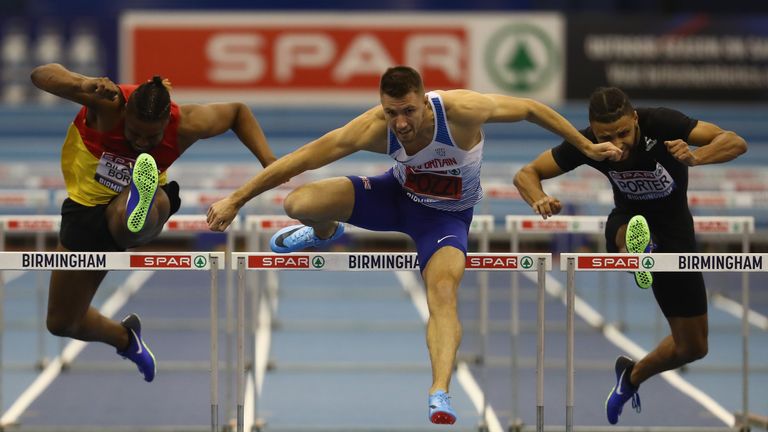 British hurdler Andrew Pozzi says victory at the British Championships on Saturday is a welcome boost ahead of the World Indoors, although admits there is still room for improvement.
Having impressed in Berlin's indoor meet at the end of January, the 25-year-old Sky Sports Scholar overcame a sluggish start to retain his 60m hurdles title in a season's best time in Birmingham.
The reigning European indoor champion was last out of the blocks but stormed back to clock 7.56 seconds ahead of David King.
Pozzi said: "I am really pleased to have secured my selection for the World Indoors and it means I can focus all my time and attention on preparations for that.
"It was also great to win my fifth national title. I still have some mixed feelings on my performances at the trials though.
"On one hand, I was looking for faster times and to leave the championships with a faster season's best.
"However, aspects of my race were brilliant and shows real promise for my preparations for the World Indoor Championships."
The World Indoor Championships are in Birmingham from March 2nd to March 4th and Pozzi is desperate to shine on the international stage.
He just missed out on a place in the final of last summer's World Championships 110m hurdles in London, but is feeling confident heading into the 2018 competition.
Pozzi added: "I've missed a couple of races at the start of this indoor season but to restart my campaign so strongly gives me loads of confidence in working towards the World Indoors."
Next up for the Stratford-on-Avon athlete is the Indoor Grand Prix in Glasgow on February 25.