Athletics and sport send tributes to Sir Roger Bannister, who has died at the age of 88
Last Updated: 05/03/18 6:16am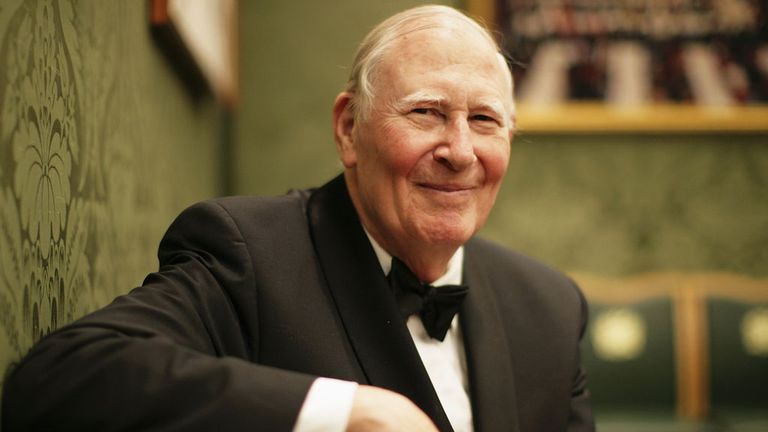 Lord Coe led the tributes after Sir Roger Bannister, the first man to run a sub-four minute mile, died at the age of 88.
Bannister, who achieved the feat by running 3:59.4 at Oxford's Iffley Road stadium in May 1954 - in what turned out to be his final year in athletics - died on Saturday surrounded by his family.
The Commonwealth Games and European Championships gold medallist went on to have a successful career as a neurosurgeon, but only after paving the way for some of Britain's great middle-distance runners.
The Commonwealth Games Federation is deeply saddened to learn of the passing of "giant of Commonwealth Sport" Sir Roger Bannister who won "The Miracle Mile" at Vancouver 1954. Our deepest thoughts and sympathies are with his family at this time. #MiracleMile #CommonwealthStars pic.twitter.com/vwsp48ZNmn

— Commonwealth Games Federation (@thecgf) March 4, 2018
Lord Coe was one of those, breaking the mile record on three separate occasions in the late 1970s and early 1980s, the last of those seeing him cover the distance in 3:47.33.
Saddened to hear the news that we have lost one of the true pioneers, trailblazers and iconic inspirations of our sport. Sir Roger Bannister showed that barriers are there to be broken and there are no limits.

— Paula Radcliffe (@paulajradcliffe) March 4, 2018
Coe, who is now president of the International Association of Athletics Federations (IAAF) said: "This is a day of intense sadness both for our nation and for all of us in athletics.
"There is not a single athlete of my generation who was not inspired by Roger and his achievements both on and off the track."
Sir Roger Bannister was more than simply one of the greatest athletes of all time - by breaking the 4-minute mile he redefined what was thought impossible, and inspired the world. He leaves an incredible legacy.

— Mayor of London (@MayorofLondon) March 4, 2018
Former Great Britain sprinter Darren Campbell told Sky Sports News: "He was an inspiration for anybody of my age, especially anyone wanting to get involved with athletics.
"Anyone who wanted to understand the meaning of the sport, just going out there giving your best, but having no limits and never giving up, when people tell you something is not possible, that's Sir Roger Bannister to me."
UK Sport chair and Olympic gold medallist Dame Katherine Grainger hailed the life of a man who "set the standard for British sport on the world stage".
She said: "This is a very sad day but it gives us the opportunity to reflect on a great life.
Sad to hear the passing of Sir Roger Bannister this morning. His world-first sub-four minute mile set the stage for decades of British athletic achievement. An icon of British sport

— Matt Hancock (@MattHancock) March 4, 2018
"Sir Roger will always be remembered as a man who set the standard for British sport on the world stage. In the few times I was lucky enough to meet him, Sir Roger was incredibly modest about his own extraordinary sporting performances but always generous to others and those that came after him.
"He went on to achieve great things in his career after athletics, especially as an eminent and renowned doctor. I know I speak for the whole of UK Olympic and Paralympic sports in paying great tribute to him, thanking him for his inspiration and sending our thoughts and best wishes to his family."