Samantha Kinghorn on gruelling and rewarding Commonwealth Games
By Mark Ashenden
Last Updated: 04/05/18 8:27pm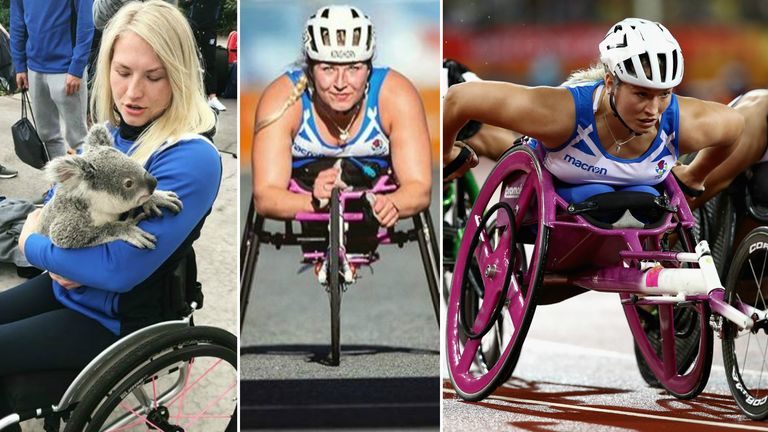 Nothing much daunts Samantha Kinghorn.
With no wheelchair sprinting events at the Commonwealth Games on the Gold Coast, the 22-year-old Scot opted instead for burning arms and battered hands over 1500m and 26.2 miles.
It's no wonder she's thrilled at the prospect of meeting a shark during a well-earned break on the Queensland coast.
The Sky Sports Scholar and double world champion describes her tarmac battles, how she almost wiped out a feathered local friend and her next targets.
---
It was a crazy few weeks. Because it was a multi-sport and able-bodied event it was refreshing mixing with everybody.
There was even a smoothie bar with ice creams, plus the surrounding area was so beautiful and the training on the smooth roads was great.
I've had a pressure-free season because I had such a great 2017 at the London Worlds and I was at the Commonwealths in the 1500m and marathon - not my usual sprinting. But I know the pressure will rise on me next year with my own events.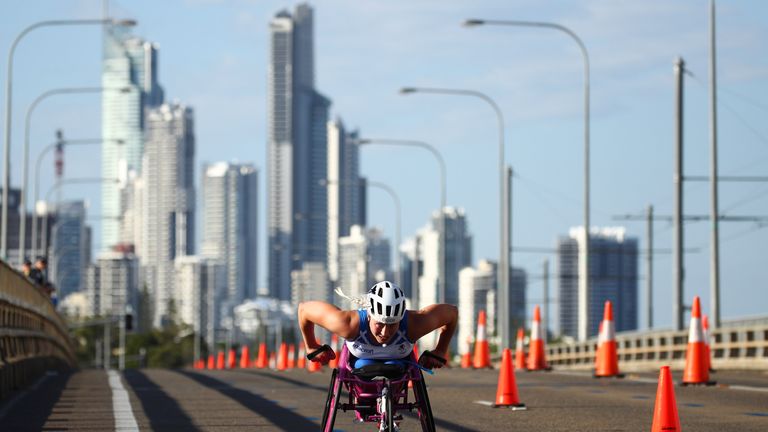 I do like to remove myself from pressure situations though and I don't like to hang around the training ground! It also gets a bit boring and so I often jumped on a tram with my mum and a friend and got away from the competition environment.
I went to the zoo which was amazing and made me forget about everything else. I know being an athlete is my job and I need to compete well but it can be scary with the pressure.
The kangaroos were my favourite. They were so soft and I didn't expect that. The koalas were also cute but they do sleep a lot and smell funny!
Despite the marathon lurking on the horizon on the last day of competition, I had to stay focused for the 1500m. I was up against the highly-rated Australians and so my goal was top six.
It was a case of being aggressive but not pushing too much - and sleeping! It helps reduces my stress levels because I do get nervous.
Because of my sprinting skills, I knew my rivals would try to keep me out wide and so I was pleased just to get close to them. I got pushed to the outside a few times and that killed my sprint at the end! I was pleased with fourth.
The marathon was five days later and it was so scary! It was only my second one and I wondered 'what if fifth in Chicago had been a fluke! What if I finished last?' It was a huge unknown. I also had a few nightmares before, dreaming of getting punctures and crashing. That didn't help!
I knew the course would be twisty and it was with mixed classifications so I was racing more abled girls. The twists meant it was harder because other athletes could swing their chairs around corners, lean out and stay stable - I had to slow down because of my core control.
The other girls worked out I wasn't so good on the corners so they were able to kick on.
We had a funny moment and a 'girly scream' when we saw a bird with a really long beak waddling across the road! We didn't know whether to brake or swerve! We didn't hit it though and it calmly just walked across.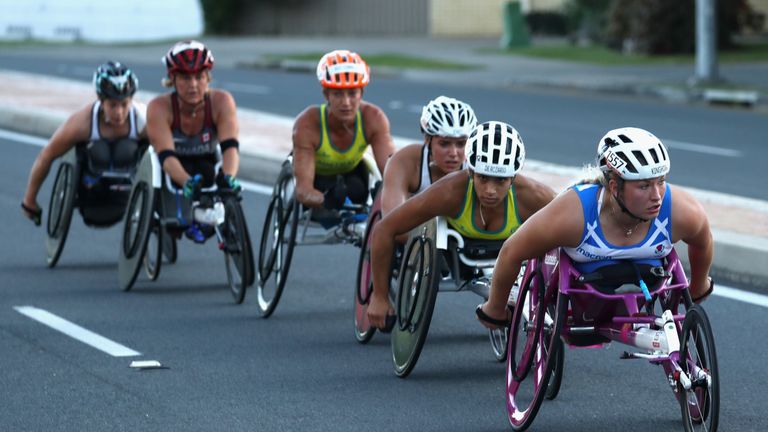 I was worried about concentration and one of the guys on the team gave me a word quiz. I soon figured that out but it was easy to get distracted. I was trying not to look at anything too much, but I was also aware of not wanting to look like someone getting tired! I do remember passing three cheesecake factories!
My neck hurt the most. I'm used to looking down in the sprints, but in the marathon you're looking up and with your arms - they are just going round and round and round! They were burning.
The first 10k was really fast and I did a PB in the first half. After 17 miles I was sore but I felt good again between miles 21-25 and the last mile was so tough. The hill at the end was definitely getting steeper! I was thinking about my six-week holiday with my mum to keep me going.
Chasing something shiny is the ultimate goal but I knew I'd be happy with top six. I was really happy with fourth and I couldn't have done any more. I'd like to see those girls who had done 20 marathons racing over 100m!
I wasn't that hungry after the race because you just feel sick and your body is so tight, but I did manage to have waffles and a glass of wine.
That's enough marathons for now! Maybe when I'm older I'll go back. I've got more business in the sprints and there's so much more I want to achieve. My arms definitely want to go back to some easy pushes and go super-fast again!
And so I'm in the middle of six weeks visiting Brisbane, Cairns, Melbourne, Adelaide and New Zealand before coming home.
I can't wait for snorkelling on the barrier reef. I will be really upset if I don't see a shark! I could fight them off though if there's any trouble - I've heard you just punch them on the nose so no problem!
When I get back I'll do some local races and see where I'm at. I've done a few sprints in training and it felt good so there's no problem with my speed. I'll need some work on fast starts because my build-up to the Commonwealths was all about endurance rather than power.
I'm changing all that so I can get back to going fast again!