Imani Lansiquot and Andrew Pozzi kick off athletics season
By Mark Ashenden
Last Updated: 21/05/18 2:46pm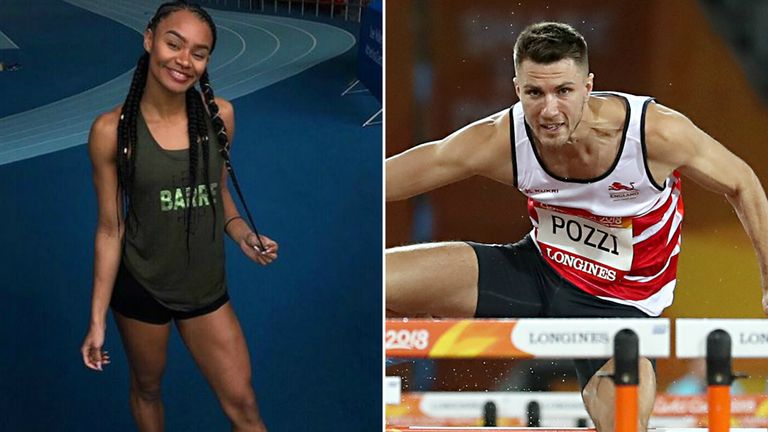 It was mixed emotions for athletes and Sky Sports Scholars Imani Lansiquot and Andrew Pozzi as they got their seasons underway at the weekend.
The 20-year-old Lansiquot was at the Loughborough International representing the GB seniors and facing teams from England, Scotland, Wales, GB Juniors and British Universities.
"It was really good to get my season started with a GB senior debut in the 4x100m relay," Lansiquot said.
"I ran the first leg - something I've never done before, but I enjoyed it a lot! And we even came first.
"I am now really looking forward to getting ready for my 100m opener on May 26 in Germany and my next relay run in Switzerland."
Former Sky Sports Scholar Jessica Judd continued her good form with victory in the 3,000m with a time of 9 mins 5.16 secs.
There was a little more drama for Pozzi who described his debut on Manchester's pop-up track at the Arcadis Great CityGames in the 110m hurdles as "carnage".
Britain's world indoor champion and American world record-holder Aries Merritt were expected to dominate, but both clattered their final hurdles as Poland's Damian Czykier stunned everybody to win in 13.67s.
"A couple of scratches, a bit of blood but thankfully I'm OK," said Pozzi who finished third.
"I was getting really close to nearly all of the hurdles and in the end I nearly wore one! I felt I hit a hurdle with my hand, another one with my foot.
"It was just carnage. It was a strange start to the season but it was good fun."