Andrew Pozzi and Imani Lansiquot set for Athletics European Championships in Berlin
By Mark Ashenden
Last Updated: 06/08/18 12:08pm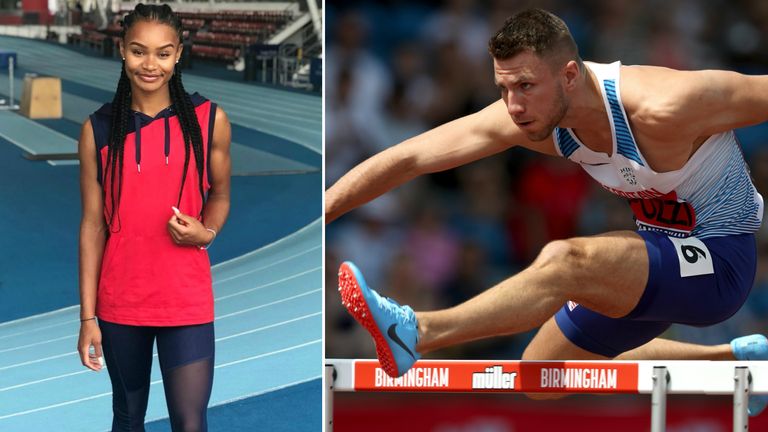 Andrew Pozzi and Imani Lansiquot are all ready to shine on the track at the European Championships in Berlin.
The Sky Sports Scholars have had an emotional build-up with hurdler Pozzi admitting there were technical areas he "needed to change", while sprinter Lansiquot earned a late-call-up after a stunning fifth at the Anniversary Games and a relay gold in the World Cup in her first senior competition.
Pozzi, 26 and reigning World indoor champion, is desperate to stamp his mark on the 110m hurdles having failed to finish at the World Cup, plus a fourth at the Anniversary Games.
With the action starting on Monday, the Stratford-upon-Avon athlete said: "This outdoor season has been a tough one for me but athletics is a championship sport and I'll be looking to get it right at the most important competition of the year.
"I'm really happy with my last two weeks of training and preparations. Berlin promises to host an incredible championships and with my event being stacked with talent it guarantees to be exciting."
Lansiquot, 20, heads to Germany for her first senior championships in buoyant mood, fresh from her 11.11 personal best at the Olympic Stadium in the Anniversary Games to become the sixth fastest Briton ever.
The south Londoner said: "I've been really getting my head down over my last few training sessions and I can't wait.
"The adrenaline has died down from my last race in London and now I just want to do everything I can to put together a great championships.
"My goals are to have two confident runs and to make my first International final.
"I would also love to run in the strike four for the relay team. I believe us girls are in good enough shape to contend for a medal and for the win!"
---
ATHLETICS SCHEDULE IN BERLIN:
August 6: Imani Lansiquot (100m), final on August 7
August 9: Andrew Pozzi (110m hurdles), final on August 10
August 12: 4 x 100m relay (line-up TBC)