University of Nottingham beat Surrey Smashers in National Badminton League
By Raz Mirza
Last Updated: 08/02/16 10:37pm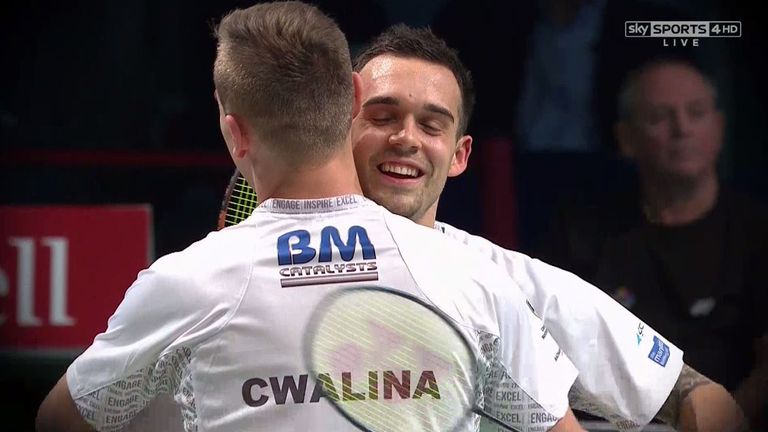 University of Nottingham caused a surprise 4-1 upset of Surrey Smashers in their first home National Badminton League game of the season.
In the match of the night - and one of the matches of the season - Chris Adcock and Adam Cwalina found their groove to beat Chris Langridge and Tom Wolfenden 3-1 while Jess Pugh and Cheryl Seinen produced a sublime tactical performance to overcome Sophie Brown and Emily Westwood with a 3-0 whitewash.
Nottingham skipper Adcock told Sky Sports: "From start to finish the whole team gave everything. It was a really good team performance and to do it in front of the home crowd today was absolutely fantastic."
Head coach Martin Lewis said: "Fantastic, thrilled, over the moon - I'm not sure what other words can describe it. It was a great team performance and I loved every minute of it."
Asked if second-placed Nottingham can go on and win the title, he added: "We're in it to win it. Who wouldn't be in it to win it? Hopefully winning would be massive."
In other results, league leaders Loughborough Sport came back from 2-0 down to beat Birmingham Lions 3-2 while Team Derby lost at home 3-2 to MK Badminton.
University of Nottingham Sport v Surrey Smashers results:
MS - Eric Pang 3-1 Carl Baxter
WS - Yao Jie 3-1 Georgina Bland
MD - Chris Adcock/Adam Cwalina 3-1 Chris Langridge/Tom Wolfenden
XD - Adam Hall/Ellen Mahenthiralingam 1-3 Robert Blair/Gabby Adcock
WD - Jess Pugh/Cheryl Seinen 3-1 Sophie Brown/Emily Westwood
Watch MK Badminton v Loughborough Sport, live on Sky Sports 3 HD on Monday, March 21 from 7.30pm. Catch the match for £6.99 on NOW TV. No contract.