Freya Anderson on medals and all-weather swimming at Commonwealth Games
By Mark Ashenden
Last Updated: 01/05/18 10:30pm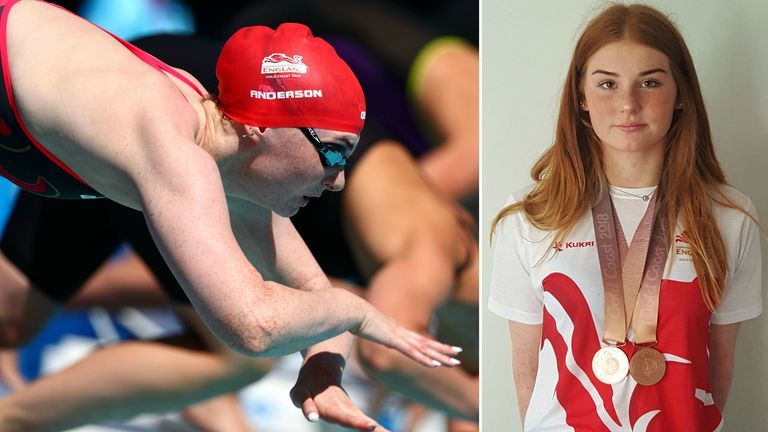 You might expect one of Britain's rising stars of the pool to come back from competing in Australia with tales of winning medals and swimming in the ocean with turtles and angel fish.
You'd be half right! Seventeen-year-old Freya Anderson recently returned from the Commonwealth Games with two bronze medals - a stunning haul for a teenage debutant.
So what exactly did the Sky Sports Scholar get up to on the Gold Coast?
---
"I didn't swim in the sea at all! I don't like swimming in anything where you can't see! I can't stand it - whether it's the sea or a lake.
I don't mind the beaches, although it's annoying when you find sand everywhere, like in your shoes. I could do underwater diving, but only if it was clear. I find the open water very scary!
Overall, the Commonwealths were an amazing learning experience. Even if you're not doing so well at an event like that, seeing everyone perform well is a great feeling and motivates you to go back home and train even harder.
I didn't expect two medals. That was just a great bonus because I went for the experience and to take in the atmosphere. The Aussies were always screaming and that was loud but it was just a very fun event.
I was a bit apprehensive ahead of the Games because I didn't have the best preparation with my back injury. I hadn't trained properly for around six months and it just made me nervous.
But I got to Australia and it was a very relaxed and professional environment and the training camp in Brisbane went well. It calmed me down and got me excited.
It was a great feeling being part of Team England. Everyone felt proud. Winning the medals in the relays felt amazing and it was more emotional because it's for your country. It was great being with the three other girls and just achieving it together.
We came together as one England team and I spent most of my time with other swimmers but it was so nice chatting to athletes from other sports.
My first event was the 4x100m on the opening night of the Games. We had time trials in the morning to decide who got picked and thankfully I got through. The weather had been great in the build-up but in these trials there was torrential rain which made it very interesting!
You just had to block it out. I had done training camps outside before but never in competitions. It was so cold walking out and taking your coat off because of the rain and it was quite distracting. You can't feel it once you're in the pool though because you're wet anyway! So it was all fine.
It was a straight final that night for us four girls in the England team. We warmed up separately, the coach gave us a pep talk and we kept each other happy before walking out.
It was helpful having someone experienced in the team like Siobhan-Marie O'Connor (former Sky Scholar). I watched her prepare for the race and you can take some of that stuff into your own routine. Things like warming up, press-ups and squats.
I've got a playlist of all sorts of music I listen to so that either chills you out or pumps you up before a race!
I was the second leg in the 4x100 and third in the 4x200. After taking over from your team-mate the pressure is obviously on to finish strong but you have to be careful not to dive in too early or you'll get disqualified and let the team down.
Standing on the block waiting to take over was exciting though. I waited on the edge and with Australia in both of our races, the crowd were really hyped up and you had to just focus on yourself.
So when I dived in, I had to concentrate on just swimming. You can see the spectators if they're close enough but you can't hear anything. We knew we had good chances of winning medals and it was a battle to the end, even though the Aussies and Canadians were well ahead.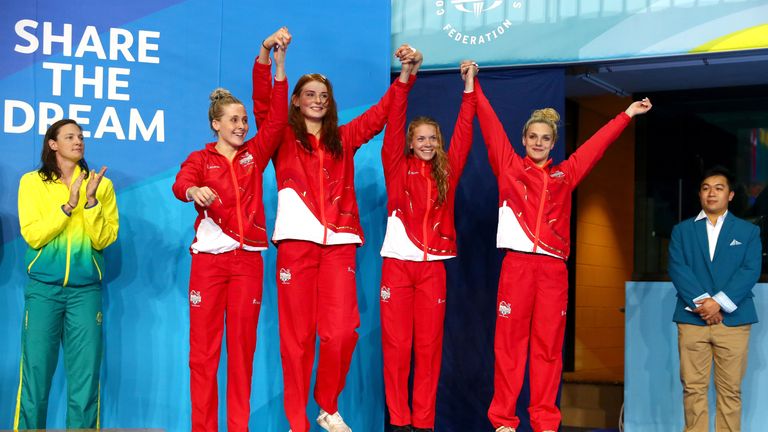 They are the 'powerhouses' in swimming and although the bronze in the 4x100 was quite comfortable, it was tighter in the 4x200.
I was nervous because 200m is not my event. We got third and the team lifted me up afterwards which was great. We were very happy to get bronze and being on the podium was amazing.
It gave me a taste for more success and it fires you up to do it again. It all helps motivates you for training and to have that feeling again. You soak it up on the podium and it was just really fun being on there with the girls.
Even though swimming can be an individual sport, it's such a great feeling supporting each other and I get that at the British Championships when I race in the Titans team. You obviously get that feeling racing for England at the Commonwealths. Seeing each other do well gets your spirits high.
I've got the Junior European Championships coming up in Helsinki and the Europeans in Glasgow later in the summer.
It was very promising that my body got through all of this. I had three days off after coming home and now I just want to get stuck into training, although I'll ease back into it gently!