Eufemiano Fuentes, Operation Puerto and the scandal that transcends cycling
With controversial Spanish doctor Eufemiano Fuentes going on trial, Sky Sports looks at the case
Last Updated: 31/01/13 5:54pm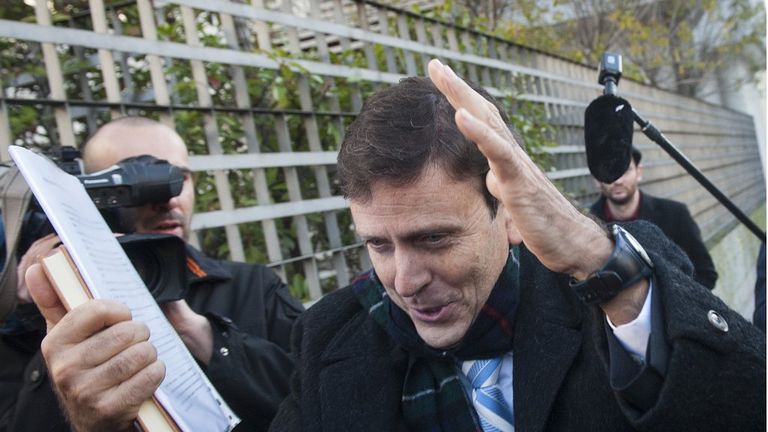 A Spanish doctor, a couple of hundred bags of blood and some very big cycling names being dragged through the mud so nearly got lost in the Oprah interview fallout cloud.
But the dust settled just in time for the trial of Eufemiano Fuentes to take its rightful place in the sporting headlines, for this is a scandal equal to Armstrong's in size and with consequences potentially just as a devastating.
The story actually started back in 2003, when Spanish former rider Jesus Manzano was rushed to hospital during the Tour de France suffering from severe dehydration.
He was sacked by his team, Kelme, over another matter later that year and, in retaliation, told a Spanish newspaper the following March that his illness at the Tour had been the result of being administered with a blood-boosting drug by the team's doctor, Fuentes.
Kelme denied the allegations, but Spanish anti-doping authorities were concerned enough to launch an investigation called Operation Puerto that included the use of wire taps and culminated in raids on properties owned by the doctor.
What they found went far beyond Manzano and Kelme.
Almost 200 bags of frozen blood, stashes of performance-enhancing products and bags of plasma were all recovered alongside a list of codenames relating to clients from what was thought initially to be just cycling.
Fifty-four of the codenames were successfully deciphered and 54 cyclists were consequently implicated - Alberto Contador, Ivan Basso, Jan Ullrich and Michele Scarponi among them.
Cycling was rocked to its core and swathes of rider suspensions followed, but although he was arrested, Fuentes himself received no punishment due to Spain's lack of anti-doping laws.
That was not the true depth of the scandal, though, with Fuentes admitting that he had clients from a range of professional sports.
Manzano backed this up, while International Cycling Union (UCI) president Pat McQuaid said in 2008 that he was told Fuentes had clients from football, tennis, athletics and swimming.
Allegations soon emerged of links to Spanish football giants Barcelona and Real Madrid and tennis superstar Rafael Nadal - all vehemently denied - but Fuentes refused to reveal the identities behind the remaining codenames. Which brings us back to today.
Almost seven years on from the raids on his offices, Fuentes and four associates this week finally went on trial charged with breaking public health laws. In short, he is accused of endangering the lives of his clients.
The big hope of organisations such as the World Anti-Doping Agency and International Olympic Committee is that in the course of the proceedings, he will be forced to disclose the names of the athletes he worked with from "other" sports.
However, although Fuentes has already admitted to the court that he had worked with footballers, tennis players, athletes and boxers, judge Julia Santamaria has limited the case to cycling and will not order the controversial doctor to name names.
It means that although Fuentes could finally receive legal punishment for his practises, sport is unlikely to benefit from the trial.
Blood doping
The bags of blood found in Fuentes' offices pointed towards a large-scale blood doping operation. But what exactly is blood doping?
What is blood doping and why is it used?
• Blood doping is used to increase the amount of oxygen that reaches an athlete's muscles, thereby enhancing both performance and endurance.
• This is achieved by adding extra red blood cells to the blood.
• Red blood cells are added because they contain hemoglobin, which is what carries oxygen to muscles. So the more red blood cells and hemoglobin you have, the more oxygen reaches your muscles.
• Oxygen aids performance by improving the process of converting sugar molecules stored in muscles into energy.
• Conversely, a lack of oxygen in the muscles during exercise causes the creation of lactic acid, which accelerates fatigue.
• So at one end of the scale, blood doping delays fatigue, while at the other, it elevates an athlete's peak athletic performance.
• There are two methods of blood doping: blood transfusions or injecting the hormone erythropoietin (EPO).
Blood transfusions
• A few weeks before a race or event, a doping athlete will take about 14 ounces of blood out of their body and freeze it.
• The body realises the blood is missing and so produces extra blood to replace it, returning levels to normal.
• Just before the race or event, the athlete returns the stored blood back into their bodies.
• This extra blood means extra red blood cells, extra hemoglobin, extra oxygen carried to the muscles, extra energy created, better performance and greater endurance.
EPO
• Athletes can also increase their red blood cell levels by injecting EPO.
• EPO causes bone marrow to create more erythrocytes, which in turn create extra red blood cells and, consequently, hemoglobin.
• The red blood cell content of blood is normally 40-45 per cent, but EPO can raise that to over 50 per cent.
• EPO use is easy to detect, so users tend to inject small doses over time to disguise its presence.