Tour de France: Geraint Thomas to battle on despite suffering from fractured pelvis
Geraint Thomas has vowed to battle on at the Tour de France, despite having a broken pelvis.
Last Updated: 02/07/13 12:22pm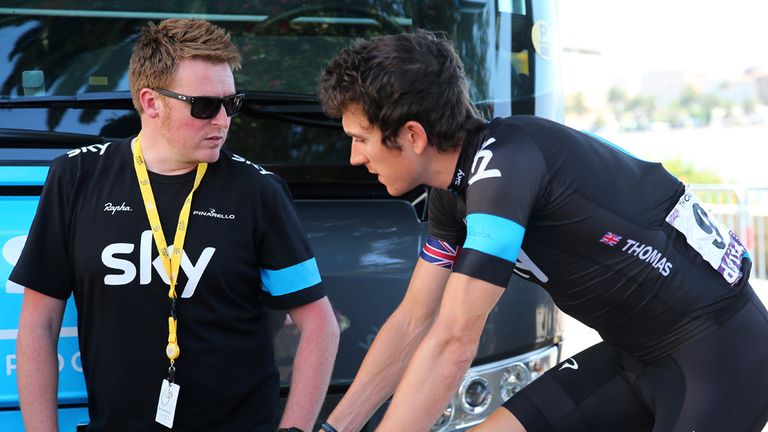 The Team Sky rider sustained a small fracture in the late pile-up that marred the opening day and has since fought through the pain barrier on stages two and three.
He spent much on Monday's third stage at the back of the peloton, setting off in last place and receiving treatment from the race doctor while out on the road.
It has led to speculation that the Olympic gold medal-winning track cyclist would quit the race, but after crossing the line more than nine minutes down on the stage winner, he ruled that possibility out.
"I have done so much to lose weight and get fit for this, I am not going to give up straight away," Thomas said. "I'm not just here to do a lap of France."
'Worst day on a bike'
Thomas went to hospital for checks after stage one but was given the all-clear to continue riding. When the pain continued on stage two, he returned to hospital and subsequent scans revealed a hairline fracture.
"Yesterday was one of the worst days I have ever had on a bike," Thomas added. "I have never had this difficulty getting going at the start of a day before.
"I have done my pelvis before in a different place. That was right where I was sat on the saddle, this is a lot higher up.
"The experts have said I am not going to do any more damage by riding. It is just a matter of if it improves."
Thomas had ears full of his Team Sky colleagues urging him on over the team radio on stage three.
Team leader Chris Froome said: "He obviously wants to be here and be a part of this. For us, if he can survive through the next few days, it is number one.
Team-mates show support
"He came up after 100km today, came up to the front of us, and said, 'Yeah, c'mon!' That made us all smile. He has got fighting spirit. He is in pain, but he is really up for it and that really lifts us."
Despite soldiering on, Thomas is unlikely to be able to give Team Sky the sort of boost they were hoping for from him in Tuesday's stage-four team time trial in Nice.
Team principal Sir Dave Brailsford admitted Thomas would be little more than a passenger, although that will not affect Team Sky's results, as the team is credited with the time of the fifth rider to cross the line.
Brailsford said: "We all have different tolerances to pain, but the determination and level of suffering required to ride on a course like this, with its twists and turns where you can never get into any kind of rhythm, was really considerable.
"He suffered an awful, awful lot. He deserves every bit of recognition and support for his suffering."