Arnaud Demare denies taking tow during Milan-San Remo
By Andy Charles
Last Updated: 21/03/16 11:04am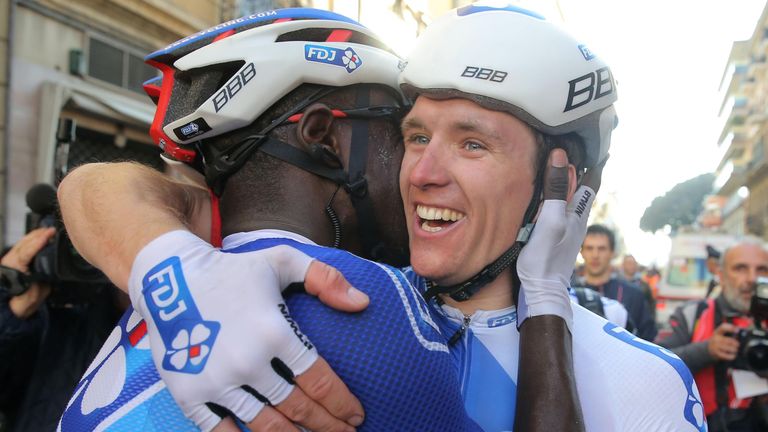 Arnaud Demare has hit back at claims of cheating during the closing stages of his win in Milan-San Remo on Saturday.
The Frenchman pipped Team Sky's Ben Swift in a tight finish to one of the year's longest races, having battled back from a crash in the final 30km to make it into the leading group for the concluding reduced-bunch sprint.
But the aftermath of his victory was marred by claims Demare had taken a tow from his FDJ team on the Cipreasa climb, with Astana's Eros Capecchi and Matteo Tosatto of Tinkoff claiming he was holding on to their car as he passed them.
Claiming a tow from a team car carries stiff penalties, with Vincenzo Nibali disqualified from last year's Vuelta a Espana for blatantly hanging on to the Astana car after a crash on the second stage.
Tosatto said in Gazzetta dello Sport: "Demare was off the back before the Cipressa. Then on the climb he passed us going twice our speed. I didn't see if he was on the car window or with a (sticky) bottle. Of course he was strong in the sprint but without that tow he would never have made it to contest the sprint. I've never seen a thing like that done so shamelessly."
Demare uploaded his winning ride to his Strava account, which showed he had produced the quickest ascension of the Cipressa, although not showing any spells riding at 80km/h, hinted at by those who made the complaints against him.
"I have done nothing wrong," Demare told L'Equipe. "There are judges in cycling. If I had done something forbidden, I would have been disqualified.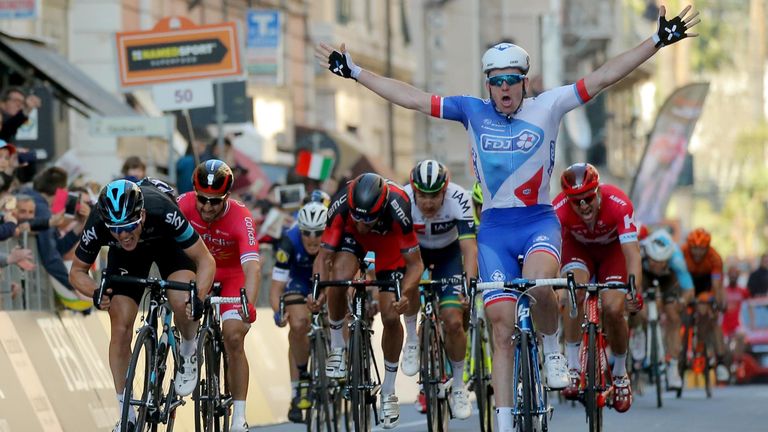 "I wasn't obliged to justify things, but I put my data on Strava. You can see that I didn't touch 80km/h as has been said. That should shut everyone up and I'm going to fully enjoy my victory which I won with my own legs.
"I crashed and I had the commissaire's motor with me. If I'd cheated, I'd have been penalised. Nibali was heavily sanctioned during the last Vuelta, so I wouldn't have taken the risk of losing the biggest race of my career.
"I sense a little jealousy from some of our rivals after our third place in the team time trial at Tirreno. This story won't spoil my moment of pleasure."