Sir Dave Brailsford praises Geraint Thomas and says it's his most emotional Tour
By Sky Sports News
Last Updated: 30/07/18 8:46am
Sir Dave Brailsford has revealed his emotions after seeing Geraint Thomas win the Tour de France, describing the Welshman's ride as "faultless".
The 32-year-old Welshman sealed his maiden Tour victory on Sunday to become the third Briton to win the race after Sir Bradley Wiggins and Chris Froome.
It was also Team Sky's sixth crown from the past seven editions.
"We're just pretty emotional," Team Sky's team principal Brailsford told Sky Sports News. "I think it's been the most emotional of all our victories...this is a different story altogether.
"Geraint, growing up in Wales, worked so hard for such a long time - he's a classic 'make the sacrifice, it's worth it' kind of guy.
"I've known him since he was 13-14 and he has chipped away. He's ridden the perfect race. Faultless.
"If you lift your targets and ambitions high enough and make the sacrifice it's worth it. Not just Geraint, anyone."
Brailsford praised Thomas for his composure after a race which has seen Team Sky's riders jostled and spat at by elements within the French crowd.
Most of the vitriol went the way of four-time winner Froome, but none of them were immune.
"It's not been easy race this one, obviously there have been some challenges along the way, but Thomas has dealt with it fantastically," Brailsford added.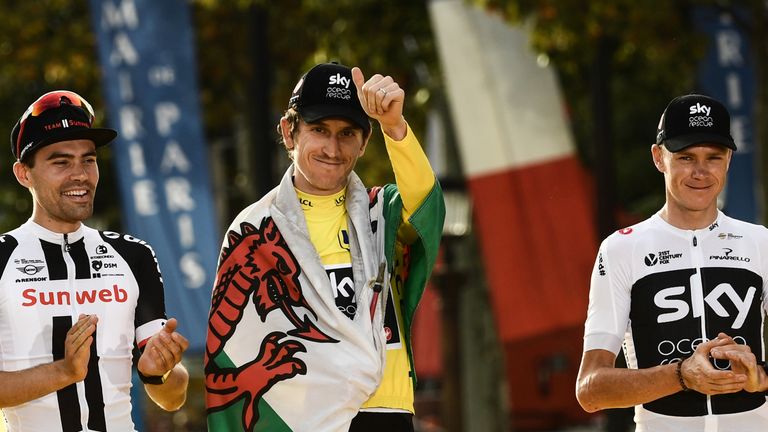 "The great thing about cycling is you can get very close to the riders and you've got to take the rough with the smooth. 99 per cent of people are great but every now and again you get the odd idiot - but we can live with that.
"They'll be going bananas in Wales now and you couldn't have a better ambassador for a country than him."
Brailsford insisted that Thomas winning had not dented Froome's hopes of a record-equalling fifth yellow jersey.
"He wants to win a fifth Tour, no doubt," he said. "He'll be back, it's a part of him and I think he can do it."