Scott Mercier says doping culture at US Postal made him quit professional cycling
Scott Mercier has described how being asked to dope by a US Postal Service team doctor prompted him to end his career.
Last Updated: 23/10/12 11:29pm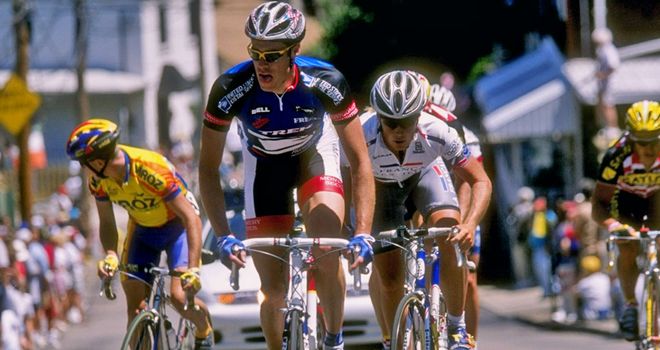 Mercier was a member of the team in 1997, one year before Lance Armstrong joined the roster, and says that performance enhancing drugs were already a part of the set-up.
At the end of that year's Tour de Romandie Mercier said he was called into a room by Pedro Celaya, who has been charged by the United States Anti-Doping Agency but has opted for an arbitration hearing, and told to take steroids to aid his training.
"He called the riders into his room one at a time to give us a training programme - it had been a hard early season," Mercier told Sky Sports.
"He had a block in there with between 150-230kms for 14 days in a row. Most of the days had intervals in them and there were dots and stars on the calendar.
"I asked him what those were for and he said, 'these are the pills and they're steroids'. I said, 'what are these going to do to me'?
"He said, 'don't worry, you'll go strong like a bull but no racing, because for sure you'd test positive'.
"I was living in South Africa at that time so I flew home and talked to my wife about it. She said, 'make your own decision' and I said, 'I don't want to do this'.
"That's when I decided I didn't want to be a pro."
Organised
Mercier left the team as a 29-year-old that year and did not return to the European peloton.
His claims imply that organised doping at the team was introduced before Armstrong joined in 1998 after recovering from his battle with cancer.
Mercier added: "On our team we had a refrigerator which had a special lunch box in it. You could shake it and hear the glass vials clanging together.
"I never saw what was in there, but common sense tells you it was EPO, which has to be refrigerated and is stored in glass vials.
"And then of course (there was) the incident with Pedro Celaya offering me steroids for training."
USADA's investigation into doping on the US Postal Service team has ended with Armstrong being banned for life and stripped of his seven Tour de France titles.
Although he did not ride with him on the team, Mercier is convinced that Armstrong is guilty of the charges.
He said: "I think it's a shame that's he's still denying it, there's overwhelming evidence. There is eyewitness testimony and apparently they have hard evidence of blood manipulation. It's sad and pathetic really."