Chris Froome wants doping cheats to be given lifetime bans from cycling
Tour de France winner Chris Froome wants to see drug cheats in cycling handed lifetime bans.
Last Updated: 18/08/13 12:28pm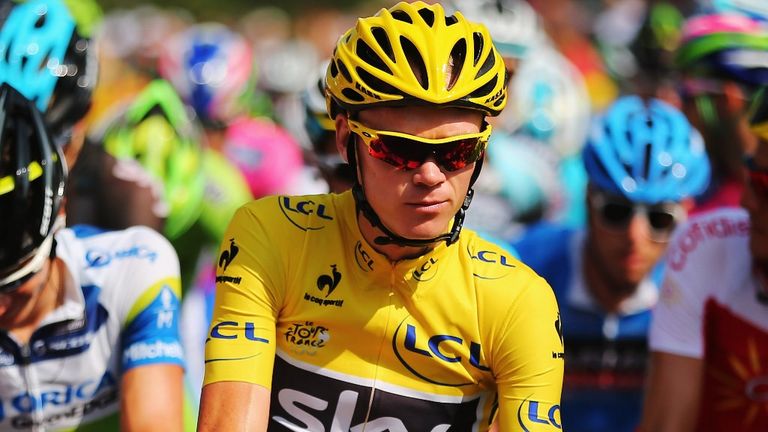 The Team Sky rider faced constant questioning on the issue of doping during his Tour triumph this year, with media and fans alike casting doubt over his performances in the wake of Lance Armstrong's revelations earlier in the year.
While Froome feels the sport has now moved on from past scandals, the 28-year-old believes harsher sanctions still need to be handed down to anyone testing positive for drugs.
"I definitely think there need to be harsher penalties for people who break the rules," he told the Mail on Sunday. "I'm not so sure they should be allowed back into the sport at all.
Faith in testing
"Maybe I would implement lifetime bans for people who did blood bags or EPO, or something that you know is 100 per cent cheating. I think in this day and age, if there are new cases, I would like to see those guys out of the sport.
"I have got faith in the testing procedures. We have had a few positives this year already and that goes to show those guys aren't getting away with it anymore."
Froome also revealed he would be happy to ride under 2012 Tour winner Sir Bradley Wiggins at a future race, if it is in the best interests of Team Sky.
But having proved himself as the best climber in the world at this year's Tour, the Kenyan-born Briton can only see that happening at an event be packed with time trials, a discipline in which Wiggins specialises.
Working with Wiggins
"It is a good thing for the team, a privileged position for the team, having two Tour winners and having the possibility of being able to play those different cards," he said.
"At the end of the day, people will need to remember, whatever race we go to, we will go there with a clear plan and, as professionals, we will stick to that plan, regardless of if we are mates or not.
"I would love to be given the opportunity again to try to go for it and I think that would depend very much on how the route is and who it suits.
"It is only right that if it is a flat time trial every second day, it suits Bradley and we ride for him, 100 per cent."