Anna Meares praises Becky James for golden 2013 and admits she is daunted by Briton
Olympic champion Anna Meares has praised Becky James for her achievements in 2013.
Last Updated: 16/12/13 2:55pm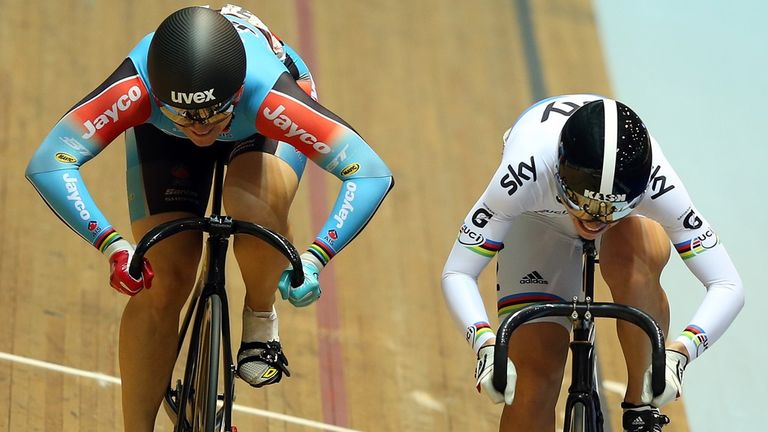 Australian Meares has spent much of her glittering career battling for medals with Victoria Pendleton and had expected a lean period for British track sprinting in the wake of the double Olympic champion's retirement last year.
Those hopes were emphatically dashed at the Track Cycling World Championships in Minsk in February, when James capitalised on Meares taking a break from racing by winning two gold medals and four in total.
The 22-year-old later added one medal at the European Track Championships in the Netherlands and five in the two Track Cycling World Cups held so far this season, and is now targeting more success at the 2014 Track Cycling World Championships in Colombia in February and next summer's Commonwealth Games in Glasgow.
Churning out champions
Meares, who made her return to racing this autumn, will face James at both events and is expecting a fresh chapter in her rivalry with British riders to begin.
"I thought I would get a break from the British after Vicky retired," Meares said. "They just seem to be churning out world champions.
"Becky was always going to be a handful. I said that when she was an 18-year-old. To see her develop and mature and grow into a really strong young woman and earn the right to be world champion and wear those rainbow bands, is really wonderful; a little daunting as a rival, but in the sense of the sport as a whole, it is really great.
"There is quite a changing of the guard after each Olympics and to see her step up was really nice. I love seeing grounded people work hard and achieve."
James will represent Wales at the Commonwealth Games, meaning that as well as Australians such as Meares, she will also find herself up against her English team-mates from the Great Britain squad, including Jess Varnish and Victoria Williamson.
'Tough competition'
Despite the likes of in-form German Kristina Vogel being absent, James is still expecting the battle for medals in Glasgow to be fierce.
"It's going to be really tough competition," she said. "We have got the girls I train with day-in, day-out. The Aussies always come with such a high standard - Anna Meares and Kaarle McCulloch.
"It's a really high standard of racing. I'm just hoping year by year my performances are going to get better and better.
"Hopefully, by the Commonwealth Games, I will have some good form, and I will be at a better level than I am now - and hopefully win some medals."