Astana's WorldTour licence under review after Ilya Davidenok becomes third rider to fail test
Last Updated: 16/10/14 5:35pm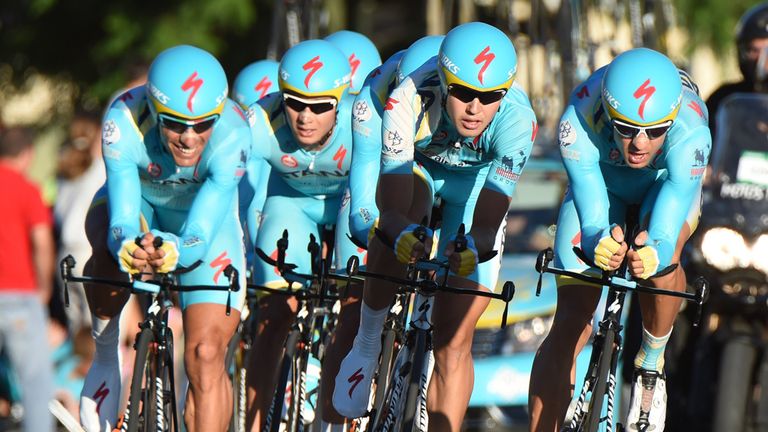 The International Cycling Union has announced it will review Astana's WorldTour licence after three of the Kazakh team's riders failed doping tests in August.
Maxim and Valentin Iglinskiy tested positive for the banned blood-booster EPO on August 1 and 11 respectively and it has now emerged that trainee Ilya Davidenok tested positive for steroids on August 28.
Astana already have a 2015 WorldTour licence in place, but the UCI has now requested they appear before its Licence Commission for an assessment of their "ethical criteria".
A UCI statement said: "This follows the serious concerns raised by the fact that two Astana riders Maxim and Valentin Iglinskiy recently tested positive for EPO and the notification this week that llya Davidenok has returned an adverse analytical finding for anabolic androgenic steroids in a sample collected at the Tour de l'Avenir on 28th August 2014.
"As per the UCI Regulations, it is expected that the team will appear before the Licence Commission within the next month for an assessment of the team's level of compliance with the ethical criteria so that the appropriate measures can be then taken.
Question of responsibility
"It will be for the Licence Commission to determine whether and to what extent the team and/or its management is responsible for recent events. The UCI will not comment further at this stage."
Astana voluntarily suspended themselves from last week's Tour of Beijing following the second Iglinskiy case in order to comply with the rules of the Movement for Credible Cycling, of which they are a member.
The squad, which is managed by Alexandre Vinokourov, himself a former doper, expressed its "deep disappointment" at the two failed tests and consequently announced it would launch an internal investigation.
Davidenok's case has now rocked the team once again, although he was not racing for Astana at the time of his failed test, which took place at the Tour de l'Avenir under-23 race in France.
The 22-year-old was on Astana's books, having been promoted from the feeder squad Continental Team Astana on August 1 this year, but the Tour de l'Avenir is contested by national teams and so Davidenok was riding for Kazakhstan. Davidenok has the right to request his B sample be tested.