Sir Bradley Wiggins targeting 55km in world hour record attempt
Briton wants his mark to last for 20 years
Last Updated: 23/05/15 1:37pm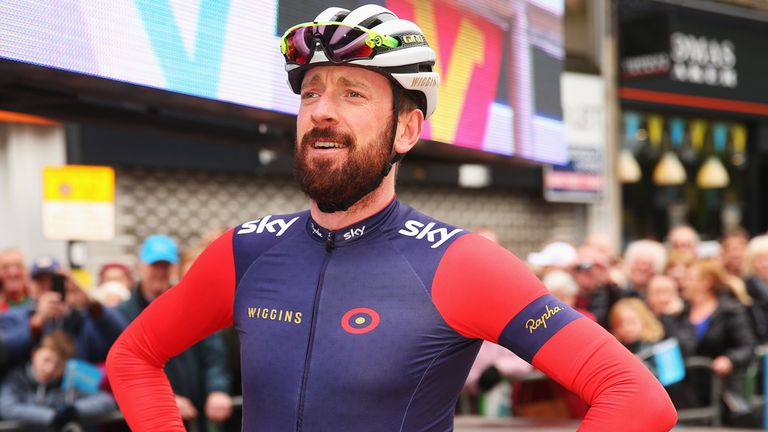 Sir Bradley Wiggins is confident he can reach 55km in his hour record attempt and believes it will "stand for 20 years" if he is successful.
Wiggins will bid to break the existing mark of 52.937km, set by fellow Briton Alex Dowsett on Saturday, at London's Lee Valley VeloPark on Sunday, June 7, in an event being screened live on Sky Sports.
Wiggins is the reigning Olympic and world time trial champion and, in an interview with The Times, he said it was not a matter of if he could break the record, but by how much.
"It sounds a bit horrible to say, but I think I could break the record tomorrow," the 35-year-old said. "But I don't just want to break it, I want to put it right up there, as far out of reach as I can.
"I've got 55km in my head and I believe that's realistic. And I think if I do that it will stand for 20 years."
Wiggins is not downplaying the effort required for one of cycling's toughest challenges, which has seen four riders break the record in the last eight months.
However, he anticpates it will be no tougher than winning the Tour de France in 2012 or the Olympic time trial in London just over a week later.
"I don't see it as being any harder than climbing the Ventoux to save fourth place in the Tour de France [in 2009]," he added. "I can't see it being any harder than keeping concentration for three weeks to win the Tour, or riding around Hampton Court with the weight of expectation to win Olympic gold.
"I've been in a lot of pressure situations. I know what I can do. The challenge is dealing with the heat, the crowd, pacing yourself early when the crowd is egging you on."
Once Wiggins has completed his hour attempt, his focus will return to Rio 2016, where he is targeting a fifth Olympic gold medal and a British record-extending eighth in all, after which he plans to retire.
"Whatever happens, that will be it after Rio," he said.
Watch Wiggins' record attempt at the Lee Valley VeloPark on Sunday, June 7, live on Sky Sports.