KASK unveils Protone helmet
Ahead of the Tour de France KASK have unveiled the Protone helmet, developed in collaboration with Team Sky.
Last Updated: 04/07/14 8:20pm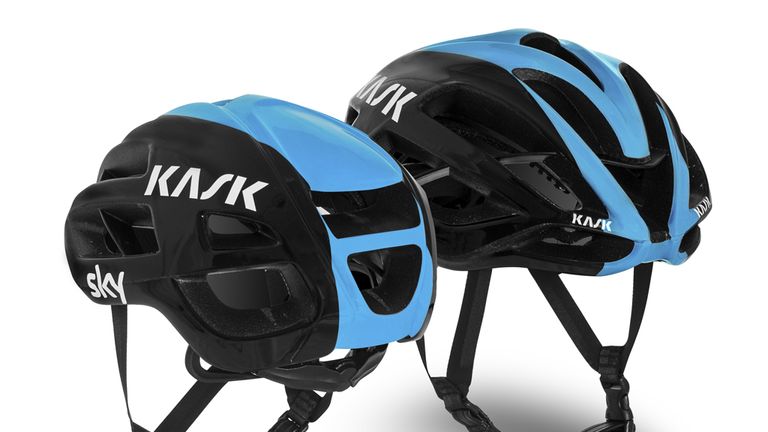 Ahead of the 2014 Tour de France KASK have unveiled the Protone helmet, developed in collaboration with Team Sky.
The ultra-sleek new helmet has benefitted from CFD modelling and thermodynamic analysis to make it KASK's most advanced helmet to date.
Its launch marks a new era of even closer collaboration between KASK and Team Sky.
Developed to give an advantage in the vast majority of the Tour de France stages, the Protone has one of the lowest drag coefficients (cx) of any ventilated helmet, and among the fastest rates of heat dissipation too.
Protone is the fourth helmet to be developed in collaboration with Team Sky, and follows the Mojito, Bambino and Infinity.
"All our partnerships are genuine collaborations where we work together to find improvements in performance," said Carsten Jeppesen, Team Sky's Head of Technical Operations.
"We're now in the fifth year of our relationship with KASK and they have worked with us to continually innovate, producing the peloton's first closed vented helmet, the popular Bambino time trial helmet and last year, the Infinity aero helmet with the revolutionary opening/closing mechanism.
"We're really excited about using the new KASK Protone as we attempt to win our third consecutive Tour de France. The riders have been testing it and are really happy with how it performs. This is testament to the great design capability KASK possess."
Angelo Gotti, CEO of KASK said: "Pro cycling is about marginal gains and we've spent many months and countless hours examining data, rider-positional analysis and thermodynamic studies as well, of course, as listening to feedback from Team Sky to create our most advanced design yet.
"The Protone takes into account the riders' posture and how they behave while riding, for example catering for the rider taking off their glasses and inserting them into the the helmet without increasing drag – in fact we've looked so deeply into the science to create and benchmark this helmet, we've named it after the Italian for the sub atomic particle, proton."
Since Team Sky was founded in 2010, its riders have earned 145 one-day and general classification victories, including two Tour de France wins, while wearing KASK helmets.
The Protone weighs just 210g and uses a 3D DRY padding with a multi-layer open cell construction process to give a more comfortable ride. It also adopts a removable and washable inner padding, made from Coolmax® fabrics and its inner padding fabric has been treated using the Sanitized® antimicrobial process. Additionally, its Octo Fit adjustment system is totally ergonomic and light, it guarantees a perfect fit to any kind of head shape.
KASK has also continued to use its Multi In-Moulding Technology (MIT) to create a polycarbonate cover for the top, base ring and the back of the helmet's shell. This is joined to the inner polystyrene cap via KASK's In-Moulding Technology to improve the shell's shock absorption, and its strengthened frame further reduces the risk of a shock breaking the shell.
KASK will display the helmet at the August 2014 Eurobike show, held in Germany, and it will be available to buy in stores for the start of 2015.