Chris Froome happy to play domestique in Geraint Thomas' Tour de France victory
By James Dale
Last Updated: 30/07/18 8:45am
Four-time Tour de France winner Chris Froome admits his Team Sky colleague and 2018 champion, Geraint Thomas, was stronger from the outset this year.
Thomas, who has played domestique to Froome's dominance in cycling's most iconic race, became Britain's third winner on Sunday.
Britain has now had a champion in six of the last seven years since Sir Bradley Wiggins' success in 2012.
Froome, pre-event favourite to become the fifth rider to win a record-equalling fifth Tour de France title, finished 2mins 24secs behind Thomas in third.
"It was a tough few weeks but it's just such an amazing feeling to be up on the podium with G," Froome told Sky Sports News.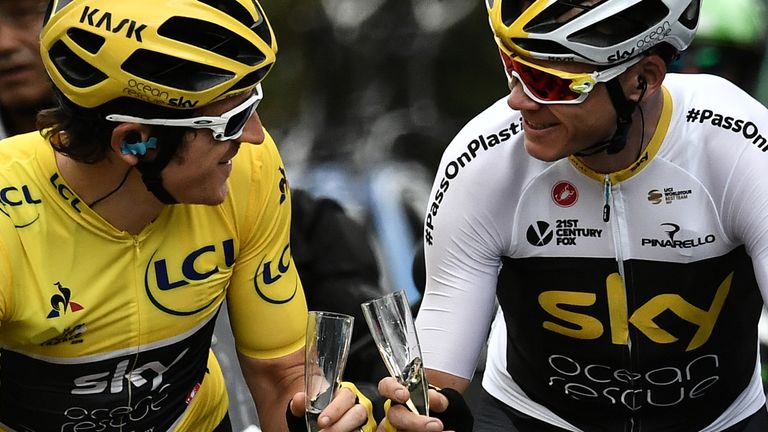 It's the end of what's been an amazing journey - almost a 10-year journey as team-mates, and mates.
Chris Froome
"It's the end of what's been an amazing journey - almost a 10-year journey as team-mates, and mates.
"To have been a part of his battle to win the Tour de France has been an amazing experience.
"I'm genuinely happy, proud. It was clear from the first mountain-top finish that G was stronger.
"It was great for us to have those two cards to play but I was more than happy to get behind him and go all in to try and win this race because he deserves it.
"He's been there for me over the years and it was clear he was stronger this year. He deserved every bit of it."
Team Sky's team principal Sir Dave Brailsford insisted Froome is still capable of winning a fifth yellow jersey after Thomas' victory.
It has been a race which saw Froome jostled and spat at following the case of his adverse analytical finding (AAF) for salbutamol.
He was cleared of any wrongdoing in the weeks before the race's start.
The 33-year-old's wife is due to have a baby girl imminently, leaving thoughts of winning his title back on hold as he races to get back in time for the birth.
"It's too early to think about next year," he said. "I'm just thinking about getting home."