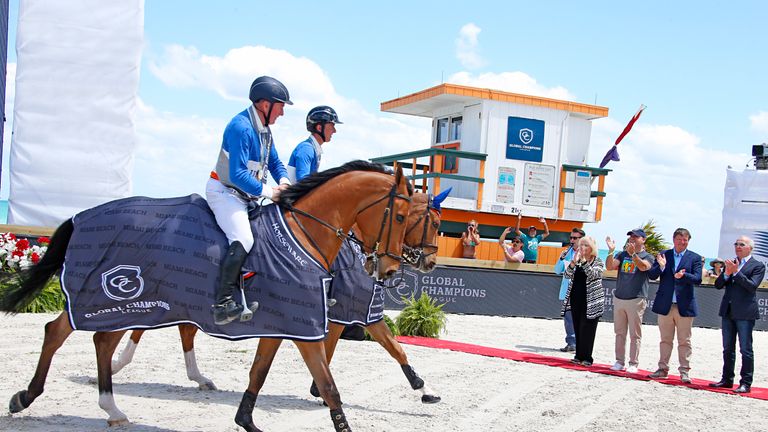 Global Champions League blasted off in 2016 in Miami Beach with a victory for the dynamic duo of John Whitaker (GBR) and Bertram Allen (IRL) in team Valkenswaard United.
It was the launch of a new competition format as some of the world's top riders became team-mates for the first time.
Whitaker of Valkenswaard United put in a strong round ahead of his team-mate Allen to jump double clear with his talented horse, the 12 year old gelding Lord of Arabia. Allen and Quiet Easy 4 had an unlucky fence down in the second round, however with their typically quick pace they were able to cross the line in 52.72s, meaning the combined time would be 113.15s.
Antwerp Diamonds had Harrie Smolders (NED) and grey gelding Bokai as a solid anchor, jumping a double clear - however the four faults carried over from round one meant they had to watch from the sideline with a combined time of 118.59s, knowing that Miami Glory could beat them to second place.
Whitaker said: "This was a great win. I think our strategy paid off a little bit. It was nail-biting right down to the second last fence - it was still wide open and so was high tension! It's been great to be a part of it and like everybody says, it's easy to follow and it was tension right to the last fence."