Ocelote on G2's expansion into Valorant, jersey drama and LEC victory
By Yinsu Collins
Last Updated: 22/04/20 10:14pm
G2 Esports proved once again that they're the best League of Legends team in Europe after picking up their seventh title by beating rivals Fnatic.
However, the journey was by no means an easy one in comparison to their clean sweeps over their last two LEC Campaigns in 2019, raising doubts on whether the roster of Wunder, Jankos, Perkz, Caps and Mikyx would have it in them to raise another trophy.
But in true G2 fashion, despite losing to MAD Lions, they were able to get their form back in time for the final and G2's owner Carlos 'ocelote' Rodriguez Santiago admits he's used to the community's wavering attitude towards his team.
He said: "There's always doubts. I've been in esports for 15 years and in those 15 years there has not been a single year, maybe except for the first year, that I have been irrelevant. In these 15 years, there have always been people who doubt us but we've always found a way to come back and to stay relevant.
"I've been hearing that for the past 15 years and I expect I'll be hearing that for the next 15 years as well. We just have to show people that you can't count us out ever and honestly I'm happy that is the case. We're turning a lot of lovers into fanatics and a lot of haters in lovers so that's something that makes me happy."
One of the biggest talking points of G2's season was Perkz and Caps bold choice to swap lanes off of the back of their incredible Worlds run in 2019. The biggest question now is whether the pair will return to their original positions and ocelote gave a bit of insight on the matter.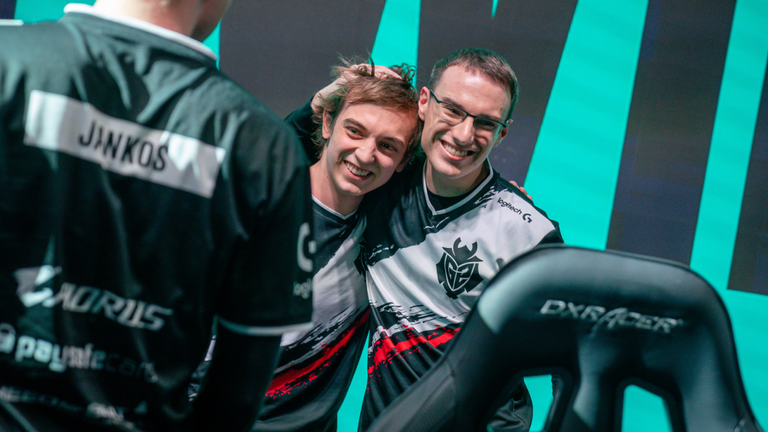 He said: "Honestly? I don't know. What I would say is that now we know how to play Caps bot and Perkz mid and Perkz bot with Caps mid so who's going to play where? Nobody knows."
When pressed for the possibility of whether the pair might be flexing their positions so their opponents won't know where they'll be playing until they're in-game, ocelote simply responded with: "I actually think that's possible. I guess that's the ultimate goal."
Alongside dealing with the drop in his roster's form, ocelote was also handed with more reactions from the community when G2 unveiled their brand new jerseys. Donning a BMW logo in the centre of the shirt, G2 were met with an overwhelming amount of negative feedback on Twitter, leading the org to announce a redesign of the jerseys. Ocelot took responsibility for the designs and revealed that they have something in the works that the fans will love.
He said: "The jerseys we came up with were super unique and we were very happy. When you're number one, it's really hard to remain number one and the only way you remain that way is not thinking that just because you are number one, you'll always be number one.
"As a result of that, we're always pushing ourselves and seeing what we come up with, doing things that haven't been done before. One of those things was the jersey. It's aggressive, it's different and it's very unique. Sometimes you hit the mark and sometimes you miss it - it was actually my personal choice, I strongly pushed towards this design. We take full responsibility and we have adapted our plans which the fans will love."
Of course, League of Legends isn't the only title G2 have been triumphant and now, ocelote has revealed that they have extensive plans to expand into Riot Games' new FPS, Valorant.
He said: "The game is really well designed, it's very smooth, it doesn't have anything useless in there. It might seem overwhelming at first but it's not. It's actually very simple. The simplicity of it makes the game very deep. This game has everything it needs, nothing more, nothing less. That makes you get really good at every angle, every map. It's a perfect game, I really, feel strongly that I believe it's a perfect game.
"G2 will be Valorant World Champion at some point. At the same time, we'll be doing a lot of content and tournaments around Valorant. Expect a lot from us, it's going to become one of the main games for us."