Construction of Lake Torrent race track begins in Northern Ireland
£30m project aiming to host BTCC and British Superbikes
By William Esler
Last Updated: 21/09/17 10:27am
Construction of a new state of the art racing circuit in Northern Ireland commenced on Wednesday.
Lake Torrent, as the circuit will be known, is being developed on a 163-acre site of a former clay pit near Coalisland in County Tyrone.
The £30m project will see a circuit built to FIA Grade 2 standard, meaning it can host all motorsport apart from F1.
The venue is targeting hosting series such as the British Touring Car Championship and British Superbikes.
Earlier this month, Mid Ulster District Council granted planning permission for the first phase of work which includes the race circuit, pits, medical centre, restaurant, hospitality suites, six business units and a crèche, as well as a new public ring road to bypass the town and facilitate easy access in and out of Lake Torrent.
That work is expected to be completed in early 2019.
"Our vision is to regenerate Coalisland and the surrounding areas through the creation of an internationally recognised motorsport arena which will become a venue for regional, national and international competitions, aiming ultimately to host events like Super Bike and Saloon Car Championships, attracting up to 30,000 spectators per event," said David Henderson who is behind the project.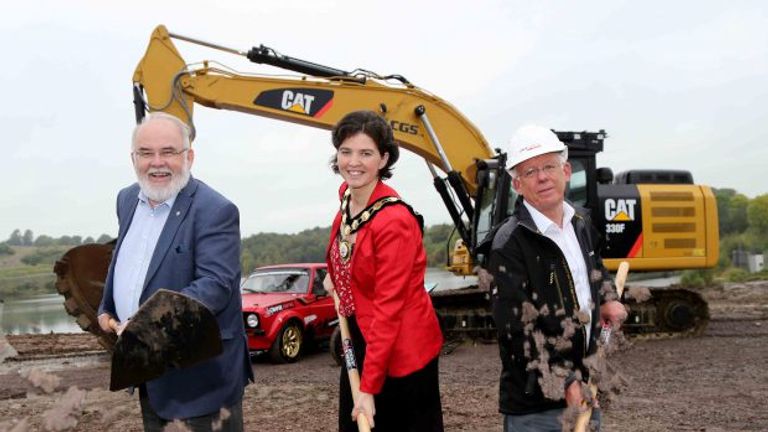 "At the same time, we will be providing the local community with new opportunities through business, engineering, leisure, increased tourism, job creation, research and development. So we are filled with a sense of pride to stand here today, cutting the first sods on a project that will drive change and transform lives in the area.
"Motor racing in Northern Ireland started 90 years ago and is still going strong. The development of Lake Torrent will extend that into the next 90 years and beyond, providing sustainable local employment both for skilled and unskilled workers into the future."
The track will be 2.2 miles in length, boasting 12 corners and will benefit from the existing undulations of the former clay pit.