Valentino Rossi fifth in Aragon MotoGP won by Marc Marquez.
By Andy Swales
Last Updated: 24/09/17 5:47pm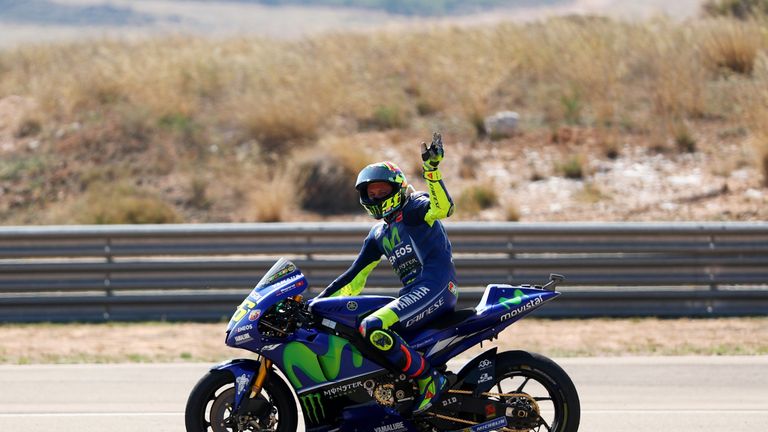 Valentino Rossi finished a respectable fifth in his comeback race at Aragon in northern Spain, just 25 days after suffering a double fracture of his right leg.
The seven-time world MotoGP champion was expected to be out of action for the rest of the season, following an accident while riding an off-road enduro bike on August 31.
However, the 38-year-old stunned the motor-cycling world by getting back on his Movistar Yamaha earlier this week, in a bid to prove his fitness for Sunday's race.
And in the race itself, Rossi made a fast start and was in second spot in the standings for the first half of the 23 laps.
From there he slipped three places over the final 12 laps to finish 5.882 seconds behind winner Marc Marquez.
Rossi had started on the front row of the grid, after setting the third fastest time in practice.
Winner Marquez travelled in the opposite direction, after starting on the second row, by taking the lead on lap 16 and remaining there to finish 0.879s clear of his Repsol Honda teammate Dani Pedrosa.
It was the 24-year-old Spaniard's fourth victory in six starts, and moves him 16 points clear at the top of the standings after 14 of 18 races.
His nearest challenger is Italian Andrea Dovizioso who could only finish seventh over the Ciudad del Motor de Aragon.
Spaniards occupied the top four places with the leading seven finishing within eight seconds of each other.
The highest placed Briton was Scott Redding who came home 14th, over 25 seconds adrift, while Cal Crutchlow was forced out on lap eight when he slid off his Honda.
Top Six:
1 Marc Marquez (Repsol Honda) 42 mins, 06.816 secs
2 Dani Pedrosa (Repsol Honda) + 0.879s
3 Jorge Lorenzo (Ducati) + 2.028
4 Maverick Vinales (Movistar Yamaha) + 5.256
5 Valentino Rossi (Movistar Yamaha) + 5.882
6 Aleix Espargaro (Aprilia) + 6.962
Standings:
1 Marc Marquez 224 pts; 2 Andrea Dovizioso 208; 3 Maverick Vinales 196; 4 Dani Pedrosa + 170; 5 Valentino Rossi + 168; 6 Johann Zarco + 117; 7 Jorge Lorenzo + 106; 8 Danilo Petrucci 95; 9 Cal Crutchlow 92; 10 Jonas Folger + 84