Mr Deadline Day
Jim White tells us why transfer deadline day has become "huge" for Sky Sports News.
Last Updated: 30/01/12 2:42pm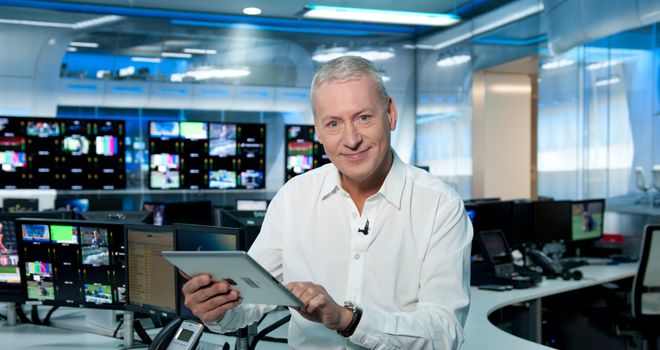 The transfer window slams shut at 11pm on Tuesday evening and, as usual, Sky Sports News HD will be at the heart of all the big stories.
And, as usual, Jim White will be on air as the clock ticks down to bring you news of all of the breaking deals.
It's become one of the most exciting days of the year on Sky Sports News and drama is guaranteed as clubs scramble to bring in the players they need for the rest of the season.
So we caught up with Jim - aka Mr Deadline Day - to get his verdict on what could be in store this year.
You've emerged as the "face" of Deadline Day in the last few years. Is that something you enjoy?
JIM: It's mad, isn't it? I can't actually believe how big it's become. I've found since mid-December that people are asking me in the street if I'm looking forward to Deadline Day. Honestly, it's so flattering and it brings me down to earth with a real jolt. I was up at Blackburn Rovers last week and even the players were asking me whether Deadline Day was going to be busy. It's become a huge day and it's great that it's become that. I love it.
Is it exciting to be in the presenter's chair?
JIM: Oh yes, because of the unpredictability of it. When you come in the building three or four hours before going on air you've got a rough idea of how things are shaping up, but sometimes those hours are of no significance when you go on because things roll on so quickly.
As well as presenting the news, do you spend much time chasing stories yourself?
JIM: Absolutely. The way I look at it is that I'm not just presenting it, but I have a responsibility to source stories myself because I know so many people in the game. I'm on the phone during every commercial break, talking to people right down to the last second - and then trying to remain relatively composed when I come back on. I wouldn't want to go on air and not do that and I love the non-stop involvement. Having said that, I do get occasional friends phoning me up during the break asking me if certain rumours are true. I have to politely tell them to hang up so that I can get back to the job in hand!
How big is the contacts list in your phone?
JIM: It is pretty extensive nowadays because I know so many players and managers. It's great being able to go right to the root to try and get a yes or a no. The key is to make sure we never go on air with a story if we're only 97 or 98 per cent certain. We've got to be sure.
What's it like behind the scenes in the Sky Sports News studios on Deadline Day?
JIM: It's pretty hectic. There are so many people involved who are just as flat out as I am and these guys can't be forgotten. For example, the moment we get a possibility that a player could be involved in a deal we need to go and unearth material on him - and we want it 15 seconds ago! There's a big responsibility on everybody working on the channel and I've noticed in recent years that those guys are really psyched up and they know the importance of it all. There's so many great folk here and we're all in it together.
And what about the reporters who are outside in the cold all day trying to get the big stories?
JIM: At 54 years of age, I'm glad I'm sat in the studio, but the buzz is also great for the guys out there. If you're on the spot for the big story of the night then, my goodness, your adrenaline will be pumping. A few years ago Robinho went to Man City and Dimitar Berbatov went to Manchester United and if you were on the ground then you'd have got a considerable buzz.
Speaking of which, what are your favourite memories of Deadline Day in years gone by?
JIM: When Robinho went to Manchester City it was amazing because everybody thought he was a certainty for Chelsea, then it turned around and he went to Man City. Then we didn't know if Berbatov was going to go to Manchester United and we were relying on cameramen to get us shots and we got some amazing pictures of the shadowy figure of Berbatov at Old Trafford just before the deadline. I also remember this time last year Harry Redknapp was certain that Tottenham had got Charlie Adam, but the paperwork at Blackpool couldn't be done and time ran out. That night he might have gone to Tottenham, but he stayed and went to Liverpool another time. That, to me, is what it's all about.
What can we expect this year?
JIM: It's impossible to know who will do what, but who's to say this one won't be the best? The unpredictability is part of it and it's my job to make sure people don't leave their sofa or the pub or wherever they're watching it! But I think there will be plenty of activity. I'm going on in the build-up to the 11pm deadline and I'll be on air with Natalie Sawyer, who is a great foil for me because she's so level-headed. I'll say something over the top and then she'll bring it all back to earth again. I think we're a really good team.
Do you think the players and the managers enjoy Deadline Day?
JIM: I think they secretly do. You hear people like Arsene Wenger and Sam Allardyce saying they could do without having to do their business in a limited time, but for the viewers and the football fans it's surely unmissable. And the players are locked into it. If I'm the Arsenal full-back and they're talking about the Arsenal centre-back leaving the club, I'd be watching very keenly!
Do you have any advice if people can't get in front of a television?
JIM: There's no excuses not to follow it any more. You can watch Sky Sports News on Sky Go and then there's the new Sky Sports News iPad app which brings you all the stories and allows you to watch live. You can also stay up to date on the Sky Sports website and on the Sky Sports News Twitter feed. If you're not sitting at home watching it there's so many different ways to follow it.
So if we want the truth we should stick with Sky Sports News?
JIM: I tell you what, on that day suddenly everybody becomes an expert. We get people phoning up saying they've seen Kaka walking through Heathrow Airport or somebody who looks like Lionel Messi outside the Emirates Stadium! It's hilarious some of the red herrings that get thrown at us! Our job is to get the truth and to nail it down and that's the toughest part. We can put out any inducement to get people to watch, but if we don't get things right then we will end up with eggs on our faces. We will be doing our best to put out the facts just as they are and I can't wait. Just speaking about it now is getting me revved up!
Tune in for Deadline Day on Sky Sports News HD throughout the day on Tuesday January 31.
Click here for more details on the Sky Sports News iPad app.