Fit in 5 returns for third instalment with Kelly Brook and Gethin Jones
Catch all the episodes from Wednesday, December 29 on Sky on Demand
Last Updated: 20/12/17 5:28pm
Kelly Brook and Gethin Jones join Fit in 5 creator Marvin Ambrosius for the third series of the popular fitness workout programme.
The first two series' of 'Fit in 5', have been a huge success, and for the third instalment Sky have continued their partnership with Fitbit to create the short-form content series.
Fit in 5 creator and personal trainer Ambrosius is joined by television personality Brook and broadcaster Jones for the series which will once again be aimed at helping people get fit through five minute exercises.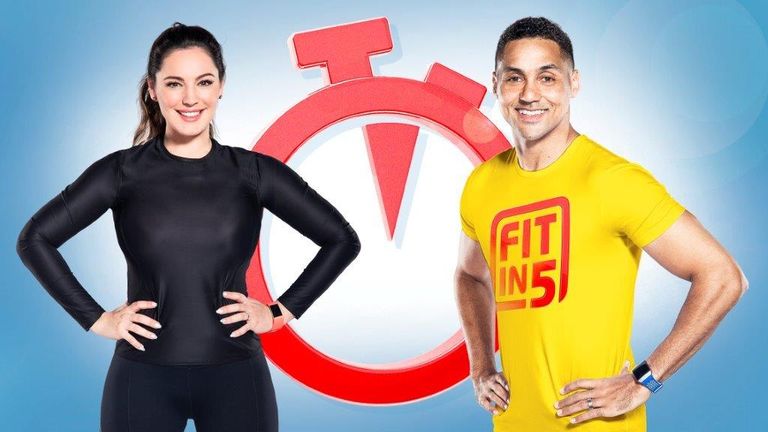 Sky News Sunrise presenter Sarah-Jane Mee and Sky Sports News presenter Kirsty Gallagher are among the previous celebrities to have been involved in the high-impact fitness regime.
The sessions which incorporate fat burning, cardio and heart rate zone workouts will air over 18 episodes, which will include three episodes from celebrity contributors Brook and Jones.
We spoke to Marvin ahead of the new Fit in 5 series...
What can we expect ahead of the new series?
For me, the new series is all about progression. One thing that we have done is ensuring that with the customer base we focus on burning fat.
The thing to expect is have workouts that are challenging. We want people to aspire to get through the exercises and push themselves to do that little bit more than five minutes. We want them to be able to do another round so that they can base their fitness around seeing how many they can do in a row.
How do the Fit in 5 exercises stand out?
In our daily lives, I don't think anybody, unless they are walking, does an activity that uses every single muscle in their body and exercises for a five-minute period.
The greatest thing with the design in these workouts is we make sure you are getting muscular balance and everything in the body is working. Somebody who does a run on a treadmill every day of their lives is neglecting their glutes. They are also not working their arms. They are losing fat but they are not actually building muscle.
The great thing about these exercises is they are for everyone. You may have a disability or just want to work your arms or legs.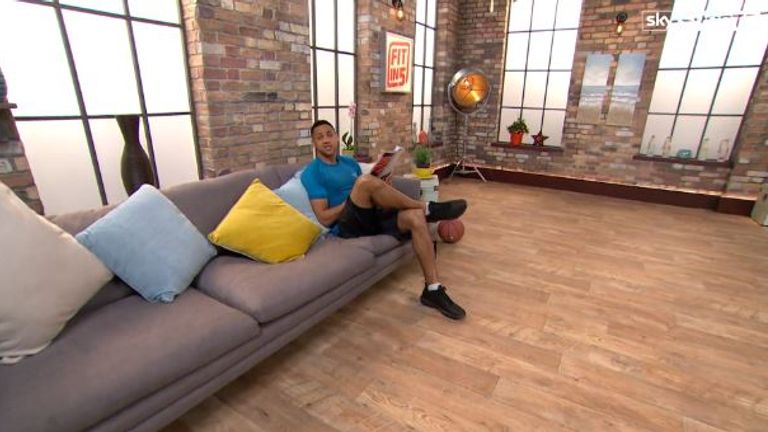 The greatest thing with the design in these workouts is we make sure you are getting muscular balance and everything in the body is working.
Marvin Ambrosius, Fit in 5 instructor & creator
What would you say to someone contemplating improving their fitness levels?
It's about having a go. Having worked in a gym for many years, telling someone to come and do a 45-minute class of an intense workout never worked before - it's pretty intimidating.
There's not really a starting point for people trying to get started in fitness. (However) this is base-level fitness but it also works for those who are intermediate and advanced. The way you can measure it is by increasing your times in the Fit in 5 and increasing that towards a 20-minute workout.
How has the reaction been since the first series?
The biggest reaction I had were people's success stories. I had someone, a stay-at-home mum, who had agoraphobia - they wouldn't leave their house, low in confidence and she sent me a message from the start of the first series about how she had lost two and half stone (since starting).
Getting a message like that is the sort of thing that inspired me to progress these workouts more for people who have lost confidence. Just like myself, I had been 18 and a half stone and lost my confidence. I want to help people regain it through a realistic treatment that is measurable and can add to their everyday life.
Fitbit's Fit in 5 series 3 and will be available from December 29 on Sky's On Demand platform