Louise Sugden: Strength looks different for every individual
By Gemma-Louise Stevenson
Last Updated: 02/10/18 5:13pm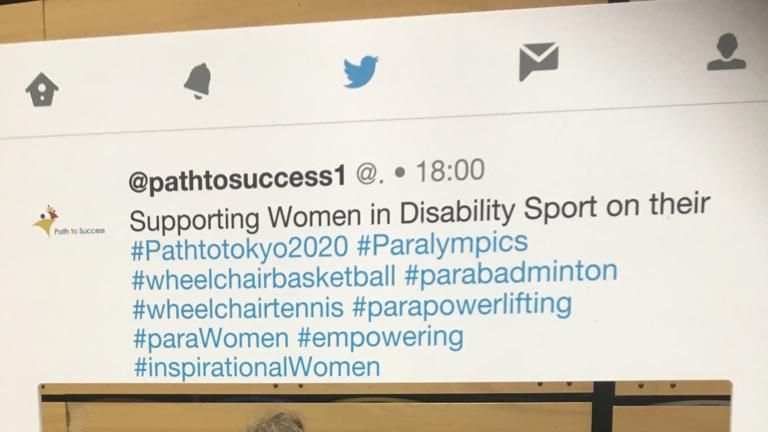 Great Britain power lifter Louise Sugden is aiming to compete in the 2020 Paralympics in Tokyo.
A year ago Britain's Louise Sugden had not even competed in her first powerlifting competition.
"And I think if you'd have told me a year ago that I would be a Commonwealth Games silver medalist, European and British Champion, I'd have told you where to go because it's just insane," she told Sky Sports.
Having been a wheelchair basketball player for GB, before making the decision to retire in 2017 because she felt she "just wasn't elite anymore", she is no stranger to a large sporting stage.
She believes that previous experience in top-level sport is one of the things that have helped her to make an immediate impact on the -86kg category of para-powerlifting.
"I'm too competitive not to do anything so I decided to try some other sports," she continued. "I never went 'I'm going to be a power lifter', though, it just kind of happened by accident.
"I just kept training and kept getting stronger and the next thing I knew I was going to a Commonwealth Games.
"But I think my elite attitude that I learnt while I was playing basketball has really helped get me where I need to be to be successful, plus I enjoy it."
The Right Support
Sugden is one of the success stories of a charity which supports specifically female para-athletes on their road to Tokyo 2020 and beyond, Path to Success.
Speaking to Sky Sports, Anita Choudhrie, founder of the charity which currently helps 12 female athletes across four Paralympic sports, said: "The decision to help female Paralympians was easy because, as I began to research, I saw that female athletes were, in general, of lesser teams and there was less representation and it was all because they didn't get enough time to even practice or to reach the level they had to to be included at European, and then of course World level.
"And since we've started supporting Louise she has reached a really good standard and level in competition."
As well as the financial support to get to competitions, Path to Success provides support to enable Sugden to train in better facilities, specifically designed for her sport.
"One of the main challenges for me had to be access," Sugden said. "I actually struggle quite a lot in the gym if they've got a bench press that isn't wide enough.
"It's something that seems really small but if it's an inch or two too narrow then that would really put me off and really reduce the amount that I'm able to lift.
"So I really appreciate the support I get from Path to Success and it's helping me achieve more. Just being able to train in Loughborough now which has the proper para-benches, and a lot of them, it's just enabled me to get access to the equipment I need to be ready for competition."
Getting A Profile
Apart from funding availability, something Sugden thinks is an issue faced by para-athletes in general, whether they are male or female, is getting their name out there so they can access sponsorship and funding opportunities.
Speaking to Sky Sports she said: "I mean maybe it's the same for male athletes as well as female athletes I don't know, but if you don't fit the exact body type, the exact stereotype of what a female athlete should be it's really difficult to get noticed.
"It sounds really stupid but if I was to go on Instagram and post pictures of me in skimpy gym wear I'd probably have 12,000 followers but I don't and as it is I have 700 followers."
But while it hasn't earned her thousand of followers, yet, one thing her Instagram accounts is a perfect example and shows Sugden to be a great role model when it comes to championing the importance of body confidence, empowerment and strength, both physical and mental, in women and girls of all ages.
"I think even now some people still think women can be weak but I don't think so, I think strength is and looks completely different for every individual," she said.
On Track For Tokyo
Currently ranked No 7 in the world, in order to qualify for the Tokyo Games Sugden must maintain her form and still be within the top eight in 18 months' time.
While the top-three athletes within her weight division are surging ahead with lifts of between 146 and 136k, there is quite a drop off after that and from four to ten in the rankings it's incredibly close and competitive.
But Sugden is confident in her ability to compete with the world's best.
"I'm doing OK and I'm on track," she said. "There are some very strong women yet to compete and what's quite fascinating is para-powerlifting is a sport where the Paralympians are actually as strong as the able-bodied athletes, which I find amazing.
"But I'm making sure I'm doing the right things, not just making sure there's consistency in my training, but also making sure I sleep and get enough food because if you don't get enough fuel in your body you won't get stronger and if you don't get enough sleep you won't get stronger.
"It's just as important to look after yourself and make sure you're fit and well."