Keri-Anne Payne: a step back from swimming has reignited desire to compete in Rio
Keri-Anne Payne is targeting the 2016 Rio Olympics after recently competing in the host city.
Last Updated: 19/12/13 10:50am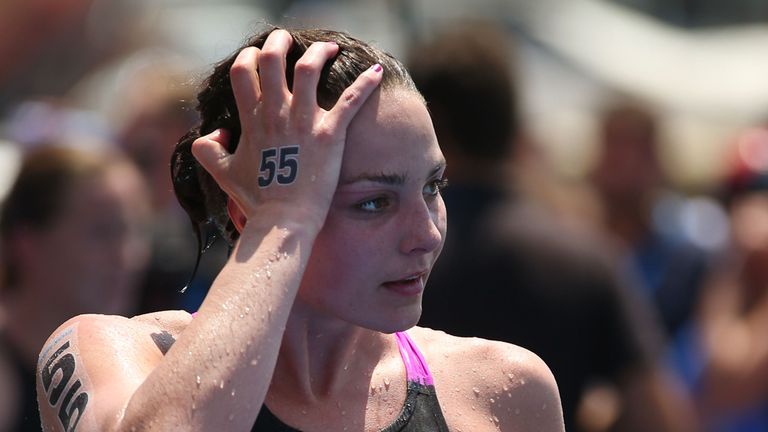 The British Open water swimming star, who won a silver medal in the Beijing Olympics and who battled to fourth place in London 2012, took a step back from swimming in 2013 to recharge and consider her future plans.
However after competing in the 'King & Queen of the Sea' challenge in Copacabana, Brazil, where she and team-mate Chad Ho came second, she is even more determined to qualify for 2016.
"It was great to go over to Rio and swim where the Olympics are going to be - it certainly has given me some excitement to get there in 2016. It's something I have only decided recently, but I am looking towards Rio - Rio is my next target.
"This year I have had the amazing opportunity to take some time out - I am not doing any 10km swims this year; I won't be going to the European Championships either.
"The only competitions I have done is the one in Rio and I went to San Francisco a few weeks ago and did the Tiburon Mile. I will be going to do the Midmar Mile in South Africa in February but I will be doing the eight mile this year, so there is not a huge emphasis on that 13 and over category (a category which she has won a record-breaking seven consecutive times) - I'll give it a go but raising money for the charities in the eight mile is my main aim.
"For me this year has been about doing other things and not feel too guilty about missing training - although I do feel guilty about missing those Christmas sets but I'll have my fair share of those next season when I ramp things up.
Time out
"For the last twelve years I have lived my life on the tiles of the bottom of the pool where I have been doing roughly 60,000-70,000 metres every week. If I have any hope of making Rio, which I think I can and I hope that I can, then I needed some time out. It is great that British Swimming and my coach are all on board with the plan as well."
That plan includes learning as much as she can from other sports to help her get back to winning ways.
"I have been doing some judo With Euan Burton and I have learnt a lot from that. For me it is about trying to work on making the next two years a progression rather than just sitting back and doing what I have always done," explained Payne.
"So for example my tactic in the 10km swim was always to hit the front and lead from the front - it really worked really well for us as a British team and we won three medals in Beijing and became the world leader in open water swimming.
"But the rest of the world caught onto that and started to work us out - if I was racing myself I would have made sure not to let me get to the front and lead.
"I feel it is up to me and the rest of the British team to take that next step and become world leaders in open water swimming again. I am only going to learn that by taking the time to open up and learn from other people and from other sports."
The two time 10km world open water champion is also delighted with the recent appointment of Bernie Dietzig as Open Water Swimming Lead, tasked with implementing a strategy for the Olympic sport in conjunction with British Swimming Head Coach Bill Furniss.
"It is a brilliant appointment, I cannot think of anyone better to take over that role," added Payne.
"I am really excited to work with him and I hope that when everything settles he will come up to Edinburgh and we can put a proper plan in place for the next two years."
Keri-Anne Payne has had a huge influence on the popularity of Open water swimming - as witnessed by the terrific crowd who came out to watch her compete in London 2012.
"For me it was totally overwhelming to walk out and see 25,000 lining up on the banks of the Serpentine to watch Open water swimming. I know a fraction of them just stumbled across it and some were supporting the rest of the world but I would like to think that 20,000 plus people where there to watch me swim.
"That made me incredibly proud and probably my proudest achievement is to help get Open water swimming as big as it has got."