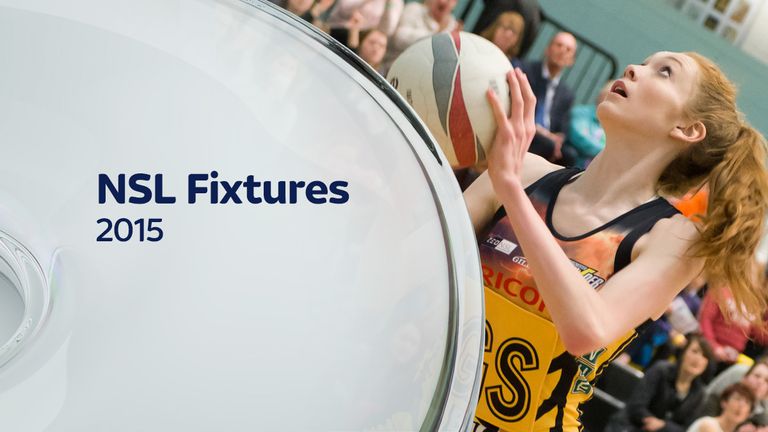 Sky Sports will bring you 14 rounds of live action from the 2015 Netball Superleague season plus the semi-finals and final with our dedicated broadcast team.
Sky Sports is dedicated to bringing you all the latest results and news from the international and domestic fixtures, which you can find at www.skysports.com/netball or by following us on Twitter @SkyNetball
Remember you can buy NSL tickets with Sky Tickets. Click here to see all available fixtures  ​ 
Live on Sky fixtures in bold. Channels to be confirmed nearer to date. Subject to change.
Round 1 - 26th-31st January
Celtic Dragons v Hertfordshire Mavericks
LIVE:  Manchester Thunder v Surrey Storm (Mon 26th Jan 7.45pm)
Yorkshire Jets v Loughborough Lightning
Round 2 - 2nd-7th February
Hertfordshire Mavericks v Loughborough Lightning
Manchester Thunder v Team Bath 
LIVE: Celtic Dragons v Team Northumbria (Mon 2nd Feb 7.45pm)
Surrey Storm v Yorkshire Jets
Round 3 - Monday 9th February
Manchester Thunder v Hertfordshire Mavericks
Loughborough Lightningv Celtic Dragons  
LIVE: Team Bath v Surrey Storm (Mon 9th Feb 7.45pm)
Team Northumbria v Yorkshire Jets
Round 4 - 14th-16th February
Team Bath v Hertfordshire Mavericks
LIVE: Team Northumbria v Loughborough Lightning (Mon 16th Feb 7.45pm)
Yorkshire Jets v Manchester Thunder
Surrey Storm v Celtic Dragons
Round 5 - 21st-23rd February
Hertfordshire Mavericks v Team Northumbria
Team Bath v Yorkshire Jets
Loughborough Lightning v Surrey Storm
LIVE: Manchester Thunder v Celtic Dragons (Mon 23rd Feb 7.45pm)
Round 6 - 28th Feb-2nd March
LIVE: Yorkshire Jets v Hertfordshire Mavericks (Mon 2nd Mar 7.45pm)
Surrey Storm v Team Northumbria
Celtic Dragons v Team Bath
Manchester Thunder v Loughborough Lightning
Round 7 - 6th-8th March
LIVE: Surrey Storm v Hertfordshire Mavericks (Sat 7th Mar 6pm)
Celtic Dragons v Yorkshire Jets
Team Northumbria v Manchester Thunder
Team Bath v Loughborough Lightning
Round 8 - 9th-14th March
Hertfordshire Mavericks v Celtic Dragons
Surrey Storm v Manchester Thunder
LIVE: Loughborough Lightning v Yorkshire Jets (Mon 9th Mar 7.45pm)
Round 9 - Monday 16th March
Hertfordshire Mavericks v Manchester Thunder
LIVE: Celtic Dragons v Loughborough Lightning (Mon 16th Mar 7.45pm)
Surrey Storm v Team Bath 
Yorkshire Jets v Team Northumbria
Round 10 - 21st-23rd March
Loughborough Lightning v Hertfordshire Mavericks
LIVE: Team Bath v Manchester Thunder  (Mon 23rd Mar 7.45pm)
Team Northumbria v Celtic Dragons
Yorkshire Jets v Surrey Storm
Round 11 - 28-30th March
LIVE: Hertfordshire Mavericks v Team Bath (Mon 30 Mar 7.45pm)
Loughborough Lightning v Team Northumbria
Manchester Thunder v Yorkshire Jets
Celtic Dragons v Surrey Storm
Round 12 -  2nd-4th April
LIVE: Team Northumbria v Hertfordshire Mavericks (Thur 2nd April 7.45pm)
Yorkshire Jets v Team Bath
Surrey Storm v Loughborough Lightning
Celtic Dragons v Manchester Thunder
Round 13 - Monday 6th April
Hertfordshire Mavericks v Surrey Storm
LIVE: Yorkshire Jets v Celtic Dragons (Mon 6th Apr 7.45pm)
Manchester Thunder v Team Northumbria
Loughborough Lightning v Team Bath
Round 14 - 11-13th April
Hertfordshire Mavericks v Yorkshire Jets
Team Northumbria v Surrey Storm
LIVE: Team Bath v Celtic Dragons (Mon 13th Apr 7.45pm)
Loughborough Lightning v Manchester Thunder
Sky Sports is dedicated to bringing you all the latest results and news from the international and domestic fixtures, which you can find at www.skysports.com/netball