Daniel Bryan: WWE Superstar talks SummerSlam, John Cena and beards
Daniel Bryan discusses his WWE Title match with John Cena and how to manage your facial hair...
Last Updated: 06/08/13 7:19pm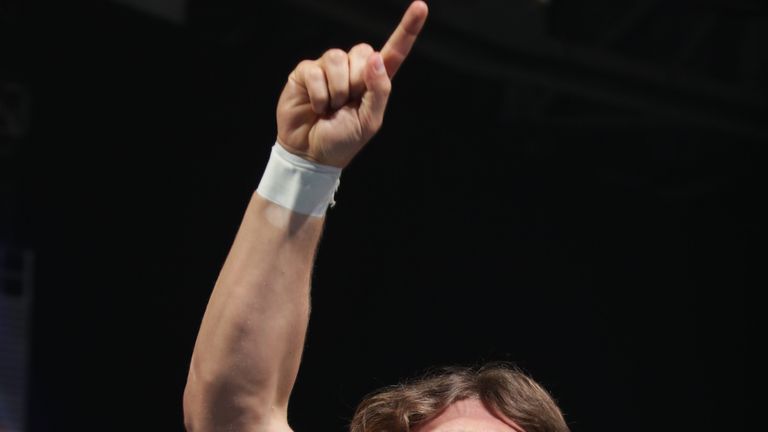 The submission specialist, who stands at 5ft 8in tall and dons a lengthy beard, will fight John Cena for his title on Sunday, August 18 in Los Angeles, live on Sky Sports Box Office.
skysports.com recently caught up with Bryan to gauge his feelings about the match, opponent Cena and whether he has the "right image" to hold sports entertainment's most sought-after prize.
And the former World Heavyweight and WWE Tag Team Champion also dished out some key advice - on how best to manage your facial hair...
skysports.com: You're facing John Cena at SummerSlam. Would you see this as the biggest match of your career?
DANIEL BRYAN: Yeah, by far this is the biggest match of my career. SummerSlam is the biggest event of the summer and Cena is the biggest WWE Superstar of the last 10 years. This is my opportunity to be the WWE champion so it's a really cool and neat experience.
skysports.com: What would it mean to you to win the WWE Championship?
DB: It would be incredible. That is every kid's dream. They grow up wanting to be a WWE Superstar and to be the WWE Champion, winning it at something like SummerSlam. I grew up watching SummerSlam and some of my favourite matches ever have been on SummerSlam; Bret Hart wrestling Davey Boy Smith in '92 and Shaun Michaels wrestling Vader in '96. SummerSlam has been home to some of the greatest main events in WWE history and I'm looking forward to being part of that tradition.
skysports.com: Do you feel under pressure to live up to some of those great matches of the past?
DB: You know what? I don't. I'm just really excited. I'm confident in my abilities and also I'm very interested to see how the WWE Universe reacts to me against Cena. It should be a very interesting dynamic!
skysports.com: What sort of dynamic are you expecting in the night
DB: I'm not quite sure. The reaction to Cena can be hit-and-miss at times if you know what I mean. Sometimes they love him and sometimes they hate him. The reaction to me can be the same way; sometimes people like to boo me and sometimes they like to cheer me so it should be very interesting.
skysports.com: Do you feel like you have a lot of momentum going into it?
DB: I do feel like I have a lot of momentum. I feel I have really hit a groove as far as wrestling goes and I'm in a groove right now where everything feels natural. That's very important for me because I love wrestling and what I do in the ring. The skills are always there, but sometimes it just clicks between what you do and the way the audience reacts. That's definitely there right now.
skysports.com: What do you think of John Cena? Do you respect him?
DB: I really do respect him. We did 219 WWE live events last year and most of those are untelevised and in most of those shows when Cena is on he's the main event. He goes out there and works his butt off and he does it against the big boys, wrestling for 20 minutes against Ryback or Mark Henry or Big Show. He goes out there night after night and has to end the show on a high note - and for the most part, every night he does it. I have a tremendous amount of respect for a guy who's been able to do that for the last 10 years.
skysports.com: Do you think he gets enough credit for his wrestling ability?
DB: It depends on how you define 'credit'. He's been the top guy for the last 10 years! But there's a sense that people question his wrestling ability and I don't think that's accurate. If you look at the matches he's put on, he's been part of great matches. Even his match with Mark Henry at Money in the Bank was a fantastic match. You know, people are saying he's not this great wrestler, but for someone who's not a great wrestler he's sure had some great matches! I don't think that's a fair assessment of him.
skysports.com: What would you say to people who think you don't have the right size or image to be a WWE Champion?
KK: I don't think there is a right size or a right image. I feel like if there's somebody who captures the minds of the WWE Universe then they should be given an opportunity. I'm not saying that I'll succeed, all I'm saying is that if you give me an opportunity to go out there and try my best and do what I do best then we'll see what happens. I've never asked to be given anything, so let me go out there and prove that I belong there. I'll go out and prove that I can do it.
skysports.com: Tell us about the beard. What made you decide to grow it?
DB: It's funny. I'm just a slave to my whims and I just sometimes decide that I'm going to do something. Who knows? I may shave it off tomorrow, but I did it because I was just so sick of shaving. I'm kind of anti-authority and anti-the-norm anyway and it blows my mind that there aren't more people walking around with beards like this because shaving is such a pain. I thought more people would grow gigantic beards out of sheer laziness, but I guess people need to feel more acceptable when they're walking around!
skysports.com: Does it ever get in the way when you're in the ring?
KK: Yeah. People pull it and it hurts! I like to go to grappling and kickboxing in my free time and the last time I went grappling a couple of weeks ago, guys were trying to push my chin and stuff like that and hair was just coming out of my chin. I was like 'that's annoying...'
skysports.com: Which beards do you admire? Do you have any 'beard idols'?
DB: I'll tell you who had a great beard... Mike Knox. He had an incredible beard. And when I was growing up I liked The Berzerker because he had this awesome, big manly beard. I like guys like that who just let it grow so that it's unkept and is big and burly.
skysports.com: Have you got any grooming tips for people who want to grow a beard like yours?
DB: OK. Well I don't really do any grooming per se. You've just got to let it grow. And what's very important for me is to shampoo and condition my beard. I treat it like the hair on my head! People need to keep in mind that they have to treat it like hair. If you just use soap or whatever then it's going to turn pretty nasty pretty quick...
WWE SummerSlam Booking details
WWE SummerSlam will be shown live on Sky Sports Box Office (channel 743) and in high definition on Sky Sports HD Box Office (channel 752) at 1am on Sunday, August 18 (Monday morning).
WWE SummerSlam will be repeated on Sky Sports Box Office (channel 743) - but NOT on Sky Sports HD Box Office (channel 752) - between 9am on Monday, August 19 and 9pm on Saturday, August 24. Repeat showings will last for three hours.
The event is priced at £14.95 for UK customers, €21.95 for customers in the Republic of Ireland.
You can order WWE SummerSlam from Friday, August 9 by pressing the Box Office button on your remote. Select 'sports & events' and follow the on-screen instructions.
Viewers will be able to call 08442 410 888 to book WWE SummerSlam from Friday, August 9. (There may be an additional charge for telephone bookings).
You can also book WWE SummerSlam online from Friday, August 9 by visiting this link: https://my.sky.com/orderboxoffice/
Cable customers should contact their local cable operator.