WWE Royal Rumble: Watch a repeat of the 2015 event on Sky Sports Box Office
Triple-threat title match and 30-man melee contested in Philly
Last Updated: 26/01/15 4:03am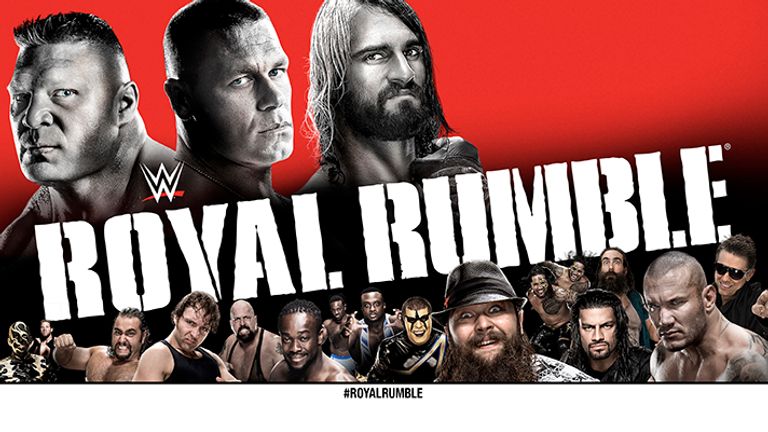 At the 2015 Royal Rumble pay-per-view, three men fought for the WWE World Heavyweight Championship, while 30 more battled for a main-event match at WrestleMania.
So to see whether John Cena, Brock Lesnar or Seth Rollins emerged from Philadelphia with sports entertainment's ultimate prize and to discover who earned a title shot at the Show of Shows this spring, make sure you catch a Royal Rumble repeat on SKy Sports Box Office.
Royal Rumble is priced at £19.95 for customers in the UK and €24.95 for viewers in the Republic of Ireland and you will be able to order the show via telephone, remote or online.
CLICK HERE TO ORDER WWE ROYAL RUMBLE
Cena was looking to rip the WWE World Heavyweight Title from Lesnar inside the Wells Fargo Center when the decorated grapplers collided for the third time in six months.
Lesnar decimated The Cenation Leader at SummerSlam in August, hitting his rival with a whopping 16 German suplexes as well as two F5s to win the sought-after belt.
However, The Beast Incarnate's triumph at Night of Champions, in September, was less convincing, with the powerhouse seemingly set to lose to Cena before Rollins interfered.
Cena defeated Rollins in a Tables Match at WWE TLC to rubberstamp his showdown with Lesnar and a chance to win the world title for a 16th time, but also had to combat Rollins at Royal Rumble with The Aerialist added into the match by The Authority after playing a key role in their return to power.
The WWE World Heavyweight Championship was also on the mind of each Superstar to compete in the Royal Rumble Match, with the winner guaranteed to scrap for that belt at WrestleMania 31.
Roman Reigns and a fit-again Daniel Bryan were two of the confirmed Royal Rumble entrants entrants heading into the match, with both looking to improve on their results at last year's event in Pittsburgh.
Former Shield Superstar Reigns made it to the final two before being sent over the top rope by Batista, though he did secure a stunning 12 eliminations, breaking Kane's record of 11 from 2001, as he saw off the likes of Rollins, Dean Ambrose, Dolph Ziggler and Sheamus.
CLICK HERE TO ORDER WWE ROYAL RUMBLE
Bryan, however, was forbidden from competing in the Rumble last time out by The Authority after he had battled Bray Wyatt earlier in the evening, but he got the last laugh a few months later at WrestleMania XXX when he beat Triple H in a singles match and then overcame Batista and Randy Orton in a Triple Threat to become WWE World Heavyweight Champion.
Rusev, Bad News Barrett, Wyatt, Ambrose, Ziggler, Ryback, Goldust, Stardust, Big Show, Kane, R-Truth, Fandango and Luke Harper were also announced to compete in the Royal Rumble, so did one of them or someone entirely different claim a Rumble victory this time around? Make sure you watch a repeat to find out…
The Miz and Damien Mizdow were involved in the Rumble, too, but first tired to prise back the WWE Tag Team Titles from The Usos, having lost the belts to the Samoan-American twins on a recent episode of Monday Night Raw.
Elsewhere, The Ascension tackled the New Age Outlaws, and Paige and Natalya united to take on Brie and Nikki Bella.
Royal Rumble booking details
WWE Royal Rumble will be repeated on Sky Sports Box Office (channel 743) BUT NOT Sky Sports HD Box Office (channel 752) until 9pm on Saturday, January 31.
Repeat showings will last for three hours, with the final showing BEGINNING at 9pm on Saturday, January 31.
The event is priced at £19.95 for UK customers, €24.95 for customers in the Republic of Ireland.
Viewers can call 08442 410 888 to book WWE Royal Rumble. (There may be an additional charge for telephone bookings).
You can also book WWE Royal Rumble online by visiting this link: https://my.sky.com/orderboxoffice/
You can also order WWE Royal Rumble by pressing the Box Office button on your remote. Select 'sports & events' and follow the on-screen instructions.
Cable customers should contact their local cable operator.